Greenpeace airship flies at Glacier National Park warning against coal exports and climate change
Glacier National Park, Montana - Greenpeace flew its thermal airship near Glacier National Park today to highlight the climate change impacts of coal exports and mining, with large banners reading "Coal exports fuel climate change" and "Keep our coal in the ground."
The airship flight follows a report last week, "Leasing Coal, Fueling Climate Change," which details how the Bureau of Land Management has unlocked 3.9 billion tons of carbon pollution during the Obama administration and is subsidizing the coal industry's export ambitions. Both the Bureau of Land Management and the National Park Service are part of the Interior Department, and Greenpeace is calling on Interior Secretary Sally Jewell to stop leasing publicly owned coal at subsidized prices.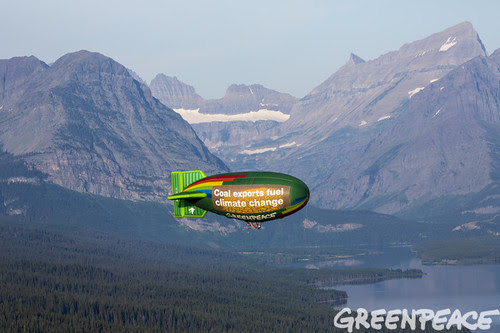 "Climate change is a major threat to national parks like Glacier, and more coal will only make it worse whether it is burned in Montana or Beijing," said Greenpeace Energy Campaign Director Kelly Mitchell, "If Interior Secretary Sally Jewell is serious about protecting our national parks from the impacts of climate change, she should establish a moratorium on new coal leases and pursue comprehensive reform of the federal coal leasing program."
A recent report from the Sightline Institute detailed the specific mines and companies that are taking advantage of the federal coal leasing program to increase exports of publicly owned coal, including several coal mines in Montana such as the Decker, Signal Peak, and Spring Creek mines. Last week, the Bureau of Land Management sold eight million tons of publicly owned coal in Colorado, ignoring concerns about climate change and coal exports.
The Greenpeace airship is the only aircraft of its kind in the United States, achieving lift with hot air like a balloon, but also capable of directional flight.
###
Photos at: https://secure.flickr.com/photos/greenpeaceusa09/sets/72157645483405737/
Available for download at: http://photo.greenpeace.org/C.aspx?VP3=ViewBox&STID=27MZIF39SWE4&CT=Story
Contact: Joe Smyth, Greenpeace Communications, 831-566-5647, joe.smyth@greenpeace.org
We Need Your Voice. Join Us!