It was more devastating than I imagined, and that's saying something considering the descriptions and pictures I've been exposed to over the years. The plastic pollution covering Freedom Island in Metro Manila, Philippines is heart-breaking, relentless and devastating. Being an oceans campaigner, I've developed a strong stomach for sad images, as my inbox can sometimes be full of what nightmares are made of, but something about Freedom Island truly shook me.
I spent a lot of time reflecting while walking the beach, ruminating on how we got here. To a place where our oceans are full of these everyday single-use plastic items. Where we use so many of them that the oceans are literally sick with the plastic plague and the waves projectile vomit trash onto beaches. Where a beach can become a landfill. Where most seabirds or most of any species has eaten plastic. It's hard to conceptualize what solving this problem could look like without a time machine.


Luckily I went to Manila with a clear objective and way to channel the emotion I was feeling – to help with a waste and brand audit of the plastic collected through a 10 day beach cleanup to identify the corporations producing this stuff in the first place. I joined my colleagues from our Manila office; Greenpeace Philippines volunteers; colleagues from our German, UK and US offices; ally organizations through the #BreakFreeFromPlastic movement; and numerous waste warriors – local people who derive their income from collecting and salvaging recyclable or reusable discarded plastic and other materials. If I was going to be at ground zero for plastic misery, this was the dream team to be there with.

Each day we would arrive at the island not long after sunrise. A 200 square meter stretch of beach would then be marked off and the clean-up process would begin. People worked diligently to collect the trash from the water up to where the plants met the sand, creating piles of like materials. White bags were used for non-branded materials like straws, plastic bags, styrofoam, and other objects. Yellow bags were used to collect branded items such as bottles and caps; wrappers; sachets or packets containing food, personal care products, household products or drinks; and, other items with labels.
As I began to post photos on social media about the types of trash I was finding, and the dire state of the beach and mangroves, I received lots of questions about Freedom Island, why that particular location is so polluted, and why we chose that area to tackle.
The situation is that Freedom Island is an artificial island in Manila Bay just off the coast of Parañaque in Metro Manila. It is a critical wetland habitat and Ramsar site spanning 30 hectares. The currents in Manila Bay contribute to trash collecting at Freedom Island, and the trash mostly enters the bay via the Pasig River and the tributaries that feed it like the San Juan that run through Metro Manila and other towns. Inadequate landfill maintenance and waste management infrastructure and storms also contribute to trash flowing into the bay. The Pasig River is actually the second most polluting river of plastic to the oceans in the entire world for its drainage area, this area is one of the worst areas for plastic pollution in the Philippines and the Philippines is the third worst polluter of plastic into the world's oceans. So naturally this is an area of significance for the global plastic movement.
Because this area was once an ecotourism site, it has been in the spotlight for many years as the site of a massive yearly beach clean conducted by government agency officials, environmental groups, community organizations, local schools, companies and anyone who wants to help out. The site was already being tackled for cleanup in mid-September so Greenpeace and our allies requested permission to stay on site for an extended period of time to conduct the audit.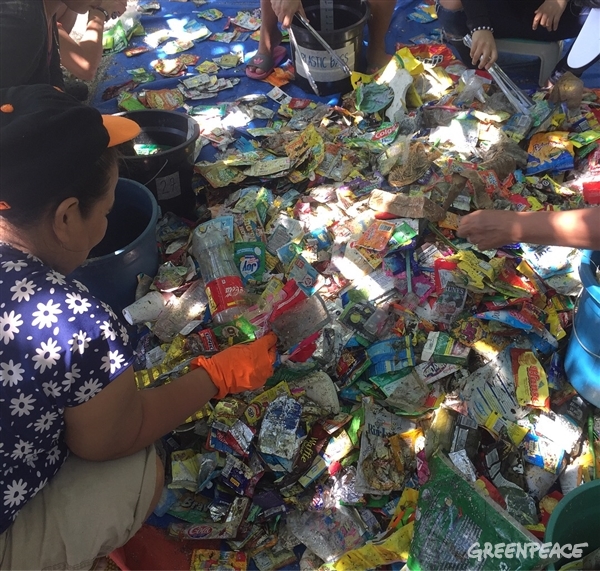 Once the section of beach had been as cleaned as it could be, the unbranded items went to one area to be further sorted and weighed, and the branded items went to another area for sorting, counting and recording. Of course, as we were in the Philippines and many small meals are custom there, we had various snack and food breaks through this process to refuel and get away from the blazing sun and 30+ degree heat.

After 10 days of collecting and tallying were complete, we held a press conference to release the results of the brand audit and reveal the top ten manufacturers contributing to the single-use plastic pollution disaster.
The verdict? Nestlé, Unilever, and Indonesian company PT Torabika Mayora are the top three contributors of plastic waste discovered in the area, contributing to the 1.88 million metric tonnes of mismanaged plastic wastes in the Philippines per year. Procter and Gamble and Colgate-Palmolive also placed high in the polluter ranking. These companies have various well-known brands that are also sold in Canada such as Nescafe and Nestea (Nestle note Nestea is manufactured by Coke), Dove and Knorr (Unilever), Downy and Tide (Procter and Gamble), and Colgate and Palmolive (Colgate-Palmolive). In some cases these products are found in different packaging formats than products sold in the Philippines, as the global companies fail to have strong global policies that seek to ensure reusable and more sustainable delivery systems across their global supply chains. Various plastic bottle caps, bottles and labels by well-known companies like Coca-Cola and Pepsi were also found on the beach, but because they are more valuable for waste warriors, fewer are found as litter in the area because people collect them off the beaches and river banks.


The full results of the brand audit can be found at www.plasticpolluters.org where brand audit results from other countries will be coming online on a rolling basis. The results will also be brought to the 2017 Our Ocean conference happening in Malta this month, where world leaders will gather to discuss various oceans issues including plastic pollution. We want the plastic pollution crisis firmly on their radar, and we have some creative ways to put it there, so stay tuned for that.
World-wide, plastic bottles are one of the most common items found in beach cleanups. The major players in the global soft drinks industry produce over 500 billion throw-away bottles a year and Coke alone produces over 100 billion. This week we launched a global campaign against Coke for its continued failure to shrink its global plastic footprint. Not only has the company not reduced its footprint, Coke has increased it by 2 per cent. You can join us here in calling on Coke's CEO to stop choking our oceans!

The audit results also revealed that plastic bags were the most commonly found type of single use plastic at Freedom Island, which is not surprising considering that I saw them all through the water and through layers of layers of sand. Packages and sachets were a close second and gave the beach the multicoloured look shown in pictures. 

Beach clean-ups are becoming increasingly popular, sadly both out of necessity and because people read about the plastic pollution problem in our oceans and want to make a difference. I arrived in Manila thinking that we would actually be able to clean up at least a portion of Freedom Island, or make a meaningful dent. But it was almost immediately clear that the major lasting positive impact wouldn't be on the beach itself, or any plastic-filled beach for that matter,  but in the board rooms of the corporates who can and must figure out how to stop clogging the system with single-use plastic and fueling our throwaway culture, and with the governments that could legislate true zero waste societies. It was then that I was grateful to be part of the team in Manila and the wider #BreakFreeFromPlastic movement holding major polluters accountable and championing real solutions across the globe.
Since I've been home I've been asked many times what it was like to be on Freedom Island. As someone who loves the ocean, as many of us do, it's hard to articulate but generally it was  far worse than the pictures because what you don't see is the smell, the local fishers setting nets off the shore and hauling plastic out of it every 3 seconds, the birds landing on the trash, the layers beneath the sand of plastic waste, the mangrove roots and branches riddled with bags, the numerous dead fish washed up on shore. You don't see the root cause of this problem, the mindsets perpetuating it or the severe impact on local communities. But along with all the sadness, what the pictures also don't show is the determination, dedication and drive of dozens of people to determine who is responsible for this crisis and ensure more beaches around the world don't end up like Freedom Island. That can only be done by cutting the flow of plastic into our oceans once and for all.
Take action now to help us hold major plastic pollution offenders accountable.  Click here to urge Coke's CEO to address its enormous plastic footprint.