Greenpeace calls on EU to stop funding meat and dairy ads
Brussels, 8 April 2021 – The European Commission spent 32% of its €776.7 million five-year farm product promotion budget on advertising campaigns for meat and dairy, according to new research by Greenpeace. This spending is at odds with warnings from scientists on the disastrous impact industrial animal farming has on nature, the climate and our health.
Agriculture and food industry organisations can apply to the European Commission to co-finance their promotional campaigns for European food and drink using this budget.
Greenpeace EU agriculture and forest campaigner Sini Eräjää said: "When all the science is telling us to cut meat and dairy for our health, and the planet's health, it's unacceptable that the EU spends a quarter of a billion euro to accelerate consumption. Farming and eating industrial meat and dairy puts us at risk of new pandemics, wrecks the climate and destroys nature – it's irresponsible for the EU to continue promoting this with taxpayers' money."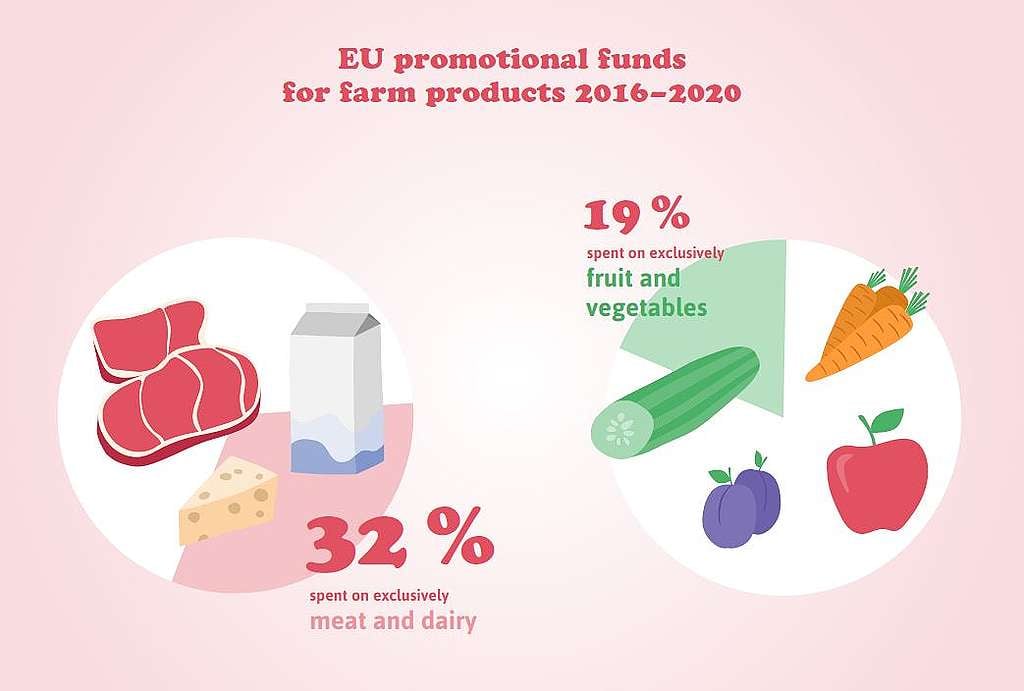 The research also found that in 2016-2020, the Commission spent only €146.4 million on campaigns for fruit and vegetables, 19% of advertising spending.
Leaked versions of the EU's flagship Farm to Fork strategy and the Beating Cancer Plan suggested that the Commission intended to stop funding the promotion of red and processed meat, which are particularly harmful. The final versions of both strategies contain more vague wording on promoting healthier diets.
The Commission is currently reviewing its policy on the promotion of EU farm products, and a new proposal is expected in early 2022. On 31 March, the Commission opened a public consultation into the promotion policy. Greenpeace is calling on the EU to end public funding for the promotion of meat and dairy products.
Greenpeace is also calling public money to support ecological, small-scale farmers in Europe, and to help conventional farmers to transition to ecological methods.
-ends-
Contacts:
Sini Eräjää, Greenpeace EU agriculture and forest campaigner: +32 476 975 960, [email protected]
Greenpeace EU press desk: +32 (0)2 274 1911, [email protected]
For breaking news and comment on EU affairs: www.twitter.com/GreenpeaceEU
Greenpeace is an independent global campaigning organisation that acts to change attitudes and behaviour, to protect and conserve the environment and to promote peace. We do not accept donations from governments, the EU, businesses or political parties. We have over three million supporters, and offices in more than 55 countries.
EU Transparency Register: 9832909575-41