Understanding the history of GM crops in India, why the BRAI (The Biotechnology Regulatory Authority of India) Bill fails and its current status and petition.
Various organisations including Greenpeace India launched a nation-wide campaign on June 25 demanding that the BRAI Bill, 2013, be withdrawn immediately
Like most people, I prefer eating organic, healthy and nutritious food that is not laden with toxins – neither in the form of pesticides and hormones, nor in the form of any genetic modification.
That is why I'm not only against chemical farming, but strongly oppose the introduction of genetically modified food into our food system – into our fields, and finally onto our plates. But my concerns regarding this have been steadily rising in recent times, as our existing regulatory mechanism for Genetic Engineering technology is not only insufficient and faulty, but not at all people-oriented. Our Government has been persistently trying to push GM food onto our plate, without doing a proper, independent, and long-term bio-safety testing and assessment of GM crops, and without letting me, as a citizen have a say and 'choose' what food I want to eat. It has allowed powerful multinational seed companies like Monsanto to set up shops in India over a decade ago, whose sole mission is to take control of our food and farming and therefore our national sovereignty.
The History of GM crops in India
2001 – It all started with allowing the commercial cultivation of India's first GM crop – the Bt Cotton. This occurred after it was already discovered to have spread illegally through transgenic contamination on thousands of hectares. Introduction of Bt Cotton in India was initially brought in, on claims of reduced insecticide usage and higher yield. But instead, we actually saw an increased use of pesticides- much more than what was used prior to 2002 when Bt Cotton was first approved. Further, we also saw increased rates of debt-ridden farmer suicides in the Vidarbha region, due to massive crop failures.
2005 – 2009 – The Govt. signed an agreement with a leading seed company, Mahyco (the Indian subsidiary of Monsanto), and the University of Agricultural Sciences in Dharwad and Coimbatore, TN, to develop India's first GM food crop – the Bt Brinjal, for commercial cultivation. It was cleared for commercialization by the GEAC in 2009. Amidst much public protests, and months of RTI battles by scientists and environmental activists, the Genetic Engineering Appraisal Committee (GEAC) was forced to make public the bio-safety assessment data on Bt Brinjal.
Finally in 2010, after holding nation-wide consultations on this controversial food crop, the then Minister of Environment and Forests, Jairam Ramesh decided to "adopt a cautious, precautionary principle-based approach," and imposed an indefinite moratorium/ ban on the open release of genetically engineered Bt Brinjal, which was approved by the Genetic Engineering Approval Committee of the Ministry on October 14, 2009.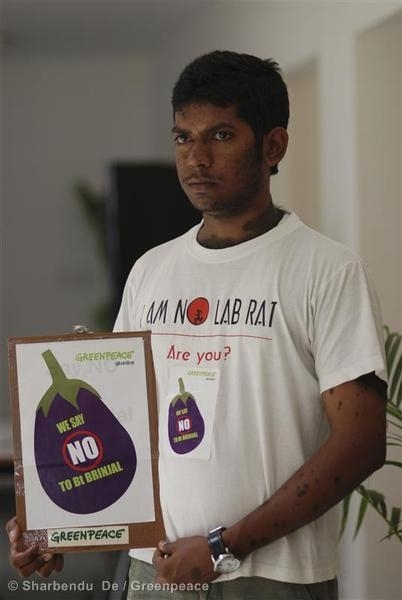 But the story did not end there. In 2009-2010, our Government under the Ministry of Science and Technology, came up with a new Bill – The Biotechnology Regulatory Authority of India (BRAI) Bill, for biotechnology regulation in India. It was drafted in total secrecy, with no opportunity for the general public to provide any feedback or participate and comment on a legislation which deals with something of this magnitude – the safety of our food. Further in 2011, Monsanto India was allowed to carry on open-field trials of its herbicide-resistant GM corn in Bijapur, Karnataka, and a few other sites across the country. Documents accessed through RTI later revealed that these trials were conducted without proper approval. After gross violations were detected, the Govt. of Karnataka was forced to ban all field trials of GM crops across the state. Thereafter, several other states followed suit.
Understanding The BRAI (The Biotechnology Regulatory Authority of India) Bill
It was in 2009, that The Ministry of Science and Technology, Govt. of India, drafted this Bill in its present form. Though it's content was not made public and was supposedly kept as a secret document, it was leaked out in March 2010. This Bill seeks to give easy access to GM crops in India. It provides a single window fast-track approval for GM crops, overriding the State's authority over agriculture and health.
The Bill through its Section 28, classifies some information as "confidential commercial information" and leaves it to the discretion of BRAI officials to disclose information. It also has a clause where the authority chair and members subscribe to an oath of secrecy, thereby making biotechnology non-transparent in the country.
Aruna Roy, who was a memberof theNational Advisory Council (NAC) , headed by the UPA chairperson Sonia Gandhi says "The Bill is a travesty of transparency and democratic decision-making on a matter that will affect every citizen, as it intends to promote use of modern biotechnology in agriculture".
Touted as the "Wrong bill by the wrong people, for the wrong reasons", it has been rightly called India's Monsanto Protection and Promotion Act.
Though "this Bill claims to take care of the deficiencies in the existing system of approval for GM crops, it turns out that the Bill is unconstitutional, unethical, unscientific, self-contradictory and not people-oriented", as stated by India's foremost and eminent micro-biologist and former V.C. of National Knowledge Commission, Pushpa M. Bhargava. "If passed it will seriously and adversely affect agriculture, health of humans, animals, and environment, causing unparalleled harm", he says.
Why does this Bill Fail?
Wrong Ministry Tabling the Bill and Housing the Authority – The nodal ministry for the UN Convention on Biological Diversity is the Ministry for Environment & Forests, and yet the Ministry of Science and Technology has tabled the Bill. Further, the Ministry of S&T is a promoter of Biotechnology and has spent huge amounts of funds for R&D in this field. Promoters cannot be regulators, as there is an inherent conflict of interest there.
Over 2,000 people came together on August 8 for a day-long protest against the BRAI bill and Monsanto.
No Public Consultation and Lack of Democratic Functioning – This Bill does not propose civil society participation or mandatory public consultations anywhere, nor will it accept complaints from civil society, despite the fact that this directly and indirectly affects every citizen.
Over-riding State Govenments' authority over their agriculture and health – It is unconstitutional, as agriculture is a State subject, and it takes away from the State government the authority to take decisions on GM plant products. It is worthwhile noting here that earlier in 2009-2010, more than 10 states had formally declared that they will not permit Bt Brinjal to be released in their territories.
No Need Assessment or Assessment of Alternatives Built into Regulation – It has no provisions for need assessment or assessment of alternatives to precede any processing of applications, nor does it consider whether the deployment of transgenics is ethically and socially justifiable. It does not take into account other alternative technologies like smart or molecular breeding, organic agriculture, or use of Integrated Pest Management or bio-pesticides.
Bypassing the RTI Act – Article 23 of the Bill states the information declared by BRAI "confidential commercial information" will not come under the RTI Act. So there is no way for civil society to challenge its decision.
No Independent Long Term Testing Regime Laid Down – This Bill does not make independent, long term testing a mandatory part of the regulation, despite the Bt Brinjal moratorium decision resting on the need for such testing. Further, it does not make biosafety testing precede open air field trials, even though there are grave environmental hazards of releasing such unknown, uncharacterized organisms.
No mention of Mandatory Labeling – There is no mention of mandatory labeling of GM food products. And that takes away from us our right to 'choose' what food we want to eat.
No protection for farmers, whose fields growing natural non-GMO crops get contaminated with a GM product of the neighboring farm.
Weak Penal Clauses – The Bill has no liability clauses laid down. Instead it has a an Article 62 under "Offenses and Penalties" which implies that anyone making a statement about a GM crop which BRAI decides is false and misleading, shall be punished with imprisonment for upto three months!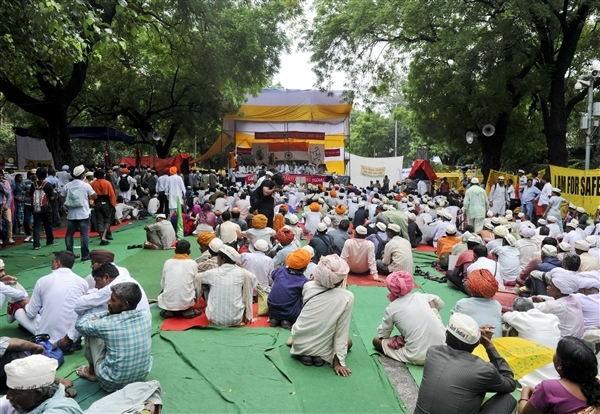 Current Status of the BRAI Bill
The BRAI bill was first proposed after the the moratorium on BT brinjal in 2010. But instead of paying heed to the voice of the nation, and establishing a strong regulatory mechanism to protect our health, environment and livelihoods, the Govt. yet again tabled the Bill in the Budget session of the Parliament, on April 22, 2013, again amidst huge protests both from within and outside the Parliament.
The Bill was introduced, despite the recommendations of the Parliamentary Standing Committee on Agriculture, who in its report in August 2012, clearly pointed out serious issues with regard to our transgenic research and regulation, and also confirmed GM contamination. It asked for a bio-safety law to be brought in instead. Even the Technical Expert Committee of the Supreme Court (SC TEC) made recommendations on similar lines, and stated that open air field trials of GM crops have to be stopped!
Amidst all the vociferous opposition to the Bill from all quarters, it was then referred to the Standing Committee on Science and Technology, Environment and Forests which notified that public feedback on the Bill can be provided for 30 days from June 10, 2013, and then subsequently extended the deadline to an additional 45 days, until August 2013.
The Bill now lies in the current Monsoon session of the Parliament, and is now being reviewed by the Standing Committee on Science , Technology, Environment and Forests.
There is now a rising demand both online and on ground to either withdraw the Bill or to send it to a joint parliamentary committee to ensure that all concerns are addressed. August 8, 2013 saw a massive rally in New-Delhi on Parliament Street, where farmers from 20 states across India, along with active citizens, environment activists, and some political leaders, gathered to protest and demand the withdrawal of the BRAI bill and to stop promoting GM crops in the country. And also demanding that Monsanto abandon all its programs in India.
Bill copy at: http://www.prsindia.org/billtrack/the-biotechnology-regulatory-authority-of-india-bill-2013-2709/
Detailed critique at: http://indiagminfo.org/?page_id=82
Legal assessment available at: http://greenpeace.org/india/Global/india/report/BRAI-Critique-Report.pdf
---
Blog sourced from The Alternative: http://thealternative.in/environment/food-sovereignty-gmos-and-the-brai-bill/
---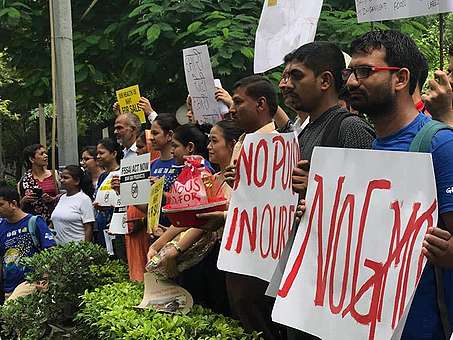 As per a recently released research report by Centre for Science and Environment (CSE), 32% of the 65 food products (80% of which were imported) tested were found to have…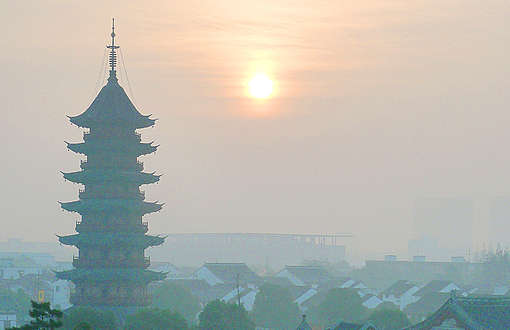 New Delhi 6th July 2018| While China has taken an important step forward in the battle against air pollution by releasing its second (a follow-up of the first plan in…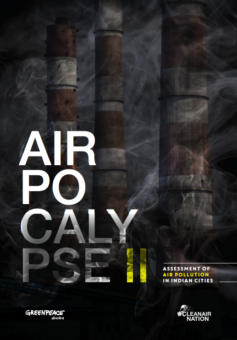 A Greenpeace India report analyses PM10 annual average recorded for 280 cities.