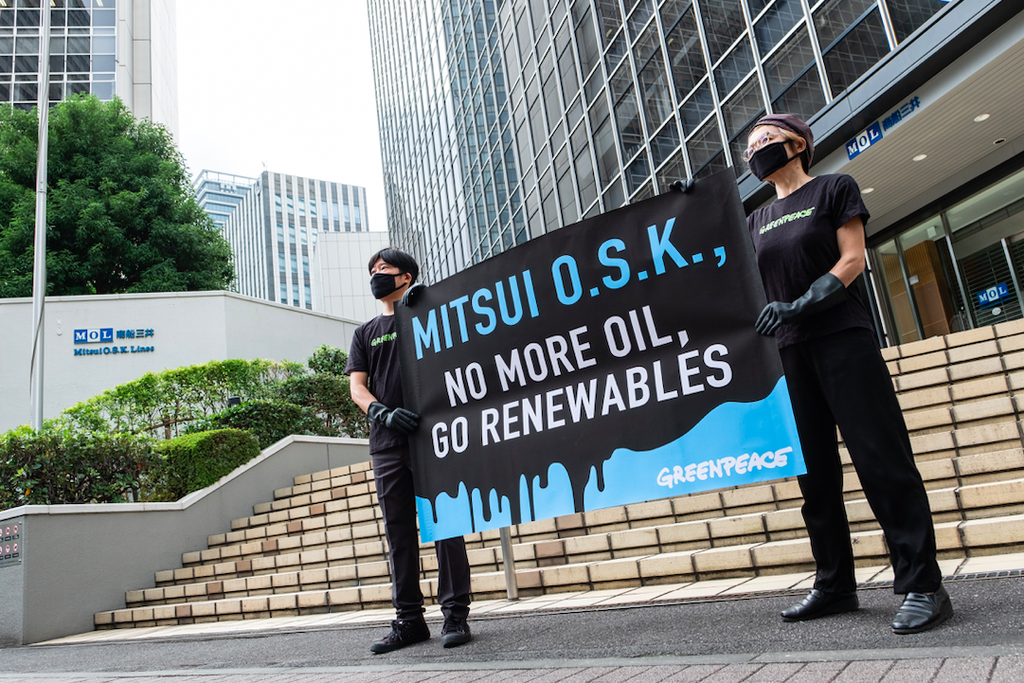 Tokyo, 25th August 2020 – Greenpeace Japan has started an urgent online petition to demand that the two Japanese companies responsible for the Mauritius oil spill – Mitsui O.S.K. Lines, Ltd. (MOL) and Nagashiki Shipping Co., Ltd – commit to take immediate actions to resolve this disaster and fully support the Mauritius community. MOL and Nagashiki are the charterer and the owner of the MV Wakashio which ran aground in Mauritius' coastline on 25th July, and leaked over 1,000 tonnes of diesel and bunker fuels into the Indian ocean.
The petition demands MOL and Nagashiki to: (1) Fully implement the Polluter Pays Principle and pay for all the current and future damages; (2) Initiate and fund a fully public independent investigation into the causes and consequences of the disaster for both people and the environment; (3) Abandon this passage through Mauritian waters to ensure protection of the island; (4) End businesses reliant on fossil fuels. These demands are based on the open letter sent to the two companies on August 13 by Greenpeace Japan, Greenpeace Africa and Mauritian human rights organization DIS MOI.
Both companies responded to the open letter on August 20 and showed their intention to respond to the disaster they have caused. However, they have not revealed any concrete plans and commitments that are needed to restore the local environment and secure people's livelihoods, as well as to prevent a similar catastrophe happening again in the future.
Today, Greenpeace Japan activists deployed a banner action in front of MOL headquarters to call the company to step up its social responsibility and come up with concrete action plans to reduce the damages done by the current disaster and prevent a future one.
Ayako Sekine, Greenpeace Japan Senior Climate and Energy Campaigner, said:
"The companies waited too long to take action, both when the ship strayed too close to shore before it ran aground and after when it finally ran aground. MOL is wasting its opportunity to behave as a responsible company."
"The Mauritius government's decision of sinking MV Wakashio concerns experts about the severe additional environmental impacts beyond the harm already made. Countless people have lost their livelihoods. The repeated oil spill accidents show that the oil spill cannot be prevented by merely complying with legal obligations and international practices. The companies must step up their social responsibilities and use their influence to reduce harm done to the planet and people at risk."
ENDS

Notes:
▽ Open Letter for Mauritius government (24 Aug)
▽Greenpeace Japan statement to the response from Mitsui O.S.K. Lines, Ltd.. and Nagashiki Shipping Co., Ltd (21 Aug)
▽Greenpeace warns against the sinking of MV WAKASHIO into the Indian Ocean (19 Aug)
▽Open Letter for MOL and Nagashiki shipping (13 Aug)