We believe that the COVID-19 pandemic has created an opportunity to redraw the way we live our lives and organise our societies. A chance to turn our backs on destructive and polluting practices and behaviours in favour of a 'Better Normal'.
A 'Better Normal' that helps to create a healthy, green and peaceful Southeast Asia which works for people and protects the natural world. And, as it's our 20th anniversary, we'd like nothing more than for you to join us in showing the world what a 'Better Normal' could look like.
So, are you ready to take on the #BetterNormalChallenge together? 🙌
---
How do I participate in the #BetterNormalChallenge?
How to start
1. Accept the challenge! And get creative.
2. Show or tell us in your video what you are doing for a Better Normal. Not sure what to do? We have some good ideas from Greenpeace SouthEAST Asia's staff and volunteers coming up.
3. Upload your video to your social media of choice, tagging and challenging at least 3 other people.
Video Checklist: What to include.
Please include the following in your video:
1. Show or tell us what your Better Normal looks like. You could say it or show us on screen – get creative, it's up to you.
2. Use one of our amazing GPSEA20 gifs and stickers. You can find them here. They're also available through the GIF search on Instagram or the Stickers search on TikTok.
3. Tag or say the names of the three people you are nominating next.
4. Use the hashtag #BetterNormalChallenge and tag us @greenpeacesea
Do I have to be challenged to take part?
No, you can start it all off yourself and then nominate your friends and family to start a chain.
How long do I have to take part?
The #BetterNormalChallenge starts on Wednesday, 7th October 2020 and runs until the end of October. But don't worry, we'd be happy to hear about your Better Normal challenges at any time.
What else do I need to know?
1. We want you to have fun and get creative, but make sure your Better Normal challenge is safe and legal, and you're following local COVID-19 protocols at all times.
2. If you are using music, make sure you are doing so legally. Helpful hint: TikTok and Facebook have libraries full of free-to-use music for their platforms. Check platform T&C if in doubt.
3. We'd love to be able to use and share some of your great content on our own social media channels too. We'll contact you to ask for permission if we'd like to use yours. We won't be paying you but will give you a credit.
---
Better Normal Challenge Inspiration
Looking for ideas for your Better Normal Challenge? Check out these great examples by Greenpeace staff and supporters.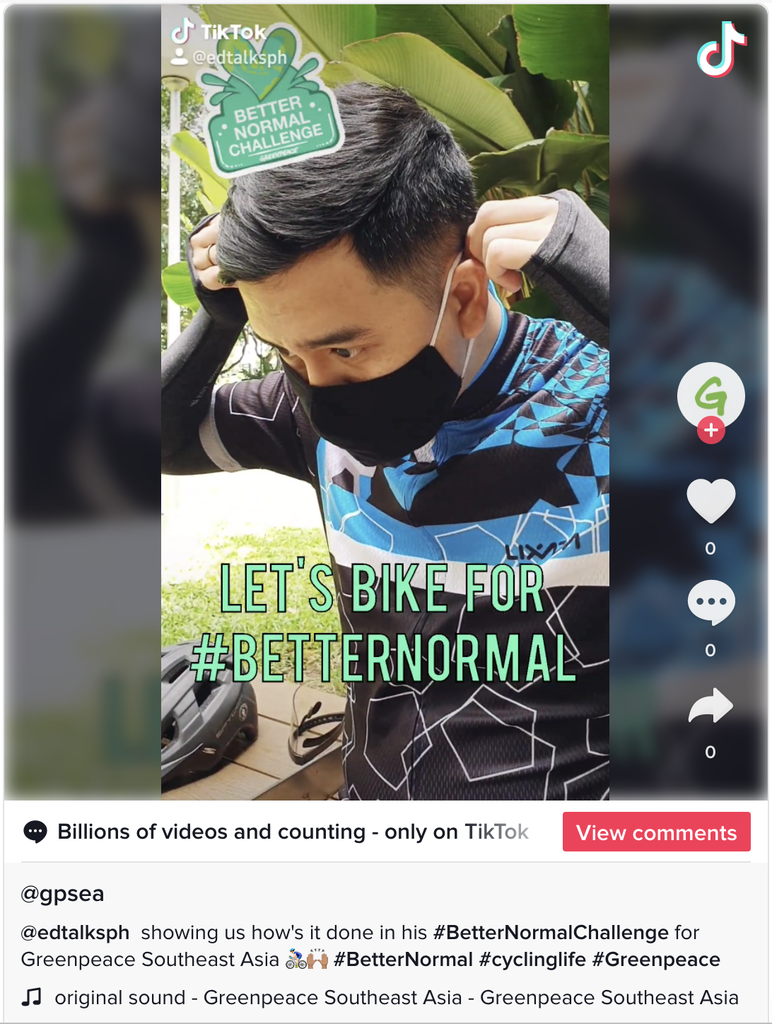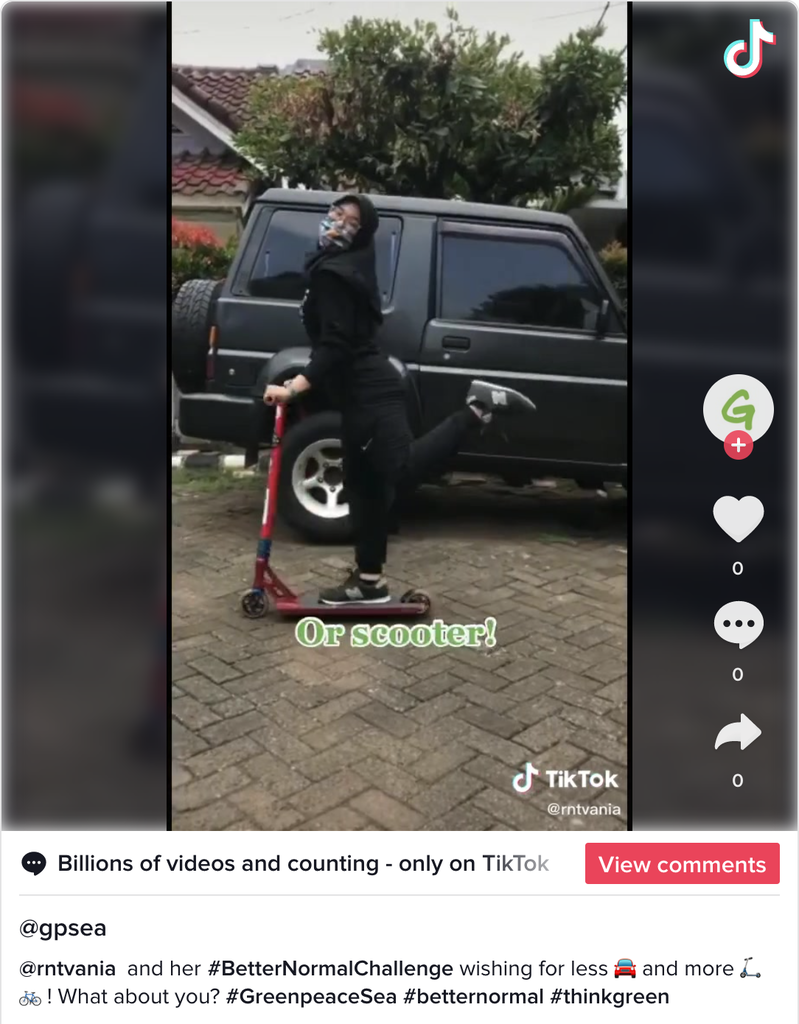 ---
Take Part in GPSEA 20th Anniversary