SIGN THE PETITION
Join the climate letter by African activists and scientists, including Vanessa Nakate, Hindou Oumarou Ibrahim, Ndoni Mcunu, and Kaossara Sani, in an open call to the leaders of our continent.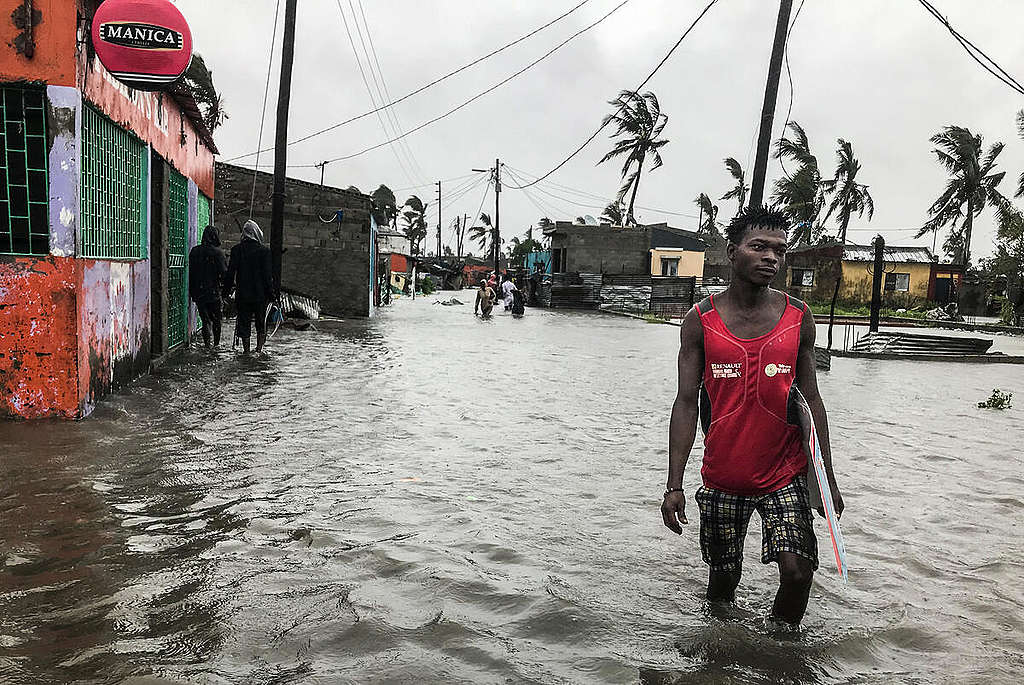 Tell your government to declare a climate emergency and take climate action now!

Africa is feeling the heat. Every day, more and more extreme weather events are happening across the continent, destroying lives and displacing thousands. We need our governments to declare a #ClimateEmergency.
Floods, heatwaves, droughts, wildfires and cyclones are taking place at unprecedented and unpredictable rates, leaving utter devastation in their wake. Millions across our continent have been left facing food insecurity, water shortages, disease and extreme poverty.

Nothing about this is normal or inevitable. We are in the midst of a human-made climate crisis; one that could be more catastrophic if we fail to act.

Africans may not be primarily responsible for emissions that have brought this climate crisis upon us, but we have the responsibility and the power to overcome it.
---
---
---
Africa's climate is visualised as stripes that show how the continent's average temperature has changed over the decades from 1850–2019. Each coloured stripe represents one year; warmer years are red and cooler years are blue.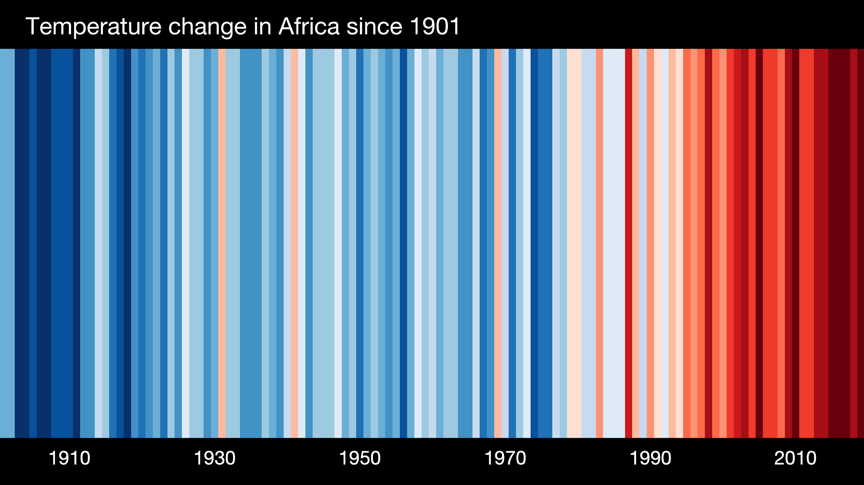 The graphic was developed by Professor Ed Hawkins from the National Centre for Atmospheric Science at the University of Reading's Department of Meteorology in the United Kingdom. Billions of pieces of data were used to create hundreds of images that cover every country in the world and which are available to download free of charge. To create a climate stripes graphic for other countries, regions and states, or for the global overview, visit: https://showyourstripes.info (The graphic is licensed for reproduction as part the Creative Commons Attribution 4.0 International, CC BY 4.0).
Take-home messages
The projection in the Greenpeace report Facing the Weather Gods, published in 2013, was that the African continent would experience higher temperature rises than the global average, and increasing variance in rainfall over the tropics will lead to more extreme precipitation events, which could impact around 25% of the continent. These broad conclusions still stand.
Climate change is one of the biggest challenges that African societies are facing and will continue to face this century and beyond.
Many African communities are vulnerable to the impacts of extreme weather events because of their limited ability to cope and adapt to those events. Limited resources in terms of access to technology, skills development and economic capacity contribute to low levels of possible adaptation (see section 5.0).
In the 100 years from 1900 and 2000, the continent warmed on average by 0.5 ℃ (see section 2.0).
The mean annual temperature increase for much of the continent of Africa is projected to exceed 2 ℃ or to fall within the range of 3 ℃ to 6 ℃ by the end of the twenty-first century if high emissions continue (see section 2.1).
Studies using numerical climate models at regional and global scales project that during the twenty-first century, heatwaves will occur more often, at higher intensities, and last for longer as greenhouse gas concentrations increase (see section 2.1). Africa's ten hottest years have all been recorded since 2005 (see section 2.0). Temperature across Africa is projected to be hotter than previously experienced in the recorded past, and to rise faster than the global average across most of the continent (see section 4.1).
Observational data from the second half of the twentieth century suggest that heatwave duration and intensity have increased over parts of Africa, most notably parts of Southern Africa, East Africa and the north of the continent. South Africa is projected to become drier in the west and southwest, and wetter in the east (see section 4.2). Observed temperatures indicate that much of Africa experienced an increasing trend in 'cumulative heat' by 50% per decade between 1950 and 2017 (see section 2.1). 'Cumulative heat' is a conceptual metric described by the authors to assess the amount of 'extra heat' generated by extreme heat events. For example, if a heatwave is defined as air temperature above 30 ℃, and the temperature recorded is 33 ℃, the 'extra heat' produced is 3 ℃ (see section 2.1).
Future projections for Africa through the twenty-first century follow the global trend in that the frequency, intensity and duration of extreme heat events are all expected to increase (see section 2.1).
Climate scientists have found that anthropogenic climate change contributed substantially to the 2015–2016 extreme drought over Eastern and Southern Africa by accentuating the natural El Niño impacts (see section 2.2).
If high greenhouse gas emissions continue, the expectation is for decreased mean annual rainfall in Southern and Northern African regions by the mid- to late twenty-first century and an increase in mean annual rainfall in Central and East African regions. Future rainfall patterns for West Africa are uncertain (see section 2.3).
Whether or not tropical storms and cyclones will increase or decrease in frequency during the twenty-first century is not certain. Expectations are broadly for a small increase in the frequency of tropical cyclones that make landfall and impact East Africa from the Arabian sea, and fewer but more intense tropical cyclones in the Southern African region (see section 2.4).
Attributing extreme weather events to one specific cause is not straightforward. It is important to note that extreme weather events can be caused by natural variability within the climate system, human activity or a complex interplay between the two (see section 4.0).
Extinction of many endemic African species is possible even at the lower end of the range of possible projected temperature changes above pre-industrial levels due to climate change (see section 5.6).
A lack of data, or the existence of unreliable data, for most areas of the African continent over the past century mean that it is difficult to reach conclusions about trends, most notably for rainfall patterns (see Box 5).