You would have witnessed a colorful and vibrant event if you were in Nabeul- Tunisia during the last week of September and entered the Climate Justice Camp site.
A youthful atmosphere where hundreds of Global South climate campaigners and organizers and enthusiasts gathered to discuss, share knowledge and experiences, strengthen solidarity, dance, and showcase their artistic talents. A whirlwind of hope, happiness, and enthusiasm strengthened the aspiration of both participants and organizers in the possibility of a better future for us all.
Building Bridges
The week-long Climate Justice Camp was host to more than 150 different skill shares, workshops, and training sessions. It aimed at creating a space for young climate mobilisers and organizers from across the Global South to co-create strategies and demand an equitable and just response to the climate crisis.
In the lead-up to COP 27, one of the main objectives of the camp was to present young people as change makers and to provide them with a platform and the tools necessary to build up a Global South grassroots agenda that pushes leaders involved in the conference to prioritize the urgent needs of communities on the frontlines of the climate crisis.
One of the highlights of the camp was the participation of French-Tunisian calligraphy artist eL Seed, whose work features in Arabic around the world. eL Seed and his team ran a workshop in collaboration with the participants to create an art piece reflecting a strong climate message. On the last day of the camp, this art piece was projected onto a building and was surrounded by the participants holding a banner of their own creation.
Climate Justice now
Participants echoed and resonated with the message of the urgency of climate justice and climate action. When you walked around, you could hear the same words loudly and clearly in a chant that they enthusiastically conveyed: "What do you want? Climate justice. When do we want it? Now".
This message alone was proof that the people present in the Climate Justice Camp are working for the same ultimate purpose. They showed eagerness to learn, build relationships, express themselves, highlight the problems in their affected countries and share the expertise they gained with their friends and families. When the camp came to a wrap, they realized that although they come from different countries and backgrounds, they are indeed very similar.
They ultimately found common ground in their demand for climate justice.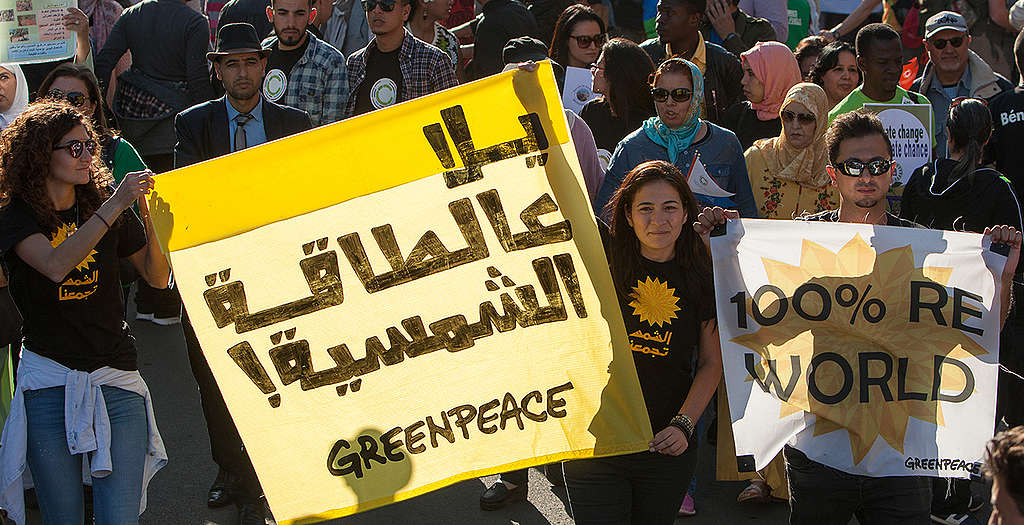 Join The Movement
Greenpeace has been protecting the environment for decades. We've stopped many crimes against the planet and held many corporations responsible for their actions. But there are always more scandals, more crimes and more destruction.
Join Us