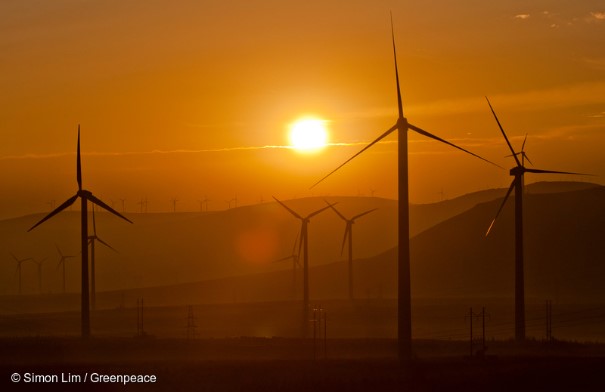 Saihanba Wind Farm in Inner Mongolia © Simon Lim / Greenpeace
Friday news roundup highlighting the environmental news and commentary of the week.
Burning problem of China's trash [NPR]
The world's most populous country generates 520,000 tons of trash every single day, and that volume is projected to grow. Much of this trash is destined for China's landfills and rivers while large volumes end up in incinerators. In bigger cities, expensive, clean burning technology has partially reduced the emissions caused by this method of generation, but trash sorting could prove extremely effective and cost much less money.
China to cut some wind capacity as glut builds [Reuters]
China's wind power industry is the world's largest and has enormous potential but it also suffers from a huge curtailment problem. In 2016, enough energy to power Beijing for an entire year was wasted.
China names and shames cities over smog controls [Straits Times]
China's Ministry of Environmental Protection has targeted several cities in northern China for failing to respond to hazardous smog levels. Following an investigation of 18 metropolitan areas, Cangzhou city, Hebei province, was cited for neglecting to create a comprehensive list of business closures amid heavy smog. The report also shamed Baoding city for using coal-fired burners that did not meet emissions standards and Jiaozuo for neglecting to restrict traffic during a smog red alert.
China promises huge steel production cuts to combat smog [Reuters]
As we reported late last year, also here and here, China's progress in combatting air pollution has halted, almost certainly related to a corresponding uptick in heavy industrial output. Now, the government has promised heavy cuts to output including cutting Hebei Province's winter-time output by half. This is a big deal: Hebei Province alone produces more steel than every single country in the world (excluding China).  Hopefully this will go a way towards setting China back on a path of steady decline in air pollution.
China' s top miners push to cap coal output again [Reuters]
Coal giants China Coal Energy Co Ltd and China Shenhua Energy Co Ltd are among the mining companies calling for a cap on coal output as Chinese demand heads for a heavy slump.
Also in the news this week:
Can China unlock the secret of tidal energy? [Sixth Tone]
Improving China's investment in African land use [IIED]
China dominates top 200 global green tech companies [China Dialogue]