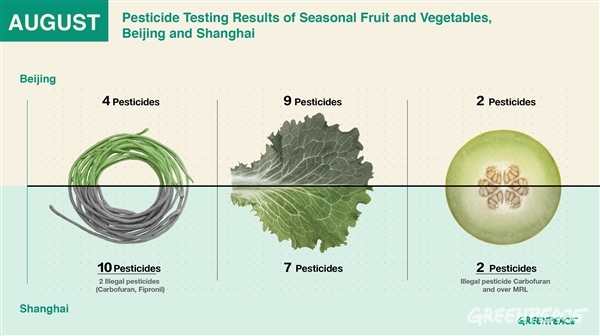 Chinese culture puts a strong emphasis on food. Dining is a moment of sharing between family and friends, and food is seen as a source of health and a representation of lifestyle. But contemporary China is also a place where food safety scandals abound.
In response, Greenpeace East Asia set up our monthly 'Shopping Basket' tests for pesticide residues on vegetables sold in Beijing and Shanghai, which we publish online each month. We hope to uncover unsafe practices in the farming industry and to raise consumer awareness of the chemicals which make their food the way it is.
In our most recent round of testing, in August, Greenpeace discovered, for example, that cow peas in wet markets in Shanghai contain residues of up to ten pesticides and in Beijing nine. Meanwhile, a sweet melon in Shanghai was found to contain traces of the toxic insecticide carbofuran above the national maximum residue limits (MDL). Whatever way you look at it, food safety and pesticides are a major problem in China.
Greenpeace urges local governments to proactively upgrade the plantation process and invest more in ecological farming to improve food quality and safety across the country. Every citizen has the right to safe, clean, healthy food.
This month Greenpeace spoke to some Beijing and Shanghai citizens about their daily meals, their worries about food and how, in light of food safety concerns, they make their choices. Here's what they had to say.
The Weight Watcher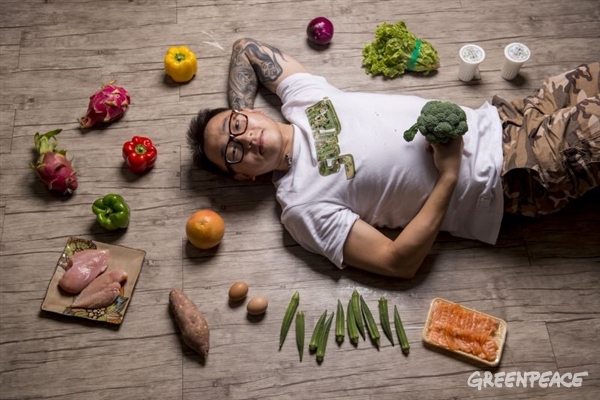 Rui Nan is originally from north west China's Lanzhou city, famed for its hand-pulled noodles. As a child Rui Nan ate well. He ate meat most days, and as a result became overweight. Over the last few years he has worked hard to lose weight and turn fat to muscle. He now weighs a healthy 78kg. As a health-conscious eater, Rui Nan pays particular attention to the food he eats and the nutrients it contains.
"Sometimes I will take up to five minutes to choose an onion," he jokes. "I judge its colour, appearance, freshness. But what worries me more are the things I can't see – the pesticides and additives which have made this onion how it is, and inevitably leave their trace."
These concerns have lead Rui Nan to buy almost only organic vegetables.
The Mother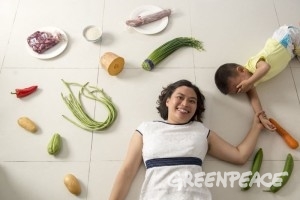 This proud Shanghainese mother goes by the nickname 'Kele Mama', after her adorable son Kele. She used to work in the Danish international meat processing company, Tican. She has become a key figure in her neighbourhood, regularly reminding neighbours to check the sell-by-date on the meat they buy and bear in mind that so-called 'imported' meat can sometimes be unsafe smuggled meat.
She recalls that when she was young, the food grown by her family in the countryside did not need any pesticides. Back then, everything was organic. 
"A healthy environment and the food it produces are the source of a healthy body," she says. Today's widespread use of pesticides concerns her. She worries even more that most consumers are not aware of the chemicals which are applied to their foods.
Kele Mama is aware that she personally cannot change the way the industry works. But she sees making careful choices about the food she buys and reminding other people to do the same as doing her part to improve the human-food relationship.
The Entrepreneur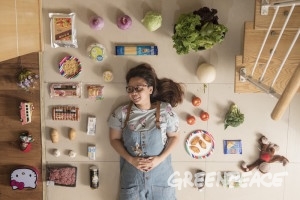 Mika is a born-and-raised Shanghaier. She is young, but, as the boss of a start up, already has a wealth of experience under her belt. Her job also means that her work and leisure time are not so clearly defined, and that every day she has more than enough on her plate! In this hard working, busy life, meals can be a rushed affair. Nonetheless, Mika always tries her best to find time to eat good quality food.
In the mornings she will often grab a quick take away breakfast. Lunch normally consists of shared homemade dishes with her colleagues. And in the evening, Mika is lucky enough to enjoy the balanced and diverse food of her mother's kitchen.
Concerned about the quality of the food she eats, Mika has for a long time had the habit of checking supermarket labels in order to find out the origins of her food and information regarding its plantation process. She prefers to buy local and will every weekend visit a local farmers market to stock up on fresh, locally grown vegetables.
Mika's concern about food and the environment has only grown over the last few years as stories of polluted rivers around Shanghai hit the news. She hopes that in future she will not have to worry about such issues, and that her and other entrepreneurs, business people and every Shanghaier will be able to get along with their lives with a guarantee of healthy food every day.
By Wang Jing, GPEA Food and Agriculture Senior campaigner