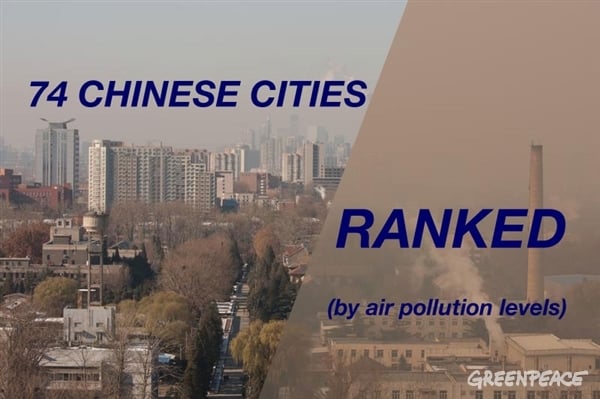 We've mined the data and produced a ranking of 74 Chinese cities by levels of PM2.5 air pollution.
The figures were taken from official data published by the Ministry of Environmental Protection for the year of 2013, but we've sorted them by ranking to understand exactly where and how deep the air pollution problem extends across the country.
A few of our key findings: 
Almost 92% of these cities have average annual PM2.5 air pollution concentrations that fail to reach the national standard (which is 

35 micrograms per cubic meter)

.
Of the top 10 worse polluted cities in our ranking, seven are located in Hebei Province, the province that surrounds Beijing. Beijing sits outside the top 10, at number 13.
Air pollution in cities located within the Yangtze River Delta region (including Shanghai) is also becoming increasingly serious.
Many cities in the central and western provinces are seeing air pollution levels twice the national standard.
Read more about this ranking and view the related infographic (in Chinese).
2013: Annual average PM2.5 concentrations of 74 Chinese cities
| | | | | |
| --- | --- | --- | --- | --- |
| Ranking | City | Province | Annual average PM2.5 level (micrograms per cubic meter) | Average of the maximum daily PM2.5 level (micrograms per cubic meter) |
| 1 | Xingtai | Hebei | 155.2 | 688 |
| 2 | Shijiazhuang | Hebei | 148.5 | 676 |
| 3 | Baoding | Hebei | 127.9 | 675 |
| 4 | Handan | Hebei | 127.8 | 662 |
| 5 | Hengshui | Hebei | 120.6 | 712 |
| 6 | Tangshan | Hebei | 114.2 | 497 |
| 7 | Jinan | Shandong | 114.0 | 490 |
| 8 | Langfang | Hebei | 113.8 | 772 |
| 9 | Xi'an | Shaanxi | 104.2 | 598 |
| 10 | Zhengzhou | Henan | 102.4 | 422 |
| 11 | Tianjin | Tianjin | 95.6 | 394 |
| 12 | Cangzhou | Hebei | 93.6 | 380 |
| 13 | Beijing | Beijing | 90.1 | 646 |
| 14 | Wuhan | Hubei | 88.7 | 339 |
| 15 | Chengdu | Sichuan | 86.3 | 374 |
| 16 | Urumqi | Xinjiang | 85.2 | 387 |
| 17 | Hefei | Anhui | 84.9 | 383 |
| 18 | Taizhou | Jiangsu | 80.9 | 474 |
| 19 | Huai'an | Jiangsu | 80.8 | 513 |
| 20 | Changsha | Hunan | 79.1 | 325 |
| 21 | Wuxi | Jiangsu | 75.8 | 391 |
| 22 | Harbin | Heilongjiang | 75.7 | 756 |
| 23 | Changzhou | Jiangsu | 75.6 | 322 |
| 24 | Nanjing | Jiangsu | 75.3 | 312 |
| 25 | Xuzhou | Jiangsu | 74.9 | 304 |
| 26 | Taiyuan | Shanxi | 74.2 | 416 |
| 27 | Huzhou | Zhejiang | 73.5 | 414 |
| 28 | Shenyang | Liaoning | 72.7 | 464 |
| 29 | Zhenjiang | Jiangsu | 71.6 | 263 |
| 30 | Yangzhou | Jiangsu | 71.1 | 312 |
| 31 | Suqian | Jiangsu | 70.7 | 502 |
| 32 | Nantong | Jiangsu | 70.2 | 248 |
| 33 | Changchun | Jilin | 69.2 | 425 |
| 34 | Nanchang | Jiangxi | 69.1 | 255 |
| 35 | Jinhua | Zhejiang | 69.0 | 473 |
| 36 | Lianyungang | Jiangsu | 68.0 | 407 |
| 37 | Lanzhou | Gansu | 67.1 | 259 |
| 38 | Suzhou | Jiangsu | 67.1 | 384 |
| 39 | Yancheng | Jiangsu | 67.0 | 455 |
| 40 | Jiaxing | Zhejiang | 66.9 | 417 |
| 41 | Quzhou | Zhejiang | 66.5 | 406 |
| 42 | Shaoxing | Zhejiang | 66.4 | 426 |
| 43 | Hangzhou | Zhejiang | 66.1 | 361 |
| 44 | Qinhuangdao | Hebei | 65.2 | 335 |
| 45 | Chongqing | Chongqing | 63.9 | 187 |
| 46 | Xining | Qinghai | 63.2 | 319 |
| 47 | Qingdao | Shandong | 61.7 | 280 |
| 48 | Shanghai | Shanghai | 60.7 | 421 |
| 49 | Hohhot | Inner Mongolia | 59.1 | 216 |
| 50 | Wenzhou | Zhejiang | 56.5 | 248 |
| 51 | Zhaoqing | Guangdong | 54.7 | 174 |
| 52 | Nanning | Guangxi | 54.7 | 199 |
| 53 | Taizhou | Zhejiang | 53.0 | 284 |
| 54 | Foshan | Guangdong | 52.3 | 160 |
| 55 | Guangzhou | Guangdong | 52.2 | 159 |
| 56 | Chengde | Hebei | 51.5 | 407 |
| 57 | Dalian | Liaoning | 50.7 | 224 |
| 58 | Ningbo | Zhejiang | 50.4 | 416 |
| 59 | Guiyang | Guizhou | 49.4 | 229 |
| 60 | Jiangmen | Guangdong | 48.4 | 158 |
| 61 | Lishui | Zhejiang | 47.9 | 196 |
| 62 | Zhongshan | Guangdong | 47.6 | 146 |
| 63 | Dongguan | Guangdong | 46.0 | 165 |
| 64 | Yinchuan | Ningxia | 43.7 | 164 |
| 65 | Zhangjiakou | Hebei | 43.1 | 471 |
| 66 | Shenzhen | Guangdong | 39.7 | 131 |
| 67 | Zhuhai | Guangdong | 37.9 | 157 |
| 68 | Huizhou | Guangdong | 37.2 | 121 |
| 69 | Kunming | Yunnan | 35.5 | 123 |
| 70 | Fuzhou | Fujian | 33.2 | 112 |
| 71 | Zhoushan | Zhejiang | 32.1 | 353 |
| 72 | Xiamen | Fujian | 31.3 | 89 |
| 73 | Lhasa | Tibet | 26.0 | 101 |
| 74 | Haikou | Hainan | 25.6 | 130  |