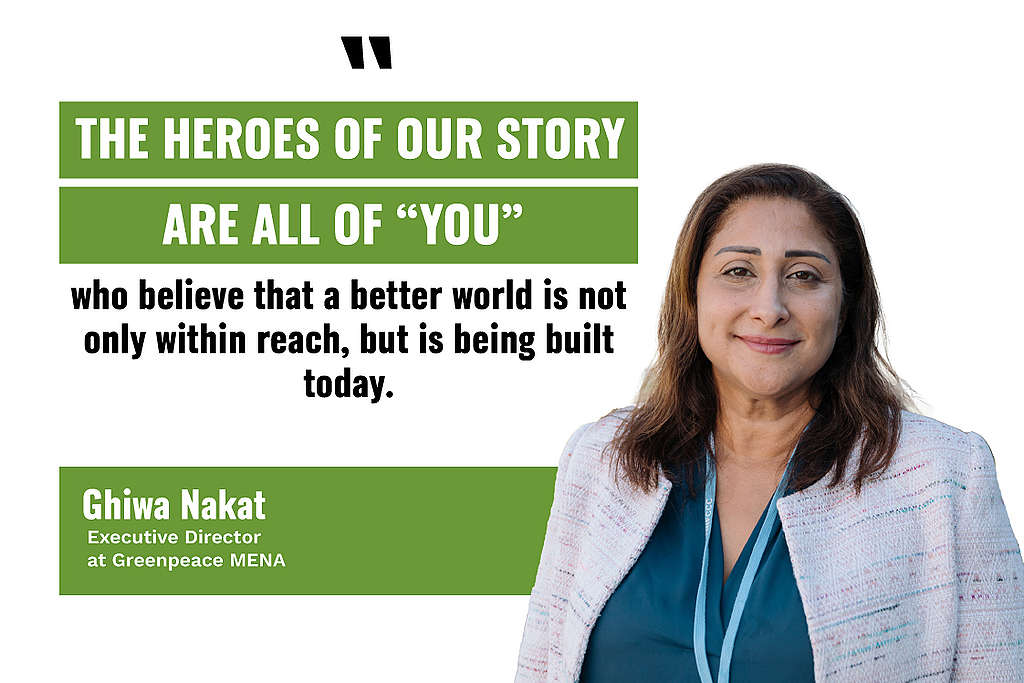 The world doesn't get better on its own, but it gets better because people work together to make it that way. Everything we achieved this year was thanks to the courageous efforts of inspiring people who dare to dream that a better world is possible and within our grasp.
An enormous amount of joint effort made everything possible. Hard and challenging on many levels, 2022 was a really exceptional year for all of us in Greenpeace MENA – a year of hope and lesson learning.
These last 12 months have strengthened my belief that it is possible to achieve climate justice. Whatever action we take, it is our joint collaboration that makes us a vital part of creating the green and peaceful future we all need. 2022 was a year when people power overcame years of blocking by the big polluters to get recognition that richer countries are the cause of the loss and damage to vulnerable communities from climate disasters. Poorer countries have shown what is possible if we can stay united across the spectrum of civil society, frontline communities, indigenous people and youth.
This year was a golden chance to learn many lessons. We were not afraid to take risks or be ambitious.
In the lead up to COP27, the exciting Climate Justice Camp in Tunisia was a colorful vision of solidarity, bringing together 400 young people from the communities on the frontlines of the climate crisis to have a say in their future and strengthen a movement of solidarity across more than 65 countries around the Global South.
Our Climate Impact Report raised the alarm on the soaring temperatures, water scarcity and food insecurity across the MENA region, and the need for urgent action. Together with powerful documentaries of the stories of the people on the frontline of climate change, the report written by our own Greenpeace Research Laboratories strengthened our call for climate justice from world leaders at COP27.
The United for Climate Justice tour by our iconic ship off the shores of Egypt put climate justice high on the agenda, visiting communities and green leaders. On board we had young climate leaders joining community activities and green initiatives ahead of their arrival at COP27.
The COP itself was yet another climate summit that showed how environmental issues are becoming ever more serious and urgent. More than 30 years of campaigning finally put climate justice onto the COP agenda and bore fruit with the last minute success of an agreement in principle to establish a loss and damage finance facility to compensate vulnerable communities devastated by the climate crisis. While climate disasters are increasing, inequality is growing – but the scales have finally begun to tip in favour of the Global South, with real hope that we can finalise details over the coming year of how rich countries and big polluters will compensate poorer countries who currently foot the emissions bill in the form of climate devastation.
None of this was easy. The COP negotiations were hard and seemed to be influenced by the record number of fossil fuel industry representatives in attendance. But by the end, we witnessed a new dawn for climate justice.
While the establishment of a loss and damage fund was a historic milestone, we also saw calls for a fossil fuel phase out falling on deaf ears. But I feel the people power that secured the Loss and Damage success can now be channeled to expose climate action blockers, push for bolder policies to end dependencies on fossil fuels, and boost support for renewables and a just transition. COP27 showed us that the Earth deserves a voice in which we can all be heard.
We recognise the difficulty for economies largely dependent on fossil fuels to make a quick transition towards renewable energies – but the science is clear, if we want to limit the global average temperature increase to 1.5 °C, there has to be a reduction in fossil fuel investment and an end to expansion. We understand that their transition might be more difficult and painful than it is for other rich countries. It will require ambition, courage and innovation.
The story will pick up again with COP28 next year in the United Arab Emirates – which presents a huge opportunity for countries to better understand there is no climate justice without a phase out of all fossil fuels, coal, oil and gas. Building on the results of COP27, Greenpeace MENA will work hand in hand with others to offer our expertise and experience where we can make the greatest impact and contribution, offering specific solutions to the major environmental problems in the Middle East and North Africa. What we need today is an alternative economic model that places the needs of people and the environment above economic interests, and raises the importance of health services and the preservation of life. COP28 will be a great opportunity to increase the uptake of effective ideas and solutions if we can break free of old destructive patterns.
The heroes of our story are all of "you" who believe that a better world is not only within reach, but is being built today. In the meantime and as we wrap this great yet challenging year, I wish you a very Happy New Year for you and your loved ones.
And I wish us all the stamina and persistence for the long haul. Creating a sustainable, just world takes a lot of time and a lot of energy. In 2023, we must make sure we give ourselves the space to recharge and keep ourselves rooted in the world we are fighting for.
We have a long road ahead, but we travel with hope in the knowledge that we are building a better world and a safer, healthier, happier and more dignified life for everyone.
---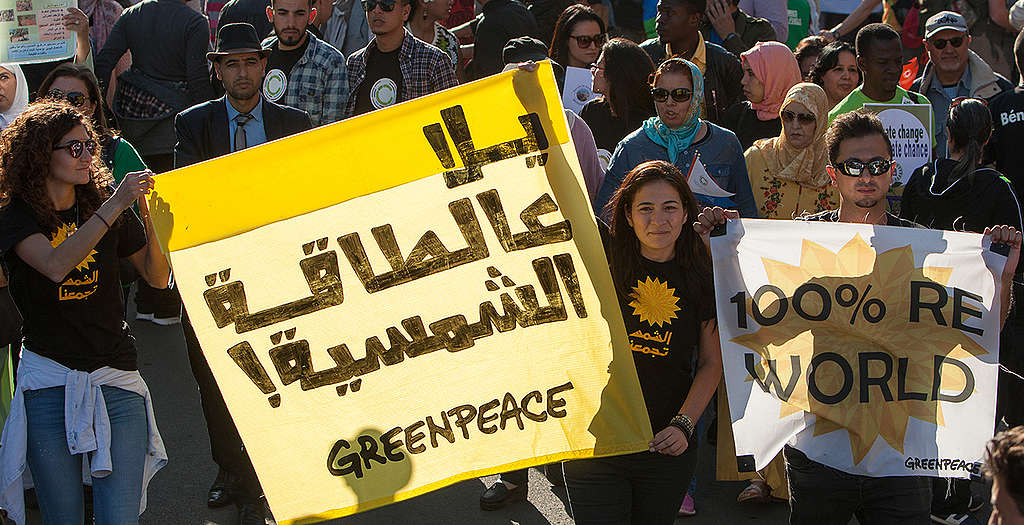 Join The Movement
Greenpeace has been protecting the environment for decades. We've stopped many crimes against the planet and held many corporations responsible for their actions. But there are always more scandals, more crimes and more destruction.
Join Us