I have voted once in my life, this will be the second vote I am casting, I will vote for the same political party as I did the first time I voted. Voting in 2016 is worth it. I am afraid but I can see the events are calling for my vote. What I make of this moment will change everything. The vote I cast this year will determine my future. The promises my party has promised me must be fulfilled, it is make or break for them too. They must deliver or they will lose my vote in the future.
Nelson Mandela and Albertina Sisulu are one of the influential leaders I look up to. I admire in them the same quality and passion they both attributed which was "ubuntu" . I believe that a good leader is one that knows people, respects them and can have their dwelling among them. The leaders of today do not dwell amongst us. They build fancy houses with the people's money on hilltops and in the stars to get away from the conditions which the average South African is facing. One thing they cannot get away from though is the deterioration of planet Earth. People who are passionate about protecting the Earth, passionate about peace, and passionate about creating positive change should stand and vote for change instead of complaining.
"What you're supposed to do when you don't like a thing is change it. If you can't change it, change the way you think about it. Don't complain."― Maya Angelou
It is a fact that everyone in South Africa needs to breath, eat and longs to live to see a better tomorrow no matter how bad the circumstances are. It may not be possible any longer to create jobs for all 5.6million unemployed living in South Africa or provide housing for the homeless and provide financial, education or child support grants to those in need, but what I hope is that my vote and yours will create a more sustainable environment.
My vote can stand face to face with the real issues which matter to every citizen living in South Africa. My vote will combat hunger, fight climate change, protect the  oceans and preserve nature. Cast your vote too and together we will make South Africa a better place.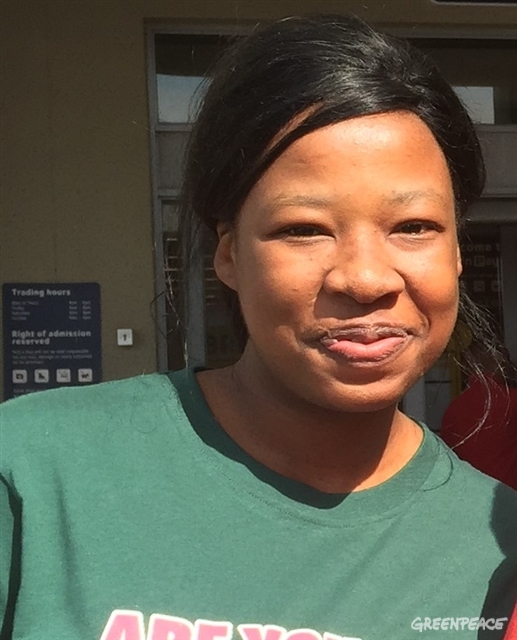 Sphume Msomi, one of the most recent Greenpeace staff, 27, gives her opinion on the upcoming election. Please see as well the point of view of Stanley Mbatha, 65, who speaks as a more experienced voter. We also asked people on the street to tell their opinion in a short video here.