We live in a contemporary society where technology, innovation, globalisation and human interconnectedness define us – overconsumption is the norm. Now, imagine yourself on vacation along the sandy beaches of mombasa – captured on your cellphone is the beautiful scenery. That is but a dream, for the reality is that the coast line is submerged in plastics and all kinds of garbage.
It reminds me of my recent vacation to Mombasa. My wanderlust saw me taking a ferry to explore the mainland Likoni. What welcomed me upon alighting really troubled my conscience. It was presumably not the serenity of the beach or purity of the evening breeze and the magnificent sceneries I expected but a mountain of garbage dominated by plastics. More troubling was the conspicuous sight of livestock chewing  polythene and the people seated adjacent to that, who to my surprise, didn't look like they cared.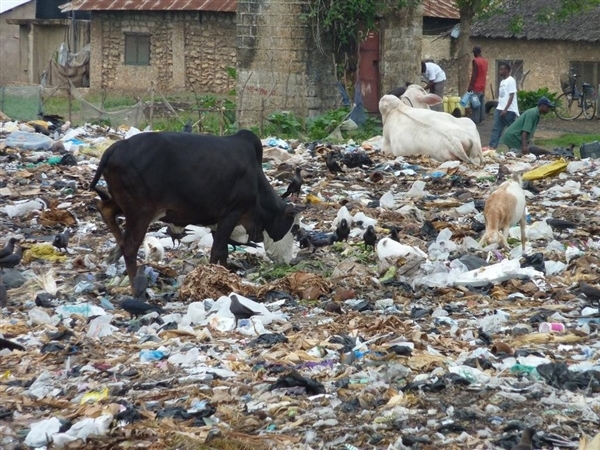 Livestock feeding on polythene bags near the Likoni Channel, Mombasa County. Photo Credit: The Star Kenya
Most people probably don't think much about the plastic packaging, beverage and water bottles they throw away. The pressures of everyday life take up time to worry about our immediate environment. More and more we are concerned about work, family and scrolling through social media.
Greenpeace Kenya Volunteers have been at the forefront in the anti-plastics campaign. They recently conducted a clean-up and brand audit at the Nairobi River that showed how private sector companies contribute to  plastic pollution – a direct relation to consumer uptake of their products. Volunteers have also supported campaigning through petitions urging different enterprises especially the fast food retailers such as KFC to reduce their  plastic food packaging in order to beat plastic pollution.
Studies reveal that 300 million metric tons of plastic,  half of this designed for single use are produced annually. About 12 million tons of these find their way into the oceans each year.  It further reveals that without waste management infrastructure improvements, the cumulative quantity of plastic waste available to enter the ocean from land is predicted to increase exponentially by 2025.
World Environment Day is commemorated annually to encourage worldwide awareness and action for the protection of our environment. Each World Environment Day is organized around a theme that focuses attention on a particularly pressing environmental concern. This year's theme is 'beating plastic pollution.'
Plastic is harmful, it destroys the biodiversity, lead to groundwater pollution, air pollution by releasing poisonous chemicals when burnt, land pollution among others. As we commemorate the  World Environment Day, let us remember the panacea of this menace lies in educating and engaging everyone to rethink their use of plastics.
So what can we do?
We could start by changing our behaviors; such as over-consumption and  littering, and start using alternative forms of packaging like the kiondo and traditional sacks.  We also need to change the way we deal with plastic waste through challenging the society's perception that plastic is easily disposable. Once people of all ages from every social setup and become aware of the ultimate threat to their health, it will become a personal choice to deal with plastic waste and prevent it from entering our environment.
So, the next time I take a vacation to Diani or the beautiful Lamu Island, I will be happy to be welcomed by  the magnificence of the sandy beaches and the splendour of the countryside – instead of plastic waste. It is for this reason that I am appealing to everyone to collectively take part in managing our waste and making informed choices to say no to plastic.
If you can't reuse it, refuse it!