The world is waking up to a tragic fact, year on year: deforestation is happening on a scale and at a rate that amounts to nature collapsing.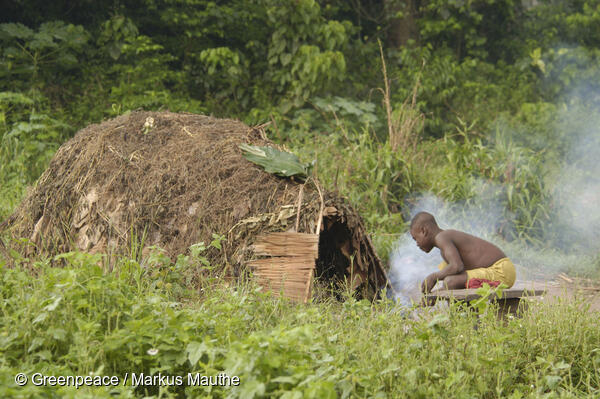 Some rainforests are already emitting more carbon dioxide than they absorb, further destabilising the global climate. At current trends, all primary rainforests in the Congo basin – the world's second-largest rainforest – could be cleared by the end of the century.

Given the grim state of the world's forests, we need to seize every opportunity to do right with nature.
The UN Convention on Biological Diversity summit, or COP15, planned in Montreal, Canada, in December this year could be the "Paris moment" for biodiversity, as the 2015 Paris Agreement was for the climate. In Montreal, countries are expected to agree on a global framework to halt biodiversity loss this decade.

As biodiversity negotiators convene this week in Nairobi, Kenya, to prepare the meeting, they must wake up to another crucial truth: Indigenous Peoples and local communities are better at managing their lands than anyone else.
Data gathered across countries and continents consistently shows that when people living in forests are left to run them, the result is better-protected ecosystems and biodiversity than any other conservation model.
Deforestation industries – whether loggers or agribusiness – are well aware of this. While they clear forests, Indigenous Peoples and local communities are being displaced, abused, and murdered.

Delegations attending the biodiversity COP15 are expected to discuss safeguards for recognising the rights and roles of Indigenous Peoples and local communities in the conserving nature. So far, discussions haven't included any concrete commitments.
To protect biodiversity effectively, and ethically, COP15 must recognise tangible protections for the rights of indigenous peoples.
That should include creating a new and separate category for Indigenous land, and one that puts them as the centre of decision-making and funding.
Currently, there exists two types of conservation designation: protected areas and other effective area-based conservation measures' where conservation is supposedly achieved even though it isn't the formal objective of land management.
In Nairobi, countries should agree to create a third category for land which is fully governed by Indigenous Peoples and local communities.
In all protected areas where live Indigenous Peoples and local communities, they must be fully involved in the decision-making processes and management of the area.
Yet the threats are not just the chainsaws and bulldozers of multinational companies seeking to extract natural resources, but "fortress conservation", which closes off land and forests to human activities.
There is a difficult history not only between industries and forest dwelling Indigenous Peoples and local communities. Also relations between traditional conservationists and Indigenous Peoples and local communities are often conflictual. Unlike traditional conservation NGOs or government-run parks system administrators, the latter consider the forest their home.
This has often led to chronic human right abuses in the form of rape, torture, and killing of forest communities by so-called eco-guards. This has been well-documented in Central Africa.
Fortress conservation is the result of the exclusion of Indigenous Peoples' rights from conservation frameworks. We've been seeing it play time and time again, with the latest confrontation taking place just before talks in Nairobi when Tanzanian authorities opened fire against Maasai communities. Creating a game reserve for tourism by violently evicting the land's inhabitants isn't "conserving nature." It's a renewed form of colonialism.
The global deal for nature due to be agreed in Montreal later this year is an opportunity shun this type of fortress conservation and embrace change.
That means formally recognising the rights of Indigenous Peoples to their ancestral lands and natural resources.
In recent years, some progress has been made. In the Democratic Republic of Congo, it is now possible for forest communities to formally receive rights over a forest concession.
But the Congolese government and donor countries need to do more to make this option accessible to communities.

There is still many billions of dollars invested in sustaining a problematic "fortress conservation" model.
Being serious about forest community rights means investing far more in the formal process of recognising Indigenous Peoples' land rights, management, and decision making, and protecting Indigenous knowledge.
Negotiations taking place in Nairobi this week must be a turning point for Indigenous People's rights in biodiversity conservation.
Allowing NGOs and government agencies to remain the primary beneficiaries of conservation funds would be a huge failure of the UN Biodiversity talks.
The Cop15 biodiversity summit is the moment to lay the groundwork for a new system that protects forests and wildlife, which is both effective and just.
Irene Wabiwa Betoko is the International Project Leader for the Congo Basin forest, Greenpeace Africa