Seed is the source of life. It is critical in food production, nutrition, agricultural development, rural livelihoods and agrobiodiversity. Farmers across the globe have saved and exchanged indigenous seeds freely, for centuries. Seed sharing forms the culture and tradition  of many communities and  it has been key in sustaining local farming  communities and livelihoods for aeons.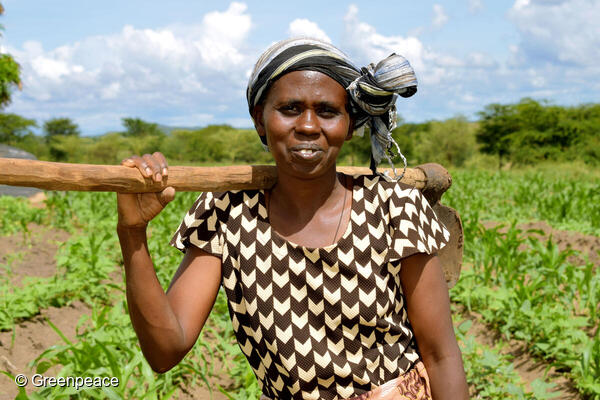 But this practice is under threat from policies and laws that seek to control the seed sector across the world. Disguised as regulation and formalisation of the seed industry, these laws are an extension of imperialism as they seek to impoverish and control smallholder farmers while profiting huge multinational corporations interested in seed control.
These punitive laws are the epitome of corporate greed, emanating from the industrialisation of Agriculture. Multinational seed companies, whose aim is to profit from the selling of certified and improved seed varieties, mainly monocultures, have been on the rise. Currently, the globe seed market is controlled by 10 key multinational companies. These are Bayer Crop Science, Corteva Agriscience, Syngenta AG,BASF SE, Limagrain, KWS SAAT SE & Co., Sakata Seed Corporation, AgReliant Genetics, LLC and DLF Seeds A/S.
It is also no coincidence that the global commercial seed market reached a value of US$ 43.4 Billion in 2021, that's about Kshs. 5.08 trillion. The market is projected to reach US$ 48.8 Billion by 2027. This growth is attributed to farmers purchasing more commercially produced seed varieties as opposed to using farm harvest saved seeds.
To achieve these massive growth rates, these companies require the support of governments in stifling the informal seed systems – local seed markets, farm harvests and sharing –  that encourage the use of indigenous seeds by smallholder farmers.  These formal seed systems supported by the large multinational companies can only be actualised by supportive policies that abolish the use of indigenous seeds. Kenya has not been left behind in oppressing its smallholder farmers through such punitive seed laws. But this is not just about stopping farmers from using indigenous seeds, this is about control. Putting the farmers under a certain system where they are forced to obtain seeds from that system. 
In 2012, the Kenyan government reviewed the Seed and Plant Varieties Act Cap 326, an Act of Parliament conferred with powers to regulate transactions in seeds to include Section 10 subsection 4. This Act punishes farmers by two years in jail or a fine of Kshs. 1,000,000 if they are found selling uncertified seeds and not registered as seed merchants. The Act further defines the sell of seeds as sell" includes barter, exchange, and offering or exposing for sale seeds which takes away the adage seed sharing practise.
This is despite the fact that informal seed systems such as farm harvests, local markets and seed sharing supply about 80-90% of the seeds whereas formal seed systems which include certified seeds supply only 20% of the seeds used in food production.
In legal terms, the sharing and selling of indigenous seeds is a criminal offence in Kenya. But what impact does it have on smallholder farmers? The Seed and Plant Varieties Act demolishes self sufficiency amongst smallholder farmers who use indigenous seeds to grow food. It seeks to create a dependency on multinational companies by smallholder farmers for seeds thus giving an upper hand to the multinational seed companies that continue to steal biological resources from local communities with a profit driven mindset. A move designed to impoverish smallholder farmers and lock them out of farming.
Indigenous seeds are acclimatised to the local climatic conditions and are likely to survive extreme weather conditions. They therefore increase the farmers ability to adapt to the climate crisis. Criminalising their use exposes farmers and consumers to food insecurity associated with long periods of drought. Indigenous seeds are critical for building viable and diverse crop populations. Barring their use leads to a decline in on-farm agricultural diversity that indigenous seeds make up. It is no surprise that the United Nations Food and Agriculture organisation estimates that in the last 100 years about 75% of the world's crop diversity has been lost.
The use of local seeds and culture are inextricably linked. Indigenous seeds represent culture,a people's way of life, a rich tradition that passes knowledge from generation to generation. Abolishing the use of indigenous seeds implies the loss of these traditional farming knowledge and practices. Article 11 of the 2010 Kenyan constitution recognises culture as part of Kenya's foundation and the civilisation of its people. It goes further to recognise the role of science and indigenous technologies in the development of the nation in article 11 part 2b. And as such instructs the Kenyan parliament to recognise and protect the ownership of indigenous seeds and plant varieties, their genetic and diverse characteristics and their use by the communities of Kenya.
It is therefore right to say that the Kenyan government and its respective seed policies undervalues farmer managed seed systems. Smallholder farmers in Kenya account for 80% of the farming population yet they are actively discouraged from farming by state agricultural policy that promotes commercial seed provision and modernisation of agriculture. Farmer seed systems provide equal access to seeds to farmers regardless of their economic status. Which begs the question: Why should policy support be geared towards formal seed systems when informal seed systems are currently supporting agricultural production?
When laws such as the seed and plant varieties act are passed, in whose interest do they act?
It is time for the Kenyan government to amend the punitive seed and plant varieties act cap 326 to allow smallholders to use, save and share their own seeds. Indigenous seeds are the key to agrarian futures. Without seeds, productive agricultural land will be left bare, farmers will down their tools, and a food crisis will prevail. 
Article originally published in the Business Daily.
Claire Nasike, Campaigner Greenpeace Africa