Miao Xin gives a presentation on his solar financing platform at PowerLab in Shanghai, 4 November 2016. From eccentric student environmentalist, to distributed solar pioneer, Miao Xin is one of a young generation of Chinese who are powering China's clean energy revolution from the grassroots.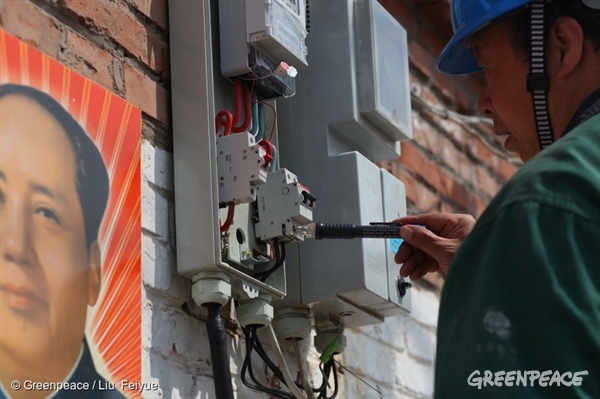 Two weeks ago his innovative household solar finance platform won this year's PowerLab solar startup incubator, a program established by Greenpeace East Asia and supported by New Energy Nexus.

Miao Xin's project aims to provide a bridge between individuals interested in harnessing the power of the sun, and the finance that can help them realise that.

The concept is simple: solar can provide great benefits to households by providing both their own power and enabling them to sell to the grid, but it can be expensive to install. Miao Xin's project helps by providing finance for 60% or even 100% of the initial instalment costs.

With instalment costs for just a 10m x 10m rooftop reaching as high as RMB 80,000 (USD 11,645), this financial assistance could be a gamechanger.

"If we can provide solar with zero instalment costs, distributed solar can really explode in China," says Miao Xin.

This is important. China's existing utility-scale solar plants are seeing massive wastage of the energy they produce, and the clean energy transition the country needs just isn't happening fast enough. Distributed renewables, such as rooftop solar panels, could well be the answer.

A worker installs solar panels near Beijing
So how did Miao Xin, a young accounting graduate and former employee of one of 'the big four' accounting firms, move into the world of solar startups? 

It started as a young adult at university in Nanjing:"Though I studied accounting, money and material requirements never seemed like the most important thing in life – I wanted to help people and help society."

Whilst at university, Miao Xin found a call to the environmental movement, in part through watching Al Gore's An Inconvenient Truth. Environmentalism lead him to a one-man campaign against disposable chopsticks – something he became famous for in his class.

"My friends thought I was some sort of radical environmentalist," he says. "But I just thought of myself as doing one of those small things that anyone could do to help the world."

Miao Xin's passion for a larger cause was far from just a university fad. After graduating he found work in an international accounting firm, the start of a prestigious, well-paid career. But he always felt something was slightly amiss.

"Their goal – to make money – was never aligned with my personal goal. After three years there I realised that I had to follow my passion. I wanted to something important for the world – so I quit."
One of his clients at the firm had been a solar tech company. Miao Xin was not only inspired by their work in clean energy, he also saw how the young sector was ripe for growth and innovation.

And so, after months of brainstorming, Miao Xin kicked off his household solar financing project at the beginning of this year. The project currently has just three members, all of whom work on it as a passion, alongside their full time jobs in Shanghai. But, as winners of the PowerLab incubator, the team will be receiving tailored financial, legal and business training from experts in the field and experienced start ups.
There could be big things to come for the young team, and big things to come for China's rooftop revolution.
This article is the second part in a series on China's 'Grassroots Renewables Revolution'. The series will look at the work of people across the country, from young entrepreneurs to farmers to community leaders, who are making the energy transition happen.
Tom Baxter is a communications officer at Greenpeace East Asia