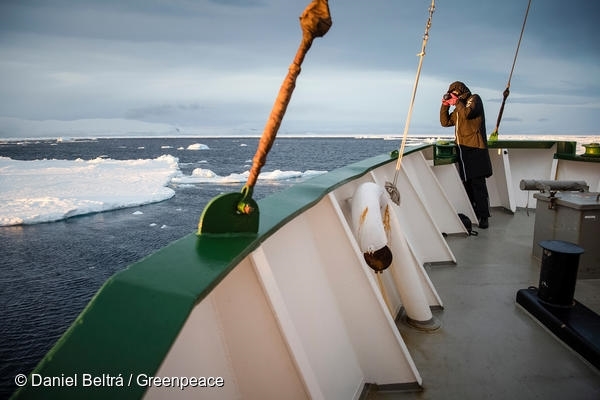 TV star Wang Yuheng is on a mission to protect the Antarctic.
In February, he joined Greenpeace on our Antarctic ship tour, where he came face-to-face with wildlife in the region, returning to China with the message that the area must be protected.

Wang is one of thousands of people in China, including Olympic athletes and movie stars, who have pledged support for the creation of an Antarctic sanctuary.
"Two things I experienced in the Antarctic Ocean left a deep impression on me," Wang said. "The first was how seasick I felt as giant waves slammed against our ship. But as I lay on my back, books sliding across the shelves of my cabin, I thought about how the Gentoo penguin can swim at 36 kilometers per hour in those icy waters, and I couldn't help but be struck by what a powerful animal that is."

Back in China, Wang is famous for his photographic memory. His major break came on the reality show, 'The Brain,' when he amazed audiences with his ability to recognize one in hundreds of seemingly identical objects.
Since then, he has wowed viewers with both incredible feats of intellect and his unique designs, amassing more than 3 million online followers.

Now, Wang is focusing his brainpower on a task with global implications — the creation of the largest protected area on Earth.

"The Antarctic is the only region in the world that has never been home to human civilization. It's like the white space in an ink painting — it gives the world depth. We have a responsibility not to cause any further damage," Wang said.
Wang says that a marine sanctuary would safeguard species like the majestic emperor penguin, whose population is on track to shrink as much as 33% by the end of the century, largely as a result of climate change.
At the same time, the fishing industry continues to profit from the sale of krill, tiny creatures that almost all species in the Antarctic depend on for survival. In recent years, krill fishing operations have moved closer to areas where penguins, whales and seals breed, further jeopardizing the animals' food supplies.

Growing Momentum

In China, many others are following Wang's lead and calling for the creation of an Antarctic sanctuary.

Along with Wang, Olympic athletes Liu Guoliang and Wu Minxia, actors Mark Zhao and Yang Zishan and writer Nan Pai San Shu have recently shared the petition online, pledging their support. In its first week online, the petition garnered 33,670 signatures in China.

The petition calls for the creation 1.8 million-square-kilometer protected area in the Weddell Sea. This will be the world's largest nature reserve and a sanctuary for more than 10,000 species of wildlife, including penguins, seals and krill.

The creation of the Antarctic sanctuary ultimately depends on an agreement between 25 members — it's a real global effort. This means that, as awareness grows, so too does the potential that we will be able to protect this precious region.
In tribute to one of the iconic creatures of the Antarctic, Wang has created a 1-minute paper penguin challenge for his fans. Give it a try, and join Wang on his mission to protect the Antarctic here.