Global warming is an indisputable fact. As the climate crisis worsens, sea level in Hong Kong rises. High surges caused by super typhoons like Typhoon Mangkhut will occur once every ten years by mid of the century. Greenpeace estimates that about 28 square kilometres of Hong Kong coastal lands, equivalent to 147 Victoria Parks, will be under seawater, affecting nearly 100,000 human lives. Will your home be safe?
Recognizing climate crisis in Hong Kong
Climate change has fueled Australia's bushfire, the melting of glaciers, and the rising sea levels. Hong Kong, largely surrounded by water, is susceptible to the impacts of the climate crisis.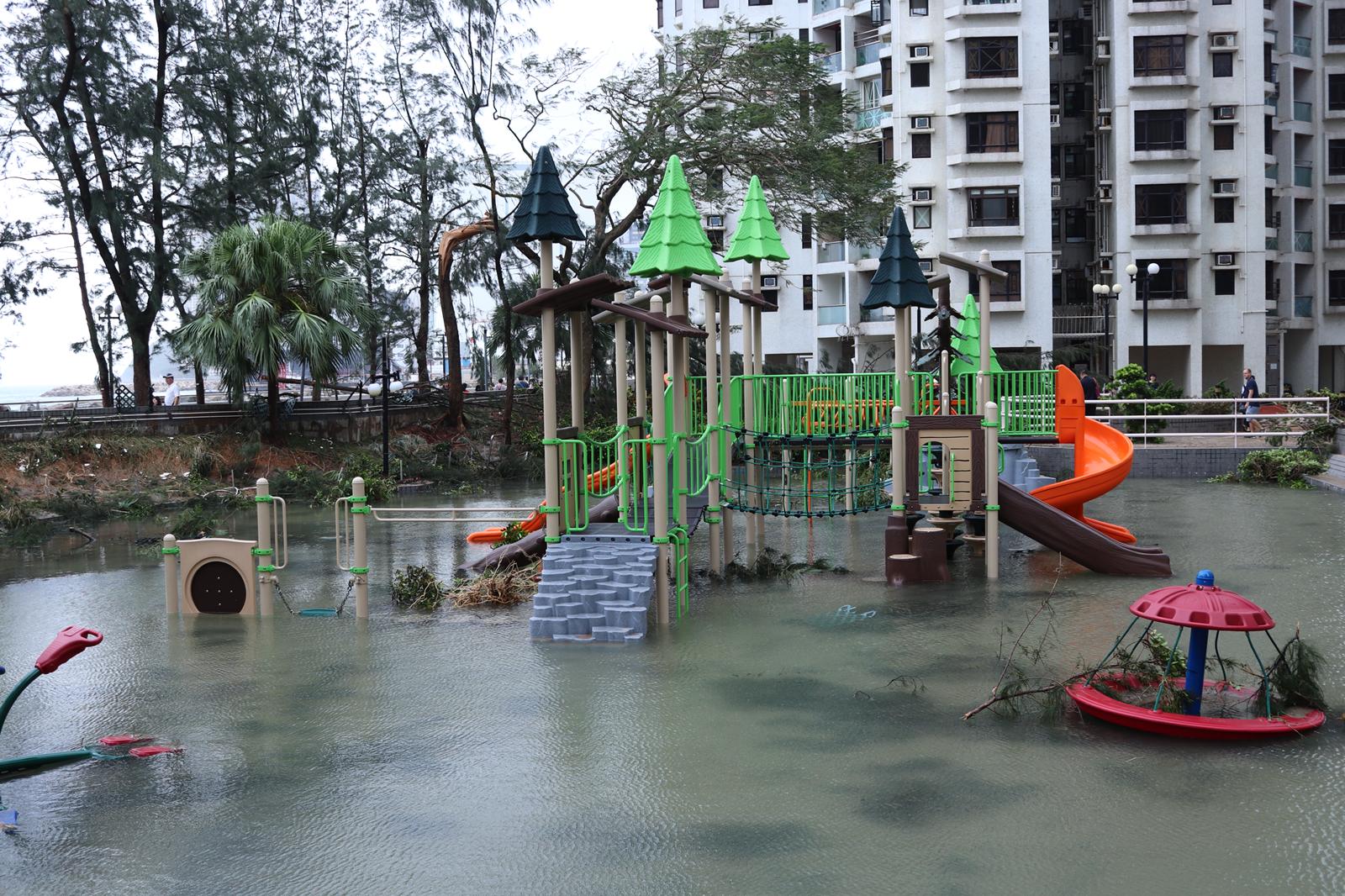 According to Hong Kong Observatory[1], during the passage of Typhoon Mangkhut, the sea level at Victoria Harbour registered a maximum surge of about 4 metres, similar to the number when Typhoon Mangkhut hit[2]. Among the 5 tide gauge stations, Victoria Harbour recorded the lowest water level. Any areas below the 4-metre sea level are at the highest risk of storm surges.
Greenpeace integrated weather data into geographic information for designing the following interactive map, showing the size and population of flood-prone areas in Hong Kong during storm surges. The map helps the government and citizens to take early precautions for reducing casualties and property loss.
An interactive map: Areas and population threatened by extreme storm surges in Hong Kong
The coastal areas in blue are less than 4 metres high above the Hong Kong Principal Datum (HKPD), which are prone to be affected by storm surges.
Interactive Map online:https://arcg.is/18yObv
User manual:
1. Zoom in and out the map by clicking on + or – on the top left
2. Search the flood-prone zones by typing in the area names using the search bar on the top right.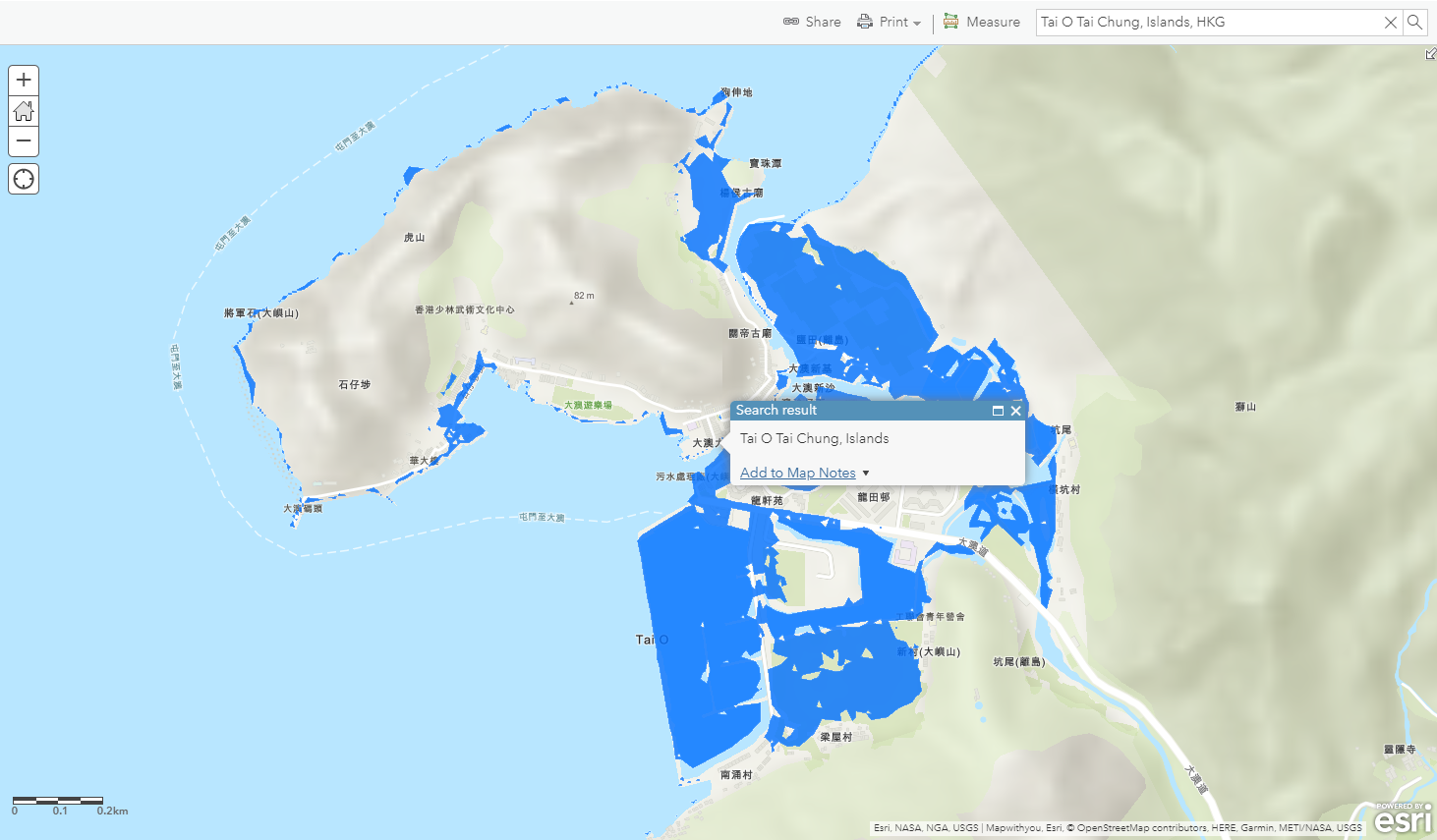 3. The statistics of 18 flood-prone areas are measured in terms of size and population. The map shows an affected size of 17 square kilometres and a population of 40,000 people while clicking on Yuen Long.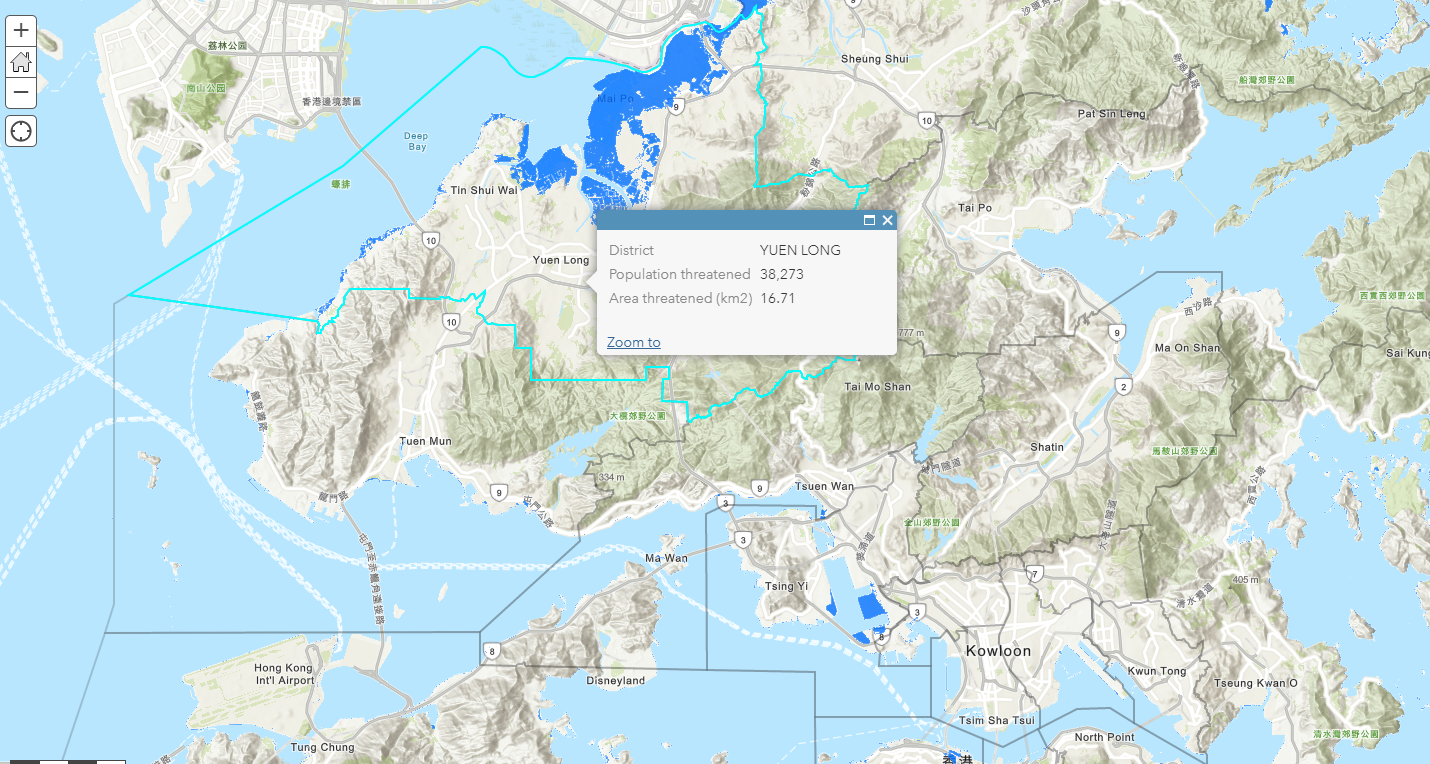 Hong Kong submerged? The impact of storm surge
Greenpeace has discovered that around 28 square kilometres of coastal areas may be submerged by storm surges by mid of the century, affecting 100,000 people. North-western Hong Kong has the highest disaster risk. Yuen Long and North District account for 71% of the total impact area (around 20 square kilometres), with up to 60,000 lives threatened. 
The other three most threatened areas are the waterfront from Belvedere Garden to Riviera Gardens in Tsuen Wan, the southern coastal areas of Ap Lei Chau and Aberdeen Promenade, and the residential areas near New Praya, Kennedy Town in the Central and Western District, potentially impacting 6000 to 11000 lives. Coastal infrastructures, such as the Kwai Tsing Container Terminals, face the risk of seawater intrusion and operational disruption.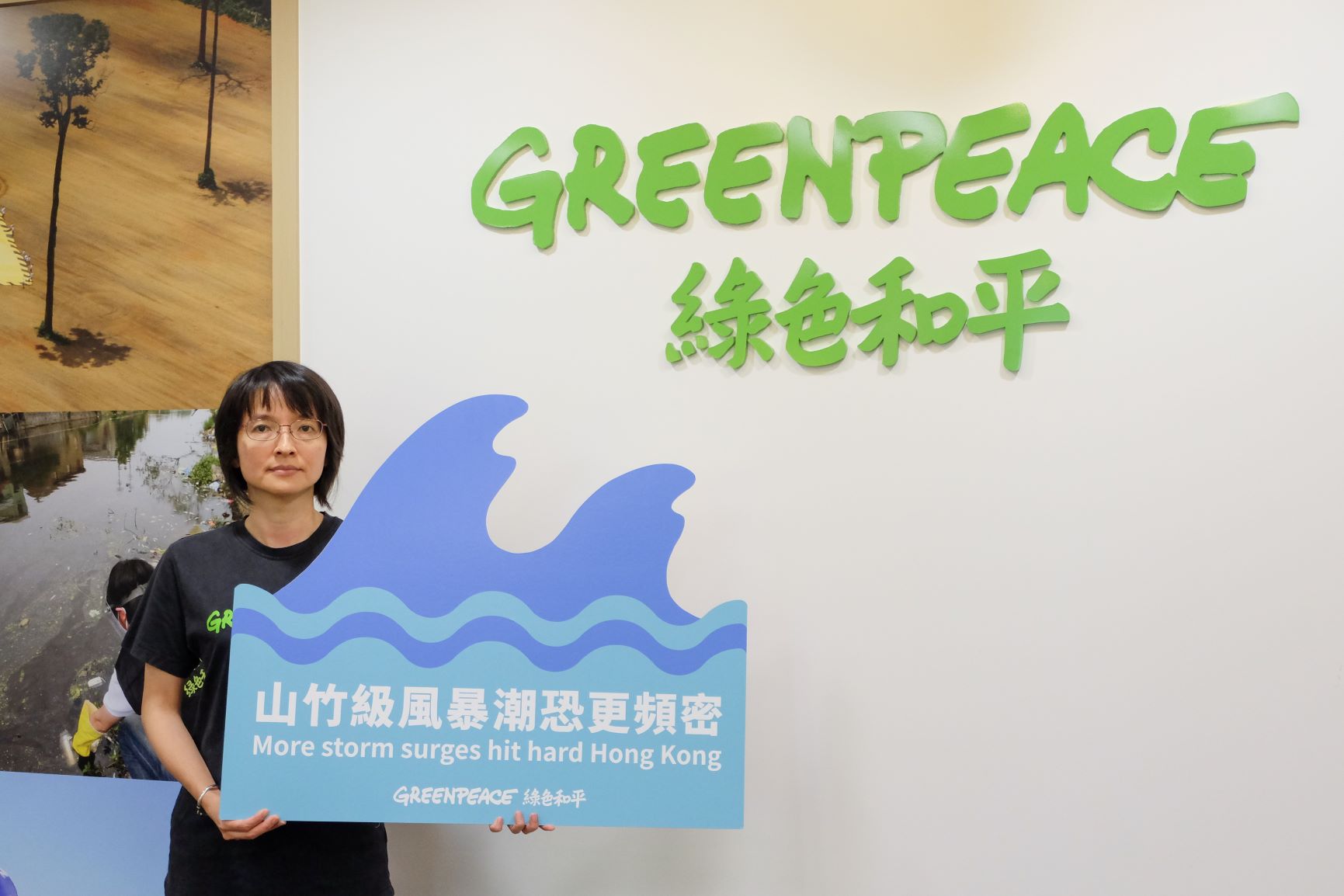 Based on Hong Kong Observatory's record of Typhoon Mangkhut in 2018 [3], storm surges flooded the coastal areas of Tai O, Shek Pik, Mui Wo, Cheung Chau, Heng Fa Chuen, Siu Sai Wan, South Horizons, Lei Yue Mun, Tseung Kwan O, Sha Tin, Tai Po, Sai Kung, and Yuen Long.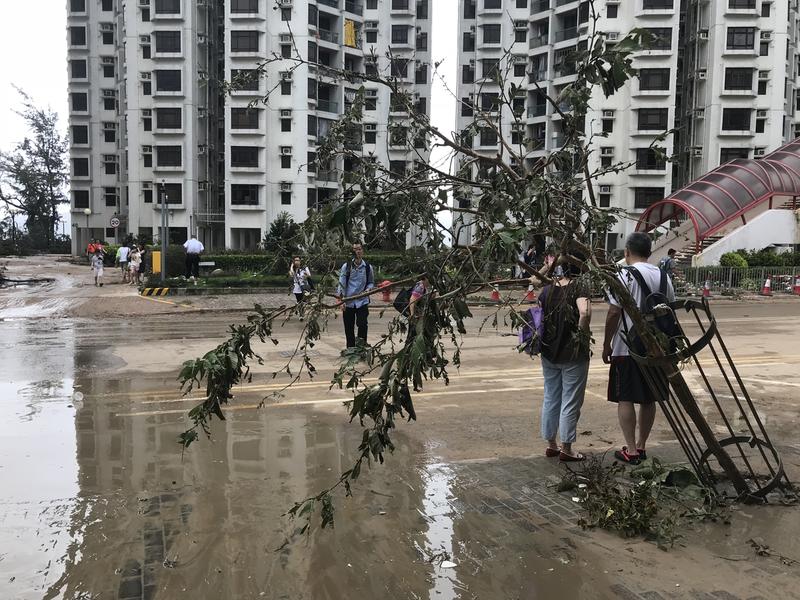 Climate emergency leads to more extreme weather conditions, such as super typhoon. Areas located in lower altitudes have a higher potential for flood, resulting in a huge loss of property and lives.
Act now to mitigate the climate crisis
Greenpeace Hong Kong is lobbying a number of district councils to proactively tackle the climate crisis, urging the government to study the impacts of climate change, identify high-risk areas, create long-term response strategies, improve emergency response capabilities, and propel the development of renewable energy and energy conservation in order to mitigate the climate crisis.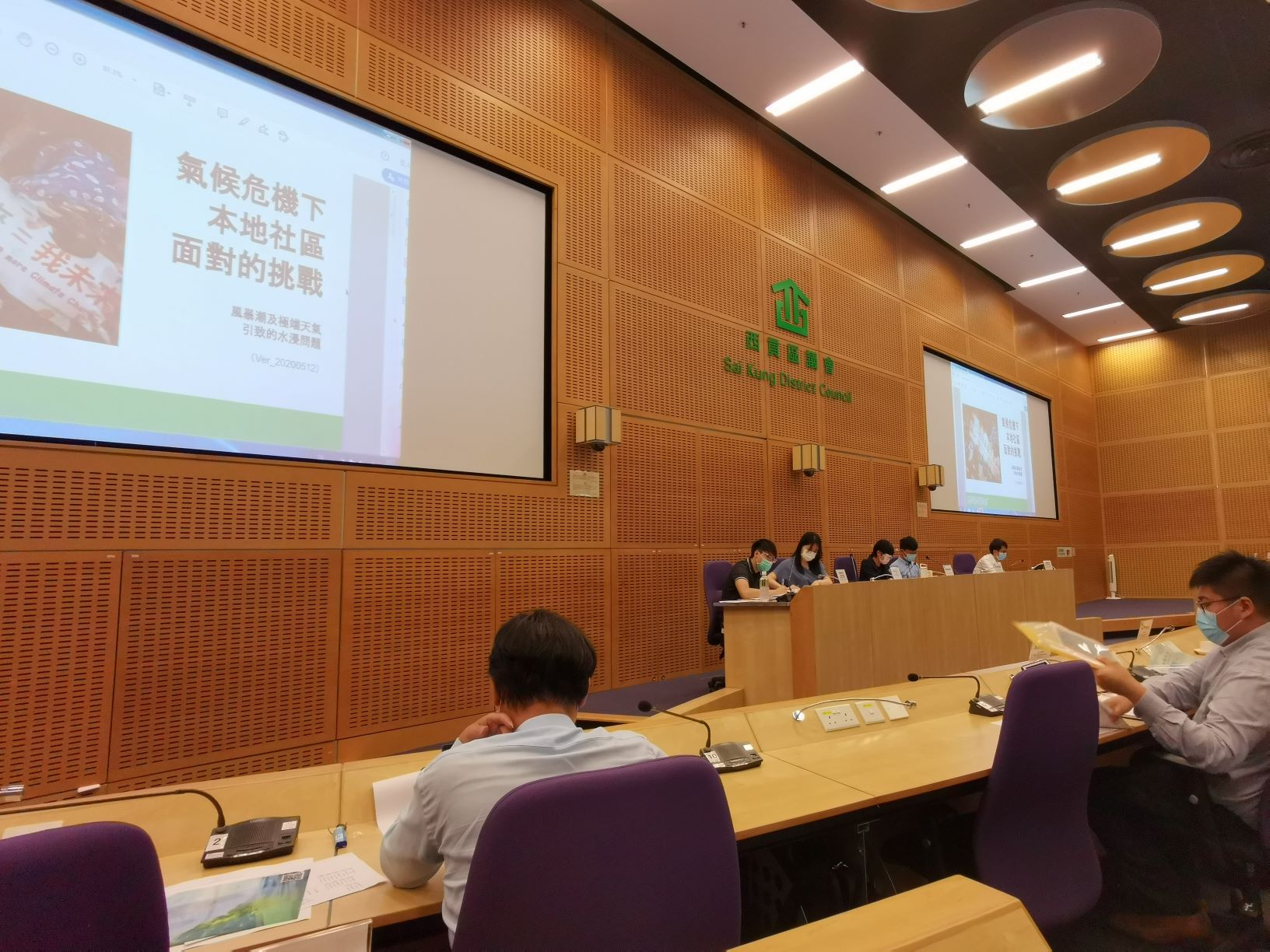 Reference:
[1] Hong Kong Observatory: "Reprint 915 Sea-level Rise and Storm Surge –Impacts of Climate Change on Hong Kong" Report
[2] Hong Kong Observatory: "What is a storm surge?"
[3] Hong Kong Observatory: "Super Typhoon Mangkhut (1822)" Report