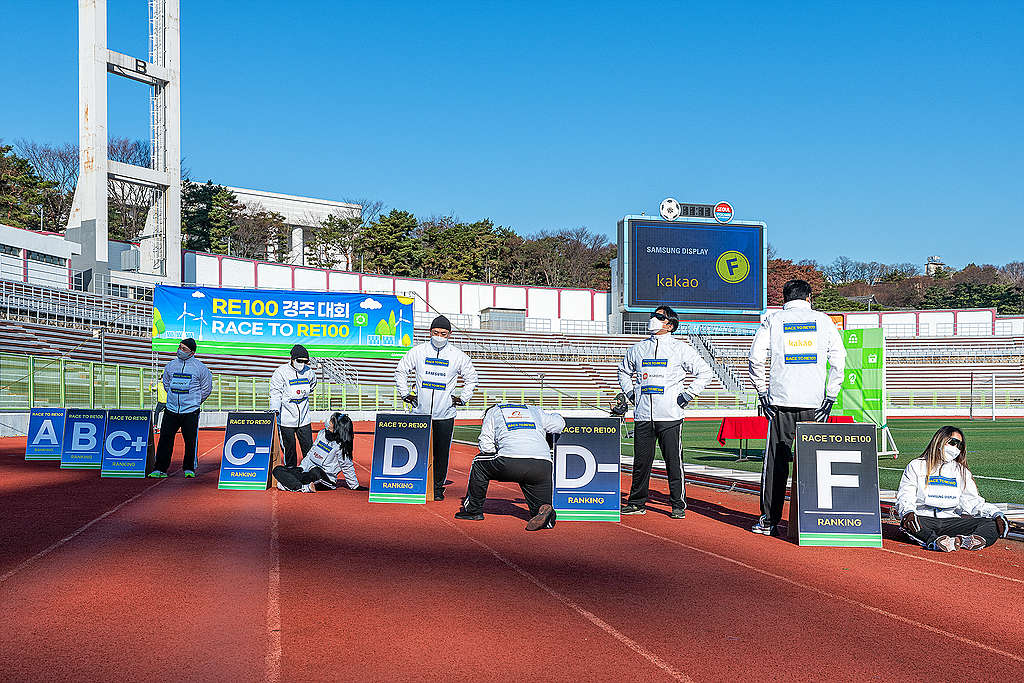 This time last year, it was absolutely HUGE news.
China, Korea and Japan all issued pledges to go carbon neutral in the next few decades. As of 2018, these three East Asian economic powerhouses were responsible for around one third of global carbon emissions, so their promises to take decisive action for the climate are a very big deal. Especially as the region is experiencing record-breaking extreme weather events, including deadly floods in China and scorching heat waves in Korea and Japan that scientists have linked to the climate crisis
But the tech giants in these countries, many household names around the world, just don't seem to be listening. Compared to the commitments their home countries have issued, they are falling way behind. In our first ever regional tech ranking report, Race to Green, Greenpeace East Asia scored 30 of top tech companies in the region on their climate action and renewable energy use, and not a single one scored higher than a C+. Most got Ds.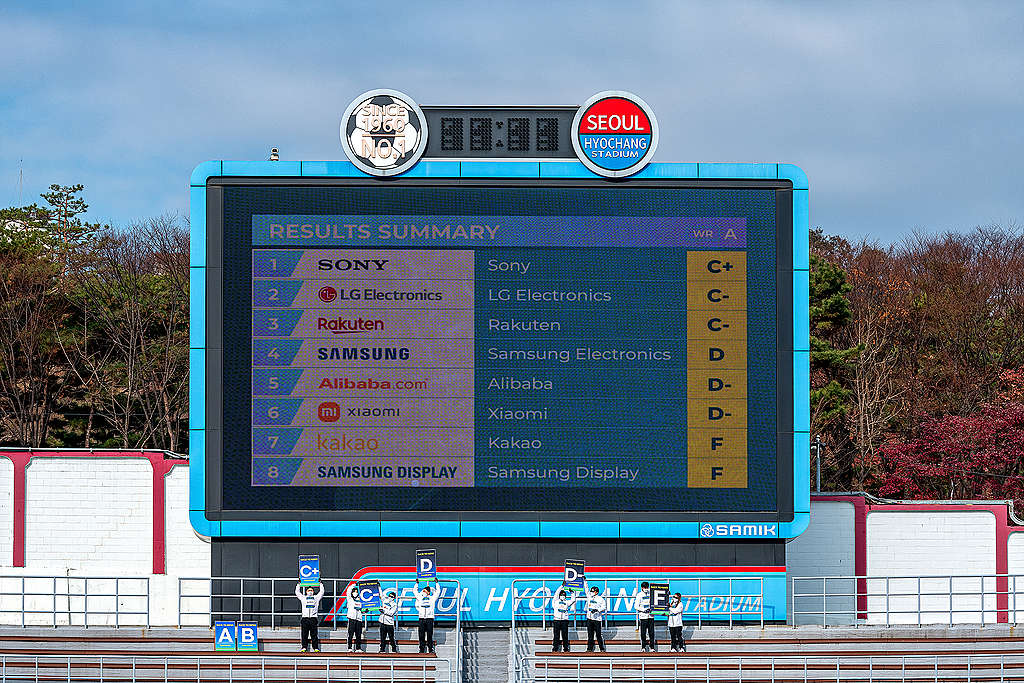 How did we make our Greenpeace tech ranking?
First, we selected 30 of East Asia's leading tech firms from the 2019 Forbes Top 100 Digital Companies list, taking companies' domestic market value and social impact into consideration. The list includes giants like Sony, Samsung, Panasonic, and Xiaomi. We then scrutinized each company's renewable energy commitments and actions. We broke these down into four categories: commitments, actions, data transparency and advocacy (for example, lobbying their national governments to promote renewable energy policy); graded them on each and then assigned a final mark based on those grades.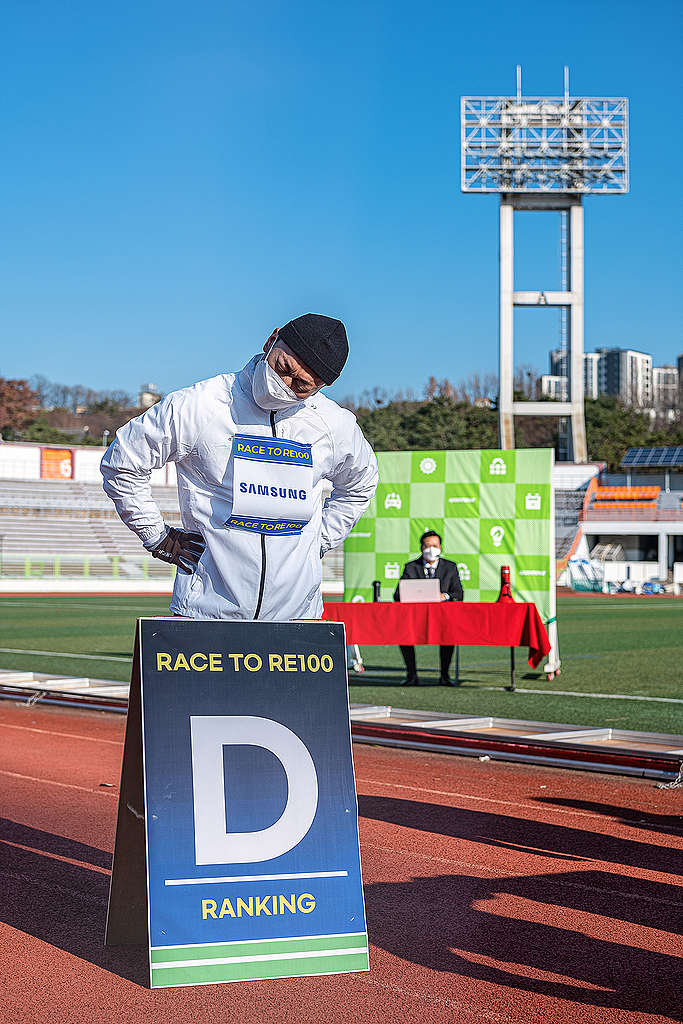 How badly did they do?
Pretty badly.
Not a single company scored higher than C+ (that was Sony), with most of them failing with a D or worse. The THREE key problems were:
A failure to commit to going 100% renewable by 2030;

Setting commitments for decades in the future — far too slow to have any real effect; or,

Not including the entire supply chain in energy commitments when that can account for the majority of a company's total emissions.
Shining a spotlight on the leading firms in that list, here are the main takeaways from the results of our digital tech rankings:
The top mark was C+, an appalling result considering how important this industry is and showing just how much more it needs to do. Sony earned the best grade from its pledges to go 100% renewable and to reduce emissions across its supply chains. It lost marks, however, because less than 10% of Sony's operations are currently powered by renewable energy.

Samsung Electronics, Xiaomi, and Alibaba did particularly badly with D or D- because none of them has issued worldwide 100% renewable energy pledges or emission reduction targets. Xiaomi and Alibaba also did particularly badly in the data transparency category, while Samsung and Xiaomi have not substantially increased their renewable energy uptake. (In South Korea and Vietnam, more than 80% of Samsung's electricity comes from fossil fuels)

Only TWO of the 30 firms have taken major action to increase renewable energy use. While nearly half of them have promised to go zero carbon, only Rakuten and GDS have achieved renewable energy usage rates of 20% or higher in the region.

Only THREE of the 30 firms included supply chain emissions in their greenhouse gas reduction targets: Sony, Toshiba and Hitachi. Yet, as we mentioned above, supply chains may make up the bulk of a firm's emissions.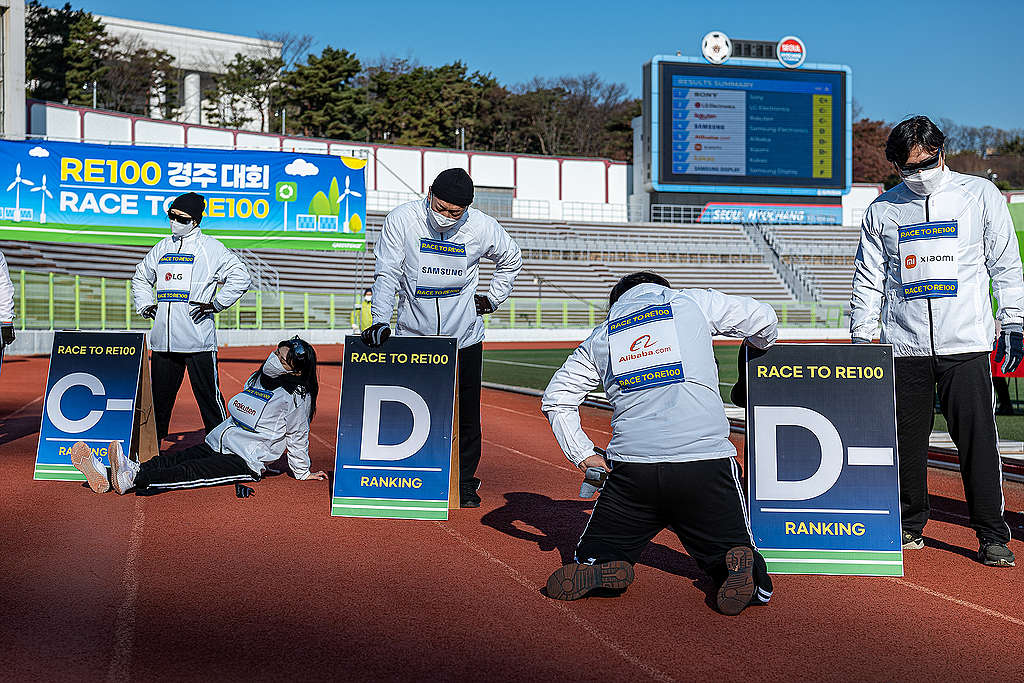 Why it's important they do better
These big companies are constantly investing in innovation to create smarter and better devices and services, yet they are not even doing half as well to end their part in fueling runaway climate change.
And their emissions are a big deal.
The tech sector is responsible for a sizable share of greenhouse gases and it is one of the fastest growing sources of carbon emissions in East Asia. If we add up all the annual energy needs of those 30 companies it comes to more than the entire electricity consumption of Thailand. In 2019, Samsung alone consumed about 20% of South Korea's total household electricity consumption.
What should tech companies do now?
The single most important action is for East Asia's tech companies to commit to, AND achieve, 100% renewable energy use across their entire supply chains by or before 2030.
They can do this by:
Setting timetabled targets to achieve zero, or as near to zero as possible, greenhouse gas emissions, with short term targets in place along the way;

Buy renewable energy directly from the grid in the form of power purchase agreements. Currently too many of them rely on limited sources such as rooftop solar;

Disclose climate and energy data across their supply chains; and,

Use their brand power to advocate for climate change mitigation and renewable energy-friendly policies in the region.
Tech companies empower our lives, but that should not be at the expense of fueling the climate crisis. They claim to be the industry of the future, yet our ranking report shows them to be "trapped in the past."

What you can do