#AboutUs
Donate
Any kind of continued support, no matter how much, is a big help in protecting the planet we love.
TAKE ACTION
It's not every day you get to welcome a veteran and high-profile climate activist to Greenpeace. That's why we're thrilled to appoint Yeb Saño as Executive Director of Greenpeace Southeast Asia.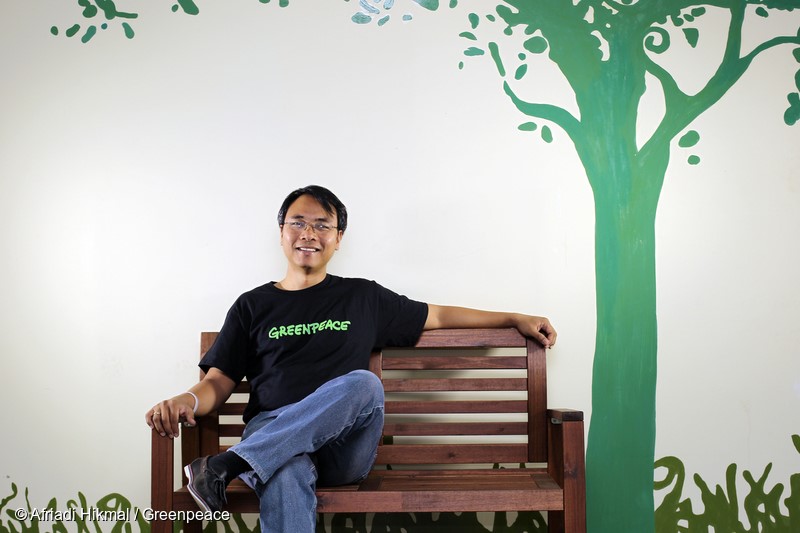 Greenpeace Southeast Asia Executive Director Yeb Sano, January 2016.
Yeb brings to Greenpeace nearly two decades of experience working to combat climate change. Before his stint as Climate Change Commissioner for The Philippines, he worked with WWF Philippines for 14 years. He held several roles at WWF, including leading the climate change program and serving for three years as National Director of Earth Hour.
Greenpeace Southeast Asia Regional Board Chair, Suzy Hutomo said "We are pleased to welcome Yeb Saño. We are confident that he will lead Greenpeace Southeast Asia to achieve our ambitious goal of protecting Southeast Asia's natural heritage from destruction.
"Under Yeb's tenure, Greenpeace will continue working together with other social and environmental movements to achieve our common goal. With the support of the people, we know that we can achieve social and environmental justice."
One of Yeb's defining moments came during the 2013 UN Climate Summit in Warsaw where he was Philippines Chief Negotiator. Meanwhile, destructive Typhoon Haiyan tore apart communities in Tacloban, Philippines. His emotional speech calling for action on climate change reached hearts around the world:
"It was a heart-wrenching moment that changed my life. I was thrust into a responsibility of being a voice for the unheard, a voice among thousands crying for climate justice," said Yeb.
In 2014, he sailed on the Greenpeace ship, the Esperanza, into the Arctic Ocean to draw attention to the effects climate change is having all over the world.
Although he was far from home, he wanted to demonstrate how this common problem affects people all over the world differently. He said:
"I was born over 8500 kilometers from the North Pole, and yet I have come to realize that my future and the future of my country is tied to the fate of the melting Arctic."
Yeb joins Greenpeace with the firm belief that the solution to the world's ecological crisis does not exist in the corridors of power, but by catalysing an interconnected, global movement of people.
"The battle cannot be won merely within the confines of the institutions we have built and the boundaries of my own country. All of us need to stand together to make it happen."
"I'm thrilled to not only be joining the best-loved global environmental campaigning organisation, but also be joining millions of people from every corner of the globe who make the work of this fantastic organisation happen."