As we conclude Women's month, we feature two women entrepreneurs who are making a wave of change in the business sector by adopting sustainable business practices. Samantha Dizon heads Candid Clothing, which offers local and sustainable fashion clothing, while Teena Ramos brings handmade and locally-formulated goods to her customers.
What was your vision for your business? How did your business start?
Samantha: The vision for my enterprise is to make sustainable fashion accessible to the Philippine market. I started it as a side hustle / passion project in 2017. Back then, sustainable fashion and social enterprises were seen as expensive and out of reach for the common Filipino. The goal was to make ethical fashion an easy decision for consumers, which is also why our tagline is "Ethical made Easy"
Teena: On the eve of the Year of the Dog (2018), my dog Zippy's biopsy results came back positive for Amelanotic Melanoma, a type of skin cancer in dogs. Her veterinarian explained to me that while her cancer was non-aggressive, it can mutate into something that was. There was no cure, no timeline for this disease, and that was when I shelved all possibilities of going back to corporate. I decided caring for her and being with her 24/7 was more important than getting stuck in traffic.
I launched Matenara on my birthday that same year, March 21st. The sustainable living/low-, zero-waste movement had gained momentum then and, really, it was going back to what we were taught in school – refill, reuse, and recycle. That was the vision and the advocacy – to provide sustainable options in refillable, reusable, and recyclable containers. Matenara gave me the opportunity to cherish Zippy for as long as I still had her. She crossed the Rainbow Bridge in July, 2019, after developing a very aggressive Lymphoma.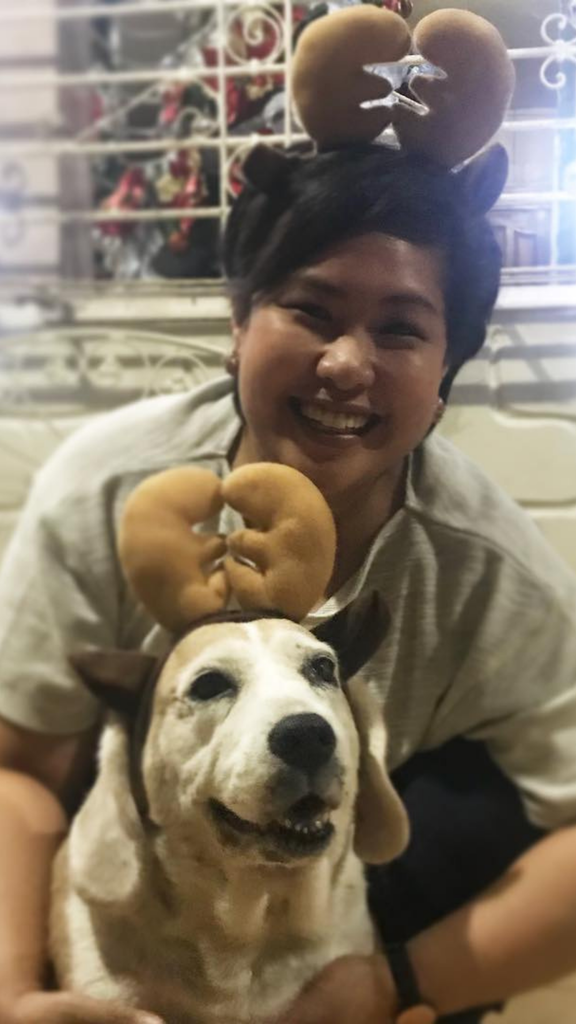 What were some obstacles/challenges you were met with in setting up a zero-waste business?
Teena: The main challenge I had was finding the most suitable packaging (and size!) for my products. I didn't want to use just any glass container; it had to be bottles. In the beginning, there was only the "rugby" bottle available that wasn't associated with sauces so that's what I used! I also had to make my suppliers understand my goals of lessening plastic packaging so I had to let go of one of my bestsellers at that time – the all-natural lip & cheek sticks and tints – because we had no other packaging options for them, plus I couldn't offer refills.
I kicked off with a website when I launched, which was picked up by local online magazines (I'm grateful for spot.ph and preview.ph), but it was only in early 2019 that I started joining trade fairs.
Being a person who is not really fond of talking to people (despite my corporate background), doing this was very challenging for me. Eventually, the fairs became something I looked forward to because I saw how powerful it was to share my advocacy, convince people to shift to all-natural, earth-friendly, plastic-free/zero-waste products, and to basically connect. It was at these fairs that I began to offer refills for some of our personal care goods. We used to pump out liquid shampoo and conditioner at 2-3ml/pump [which took time] so I had to ask our buyers to explore the rest of the booths then come back for their orders.
At these events, there were many merchants offering almost the same products I was, but I have always believed in "community, not competition" and have made friends for life with some fellow sellers.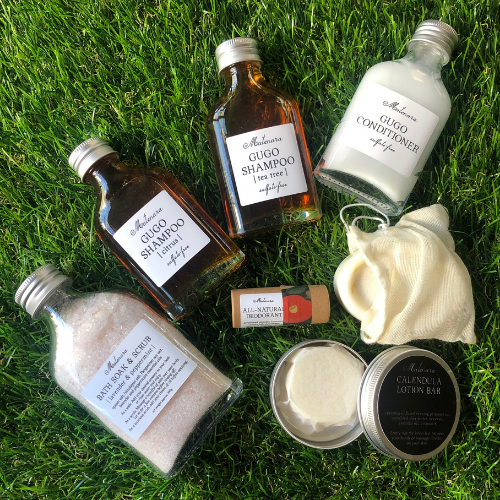 Samantha: Initially it was a struggle because sustainable fashion was not as popular as it is now. The market was still learning about it so consumer education was costly. But now that there are more sustainable businesses, people are more aware and accepting of the business. Another issue was finding a courier that allowed plastic-free shipping. Luckily, we were able to find a courier that allowed this. However, they are only picking up orders from Metro Manila so we had to set-up an order fulfillment center there. It [meant] additional costs for us but I think it is worth it when I think about all of the plastic packaging that we were able to reduce.
How has business been since the pandemic? Any observations in consumer behavior?
Samantha: Honestly, 2020 was better than 2017-2019 [for the business] because we were able to pivot to mask and Personal Protective Equipment (PPE) production during the early parts of the pandemic. More people have been open to shopping online and supporting sustainable fashion. Although now that ECQ has been reestablished, we are worried for the livelihood of our partner garment makers. We might relaunch our manufacturing services to provide more work for them.
Teena: At the onset of the pandemic, I encountered supply and logistics issues – suppliers were closed or had limited operations, provincial shipments were near-impossible. Some products on the website were sold out for a while because I couldn't get my hands on the raw materials. Being a small-batch producer, I didn't stock ingredients in bulk. Patience was also in short supply for a while, but I had more time on my hands which allowed me to study, do product research, and focus on Matenara's strategies and advocacies. By the middle of last year, I had new stockists and partner suppliers. Customers were purchasing goods by the liter or gallon, which was a good problem to have since some of these buyers were outside Metro Manila and shipping liquids was somewhat troublesome (up until now!).
The support of so many people alongside campaigns to support local goods got us through tough times.
What do you use for packaging different kinds of products? Can you share tips for sellers who want to shift to plastic-free packaging?
Samantha: Initially we used to wrap it with kraft paper and twine. This was cost-effective but time consuming. Once we started getting more orders, we switched to cassava pouches. This was a bit more expensive than the kraft paper but definitely saved us a lot of time. You really need to integrate it into your costing. We added it to our shipping fee but you also have the option of adding it to the cost of your product instead. For the courier, I have no problem recommending Blitz Delivery! They are the first one that allowed us to use plastic-free shipping. They took extra care not to get our packages wet or damaged despite the plastic-free shipping.
Teena: There is an ongoing debate as to whether glass packaging is truly sustainable or not. I think what actually makes packaging sustainable is the consumer's attitude towards it. If they refill, reuse, recycle containers for as long as they can, then, for me, that's what makes them sustainable.
I had to undergo several iterations before settling on my current packaging – uniformity, availability of sizes, usage, refill/reuse potential, etc. Powders and liquids went into bottles and jars, solids went into tins. Purpose over aesthetic was essential in making this decision.
I also had to consider how I was going to pack and ship the goods so we partnered with compostable packaging suppliers and plastic-free courier services.
I feel that one of the main concerns of packaging is cost. Glass and compostable packaging is significantly pricier than its counterparts so this is something that needs to be taken into account. Overall, it boils down to what your advocacy is and how you stay true to it. 🙂
---
Check out Matenara and Candid Clothing for more zero-waste ideas!
Just like Teena and Samantha, you can help create a #BetterNormal by breaking free from single-use plastic by supporting the following calls:
Call for a nationwide ban on single-use plastic: act.gp/supbanpetition
Ask Lazada & Shopee to reduce their packaging waste: act.gp/plasticfreeshopping