Bangkok – Thailand's alarming plastic pollution  has been linked to the recent deaths of animals and endangered species– most recently a wild deer and a baby dugong [1]. Greenpeace Southeast Asia questioned the government's Roadmap on Plastic Waste Management, recently approved early this year, on whether the plan is sufficient enough to prevent further impacts on the country's wildlife. 
"Since the beginning of the year, we have lost many endangered marine species and wildlife because of our out of control plastic addiction" said Tara Buakamsri, Thailand Country Director for Greenpeace Southeast Asia. 
Although the roadmap has explicitly identified two main challenges: first, on the state of plastic wastes along the supply chain (from production, consumption, post-consumption, and final disposal of single use plastic products); and second, on the lack of legal instruments and mandates for plastic labeling system, restriction on single use plastic packaging and products, and regulations that encourage waste separation and recycling practices. There is no guarantee that the roadmap, which will last for the next 12 years, will bring about change and reach its vision "moving toward sustainable plastic management by circular economy".
"Unless legally binding mechanism are introduced and implemented in order to reduce the impact of single use plastic products on the environment. The roadmap will only be to raise public awareness and support voluntary measures but with no significant progress" added Tara.
The following are Greenpeace recommendations for Thailand's plastic waste management roadmap:
Create a plan of action on marine debris distinctively from

Thailand's plastic waste management roadmap, at the same time to enact a legislation on the

reduction of the impact of single use plastic packaging and products on the environment.

Institute legal measures to make single use plastic ban under the roadmap more effective and comprehensive, in particular, abolish plastic bags fees and restrict the use of single use plastic in packagings and products. Those fees can be used to set up a fund governed by a trusted and independent public body for recovering marine ecosystems in Thailand.

For Fast Moving Consumer Goods sector to publicly disclose comprehensive information about their plastic footprint and the plastics they use, at the same time, begin reduction efforts by eliminating the most problematic and unnecessary single-use plastics

Review the concept of circular economy model that being used in Thailand's plastic waste management roadmap to explicitly promote waste-to-energy project. If properly implemented, the volume of plastic waste will be reduced 0.79 million tons a year and that will help reduce greenhouse gas emissions to 1.2 million tons of CO2, as well as produce equivalent to 1,830 million kilowatts-hours of electricity. But the roadmap failed to address CO2 emissions from waste-to -energy plant that burning plastic waste . If 0.79 million tons of plastic waste is burned, it will emit 22.83 million tons of CO2. [3]
Notes:
[1] In Thailand, more than 300 endangered marine animals die from consuming plastic waste and from being caught by fishing gear per year. While 60% of marine animals,specifically dolphins and whales, die from eating plastic waste, 70% of sea turtles die from plastic waste that bind their neck and body. https://www.dmcr.go.th/detailAll/13538/nws/16
[2] On the 17th April 2019, the cabinet approved the roadmap on Plastic Waste Management 2018-2030 aiming to reduce and stop the use of plastic and replace it with environmentally friendly materials. According to the roadmap, in 2019, three plastic products will be banned. They include plastic cap seals in water bottles, oxo-degradable plastics, and plastic microbeads. Meanwhile, the use of four other types of plastic will stop by 2022. They include plastic bags less than 36 microns in thickness, Styrofoam food boxes, plastic straws, and single-use plastic cups.  http://www.pcd.go.th/Info_serv/File/Plastic%20Roadmap.pdf
[3] Burning 1 ton of plastic waste will lead to the emission of 2,890 kilograms of CO2 equivalent. https://www.ciel.org/wp-content/uploads/2019/05/Plastic-and-Climate-FINAL-2019.pdf   
Media contact:
Somrudee Panasudtha, Greenpeace Thailand Media Campaigner
E:  [email protected]  M: +66 91 770 3523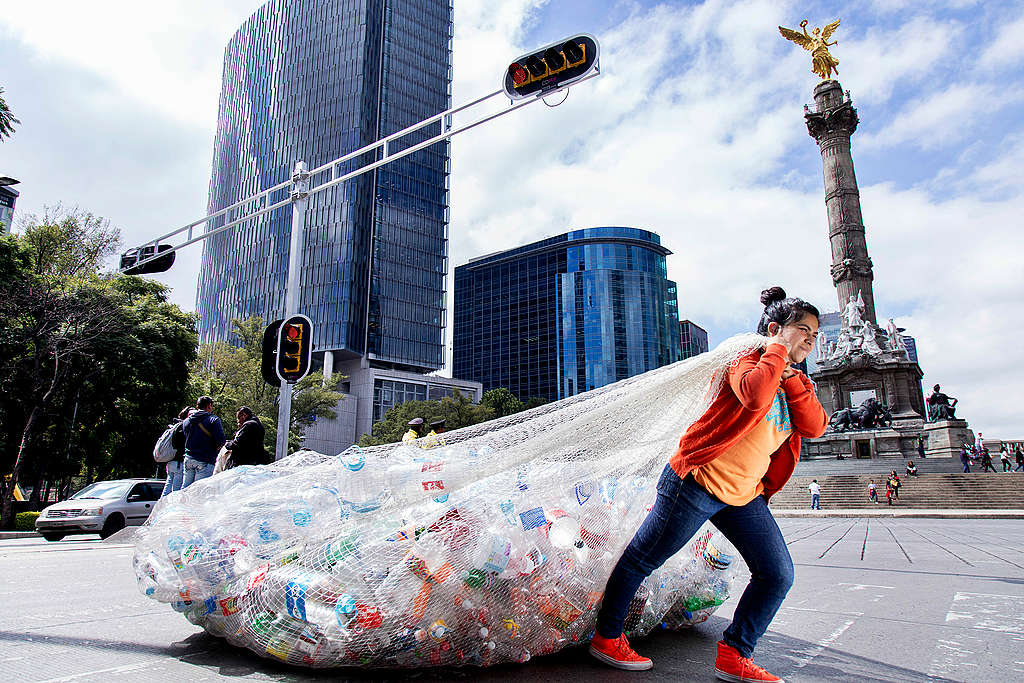 Stop single-use plastic!
Southeast Asia coastlines are among some of the most impacted areas by plastic pollution in the world. You can be a part of solution to change that!
Get Involved