The forest fire crisis of 2015, one of the worst crises in Indonesia's history is still fresh in our memory. The disaster in Sumatra and Kalimantan led to the destruction of around 2.6 million hectares of forests and peatlands, causing 103,000 premature deaths of people in the region and increasing the Orangutans' risk of extinction. This alarming issue has yet to be addressed and forest fires are still a big threat for Indonesia.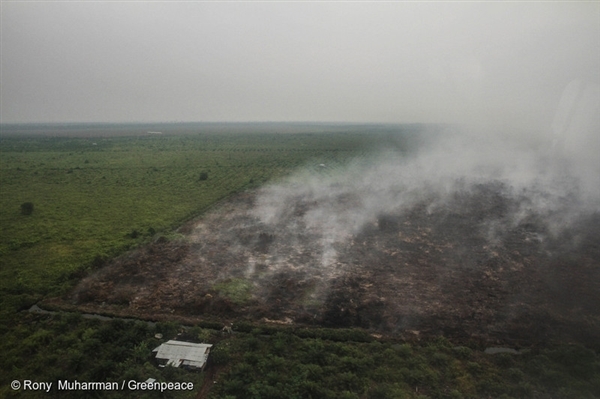 During the Paris Climate Change Conference in 2015, President Joko Widodo announced Indonesia's commitment to mitigate climate change through several measures including the reduction of environmentally-detrimental emissions by 29% before 2030 and 41% with international support.[2].
The President's commitment must be supported with concrete measures. All stakeholders have to be involved in order to meet the commitment of the emission reduction target. Greenpeace has launched a campaign called Forests Without Fires as our contribution to addressing this issue. The campaign, aims at preventing and suppressing forest and peat lands fires to protect our remaining forest and peat lands, government transparency for natural resource data as well as calling for good governance and strong law enforcement.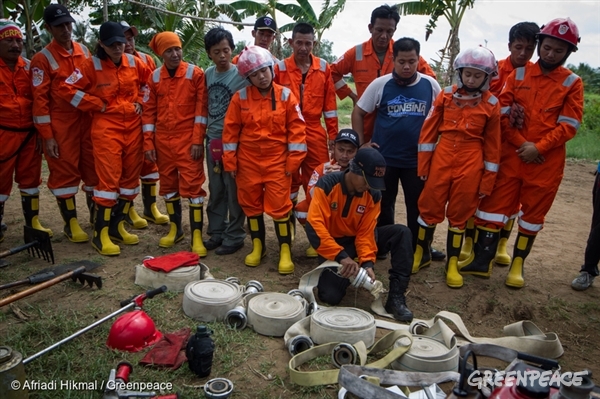 In 2016, Greenpeace has formed a Forest Fire Prevention (FFP) team that consists of young volunteers and former victims of forest fires and haze who are willing to take action to reduce and mitigate the risk of forest fires and haze. The Team's task is not easy as the characteristics of peat fires differ from those of land fires. Fire hotspots commonly caused by peat burning underground. It is the main reason why peatlands should not be dried out this will help to avoid potential fires.
Unfortunately, since the establishment of palm oil and acacia plantation industries, peatlands are dried out by the digging of massive canals, designed to dry the peat and enable commodity expansion. Greenpeace has called out these industries and are demanding they dam or block these canals in order to maintain the peat land in its natural state, restore the areas impacted and reduce the risk of fire.
Referring to its name, prevention is the central focus of the team's priority. They are specifically trained to detect fires and put them out before they cause dangerous, widespread fires. In addition to this main task, the team is also assigned to conduct other activities, such as the investigation of potential fires in the field, raising awareness on the importance of forest and peatlands protection for the local communities and extinguishing fires whenever needed.
The team is not working alone. They are working together with a special fire fighting team from the Ministry of Forestry and Environment (Manggala Agni), local communities and local NGOs on the ground and supported by Greenpeace Russia's forest fire experts.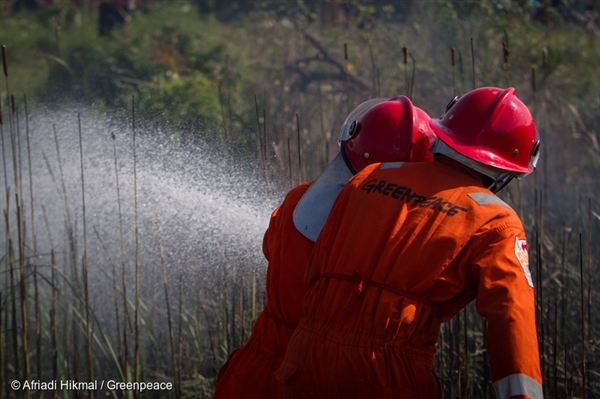 In 2016, the FFP team took action to prevent and suppress fires in Rantau Bais, Tanah Putih, Districts of Rokan Hilir, Riau and this year, the team will take action in the Sungai Putri landscape and the surrounding area, a critical peat landscape which hosts important habitat for Orangutans in West Kalimantan.
Let's support Greenpeace and the Forest Fire Prevention team by actively raising our voice to demand President Joko Widodo to take more serious measures to protect Indonesia's forests and peatlands.

Note:
[1] Public Health Impacts of the Severe Haze in Equatorial Asia in September-October 2015: Demonstration of a New Framework for Informing Fire Management Strategies to Reduce Downwind Smoke Exposure.http://iopscience.iop.org/article/10.1088/1748-9326/11/9/094023
[2] Perlindungan hutan dan lahan gambut ujian sejati komitmen iklim Presiden Jokowi http://www.greenpeace.org/seasia/id/press/releases/Perlindungan-hutan-dan-lahan-gambut-ujian-sejati-komitmen-iklim-presiden-Jokowi/