It was a hot and humid morning in Bangkok but that didn't stop me from running almost 4 kms in a tuna costume with 20 fellow activists to Thai Union's headquarters in Bangkok. Was I crazy? Was I hallucinating? No. Over 680,000 consumers from over 130 countries and territories around the world had a message to deliver to Thai Union, urging the company to step forward as a leader on sourcing more sustainable and socially responsible canned tuna, and I was proud to be part of it.
Passing the torch from consumers to Thai Union
The journey did not begin today. It has been a long run — a marathon. For the last two years, we have been asking the world's largest tuna company to take the steps needed to be a leader in ensuring its products and supply chains are free from human rights abuses and destructive, illegal, unreported and unregulated fishing practices. Now we want to see its true leadership and commitment toward making real changes.
This run brought together the hopes of activists around the globe to see commitments that will help protect our oceans, workers at sea and marine life. As we were passing the torch from hand to hand, we also passed the global petition signatures from people who do not want our seafood connected to serious human rights abuse, overfishing, and destructive fishing methods that kill sharks, seabirds and turtles. As one of the largest companies in the seafood industry, Thai Union has the power to move the destructive tuna industry in a better direction.
For the past two years, consumers and activists around the globe, spanning across the US, New Zealand,  Europe and Thailand, have pressured Thai Union to demand that the company make meaningful changes that protect the oceans and industry workers. Consumers have more power than they realise. From sea to shelf, their purchasing decisions can help redefine the fishing market and industry. With increased demand for sustainable seafood options, foodservice companies, big supermarket chains and, brands in the US, UK, Canada, Australia, Germany and beyond are finally offering customers more sustainable and ethical product options.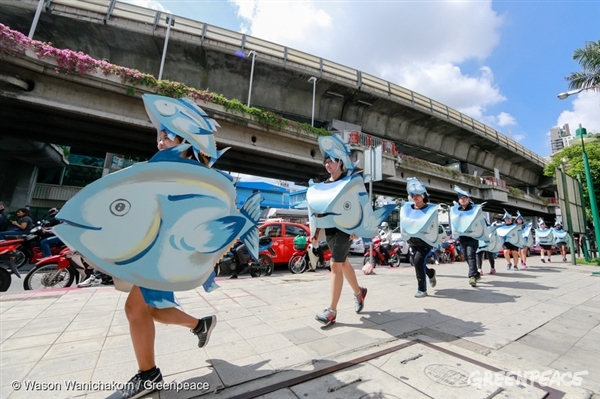 The reason we ran today was to show Thai Union that we are waiting for the significant reforms that could reduce its reliance on destructive fishing methods like longlines and purse seiners employing fish aggregating devices (FADs) that contribute to overfishing and the needless killing of vulnerable marine life. Greenpeace is also calling on Thai Union to reduce the risk of human rights abuses and unsustainable fish in its supply chains. We are urging the company to increase independent human observer coverage on fishing vessels, ensure the traceability of fish from sea to plate, support best practice fisheries to immediately reduce its ecological impact on our oceans, and tackle transshipment at sea — a practice that enables vessels to stay at sea for months or years at a time with workers away from watchful eyes. You may not see it now, but the result of this hard work is to ensure that our seafood is sustainable for future generations and does not devastate ocean-dependent people and our oceans.
The race toward more sustainable and ethical canned tuna is not over
From consumers to company, we delivered petition signatures to Dr. Darian McBain, Group Director of Sustainable Development for Thai Union, and encouraged the company to listen to the hundreds of thousands of consumers and activists demanding better tuna. Following almost two years of Greenpeace campaigning on Thai Union, the company is considering important steps that could help transform the seafood industry forever. The activists held banners that read, "Over 680,000 people want Thai Union to lead." The voice of consumers and ocean lovers is loud and clear. We want Thai Union and its brands to make meaningful changes to protect the oceans and industry workers.
Today's run has finished. Our collective voice was delivered to the company's doorsteps, but this is far from over. Now is not the time to quit the race toward more sustainable and ethical tuna. We have come so far and have 680,000 people behind us, but we need to continue pushing Thai Union to act. If Thai Union leads for change, the rest of seafood industry must follow. The oceans don't belong to industrial fishing companies, they belong to all of us.
Rattanasiri Kittikongnapang is digital campaigner for Greenpeace Southeast Asia