Are we on the cusp of changing the destructive seafood industry forever?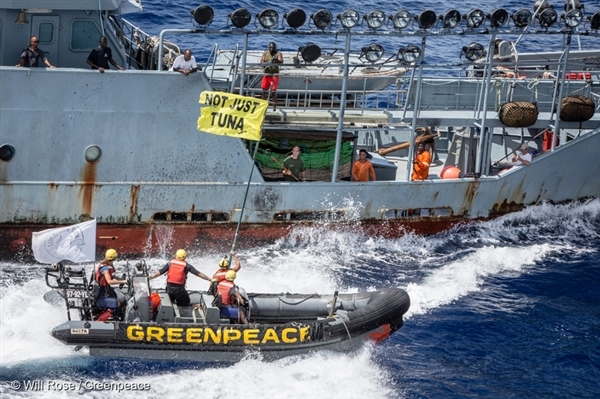 Greenpeace activists peacefully confront marine operations at the heart of Thai Union's supply chain in 2016. Activists in inflatable boats delivered a cease and desist letter to the deck of the Explorer II, a supply vessel using an underwater seamount to perch on and contribute to massive depletion of ocean life.
For years, the seafood industry has profited from forced labour, illegal fishing, ocean destruction and the needless slaughter of marine life. Tuna vessels operate out of sight and get away with just about anything on the high seas. Many times, the companies selling our families tuna have no idea where their fish came from or who caught it.
Our campaign taking on Thai Union, the largest canned tuna company in the world, is about so much more than just tuna. It is about changing the entire seafood industry. We know that if we can shift the largest canned tuna company in the world, the rest of the industry will be forced to change as well. The status quo is no longer acceptable.
After two years of activists and consumers demanding better from the company, Thai Union is talking to Greenpeace and looking into ways to clean up its operations. The company is considering changes that could significantly reduce the use of destructive fishing methods, help  minimise the risk of labour abuse in its supply chains, address illegal fishing and overfishing, and ensure the traceability of its seafood from ship to plate.
These are monumental changes that will signal to the rest of the industry that it must do better or get left behind. The question is: is Thai Union and its brands ready to lead the industry in a new direction?
That's why, in our latest video, famous internet cats, mermaids, sharks, turtles, and humans alike are pushing Thai Union for action. We need everyone to speak up — and push for the urgent reforms that are so desperately needed. There's no longer time for baby steps or half measures. We need the sweeping changes that Thai Union is considering for our oceans and the workers at sea.
Thai Union is massive — owning brands like Chicken of the Sea (US), Mareblu (Italy), John West (North Europe and Middle East), Petit Navire (France) and Sealect (Thailand). The company also supplies retailers, pet food brands, and foodservice companies around the world, including retail giant Walmart. These changes will stretch far and wide, which is why it's so important we win.
We can't let this opportunity pass us by.
Join with Lil Bub, Hannah Mermaid, and activists around the globe in demanding a better seafood industry immediately.
Graham Forbes is Global Seafood Markets Project Leader at Greenpeace USA