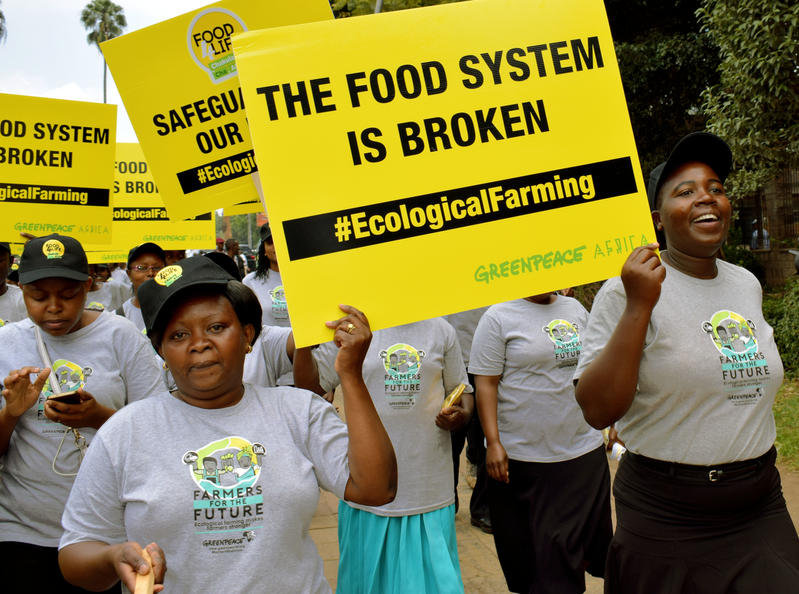 In his blog submitted to the Daily Nation on the 22nd of September, Mr Charles Onyango argues that GMOs are key to attaining food security and the existing ban should be lifted. While I agree that sustainable food production is a key pillar in achieving the Big Four Agenda, it is certainly not pegged on lifting the ban on genetically modified organisms (GMOs).
GMOs aggravate food insecurity. They do so by holding farmers in debt cycles that reduce the farmers' ability to produce more food for consumption. More than 80% of the produce consumed in Kenya is produced by smallholder farmers. Lifting the ban on GMOs will expose farmers to exorbitant GM seeds prices and are likely to be tied in the cycle of debt trying to pay off for the seeds acquired. In Burkina Faso where GMOs failed, the Burkinabe farmers abandoned the cultivation of Bollgard II (GM cotton) introduced by Monsanto now Bayer. They cited higher prices of the GM cotton seeds and its poor quality compared to their indigenous cotton counterpart.
Lifting this ban will also expose farmers to draconian intellectual property laws by the multinational corporations fronting GMOs. GM seeds are patented and this could land the farmers on whose farm the GM crops have grown without their knowledge into intellectual property issues. These farmers are likely to be forced to pay royalties for the GM crops that contaminate their farms. For instance, in 2019 in India, Pepsico the manufacturer of Lays Potato chips sued four Indian farmers for about 15 million Kenya Shillings for growing the GM potato seeds.
Lifting the ban on GMOs will not only lead to the loss of our agricultural biodiversity but also the interference of our country's ecological balance. GM crops are likely to contaminate non-GM crops through pollination. This can lead to the loss of our indigenous varieties of crops such as Millet, Sorghum and Spider plant (sagaa) that are grown throughout the country.
Our water bodies are already choking with chemicals. An expose aired by the Nation Media Group showed the contamination of Lake Victoria, Kenya's largest freshwater lake by pesticides and fertilizers. Allowing the growth of GMOs will also lead to an increase in the use of agrochemicals (fertilizers and pesticides) thus contaminating our water resources and soils further.
The push to lift the ban on GMOs in Kenya is therefore ill-advised. Food security lies in the farmers controlling and breeding their own seeds. Having proper storage facilities, water, proper infrastructure and wholesome agricultural extension services is also key to food security.
The Ministry of Agriculture needs to ensure that farmers have access to agroecological information. This is information on sustainable farming practises such as ecological and organic farming. Having access to this information is invaluable in that it teaches the farmers to produce more safe food while conserving natural resources such as soil and water.
These practices also minimise the use of harmful agrochemicals and ensure that Kenyans have access to safe food. Ecological farming practises also minimise soil degradation, including widespread soil acidification due to overuse of chemical fertilisers. Most importantly they help farmers save and share indigenous seeds which is a key aspect of food security. Therefore, the move to lift the ban on GMOs is to tie more farmers in debt and the cycle of poverty and hence limit their ability to produce more food and increase our dependency on imported processed foods that are low in nutrients.
Claire Nasike is a Greenpeace Africa Food for Life campaigner based in Nairobi, Kenya.
This op-ed was originally published by Daily Nation on 30 September 2020.