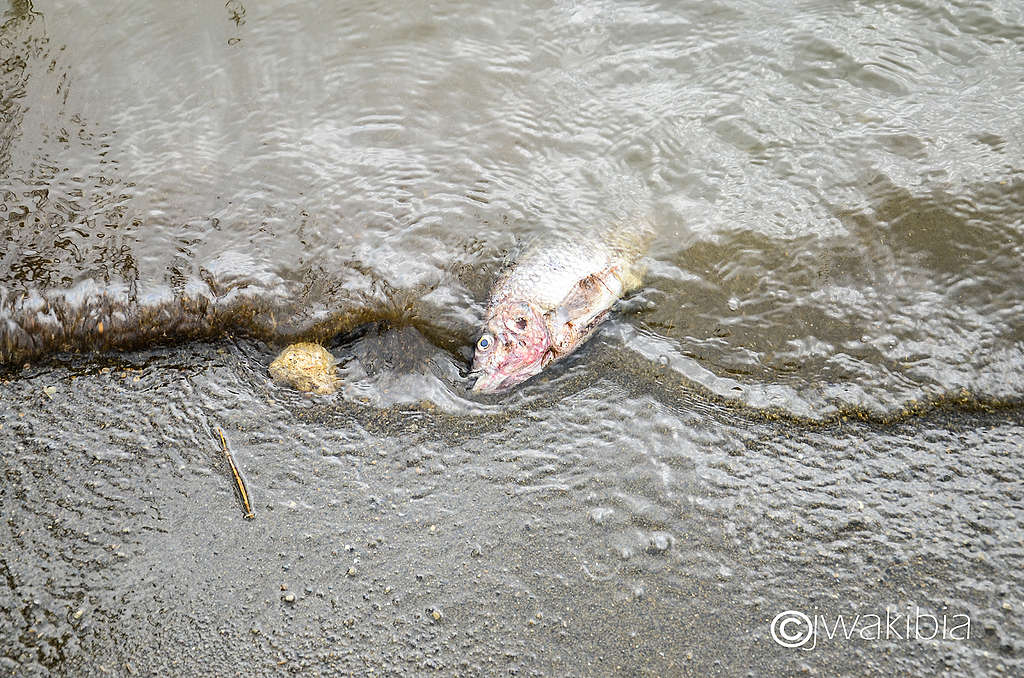 Kenya's water bodies have for a long time been a sink to excessive nutrients and untreated effluent from industrial and municipal activities. The waste disposed of in the water bodies has been causing a lot of challenges. Kenya's lakes and rivers are quickly dying. Most of our water systems have turned into drainage channels. Recent events of massive fish deaths in Lake Victoria and fish poisoning from untreated sewage in Lake Nakuru are just but a tip of the iceberg.
Since late 2020, piles of dead fish have been washing up on the shores of Lake Victoria in Uganda and Kenya. In January, within a month there were three cases of fish death in Lake Nakuru. This prompted research by Kenya Marine and Fisheries Research Institute (KMFRI). The findings indicated large scale pollution from untreated sewage as the cause of the death. The government through the Ministry of Agriculture issued a warning on consumption of Lake Nakuru fish citing poisoning. The Lake Victoria fish death was blamed on low oxygen levels in the water caused by massive pollution from excess nutrients.
It is clear from these incidents that pollution especially from untreated effluent is killing our lakes. Recent lake flooding events have not helped the situation. The floods and rising lake water has exacerbated the pollution situation leading to more challenges for communities that depend on these resources for their livelihood. The poisoning of our lakes puts many lives at risk.
Fishing communities around Lake Victoria and Nakuru are losing their livelihoods. The lives and health of consumers who depend on the Lake Victoria and Nakuru fish are at risk. The water quality has been compromised by pollution activities. Despite warnings on fishing activities and consumption of fish from these lakes, little is being done by the authorities to curb the pollution. Raw sewage continues to kill our lakes, poisoning our fish and in the long run harming the health of Kenyans who depend on the lakes for survival.
The pollution is also affecting Kenya's rich biodiversity. Kenya's economy is inextricably interwoven with environmental sustainability and ecosystem health. Declining biodiversity is affecting the economy. For instance, pollution is threatening to take away Lake Nakuru's international tourism site status? Lake Nakuru is home to flamingos, lions and buffaloes that attracts thousands of visitors to the Lake and sustains many livelihoods. Protecting Kenya's lakes and ecosystems is not just a survival option for many Kenyans but a fundamental prerequisite for their very own existence.
The National Environment Management Authority (NEMA) has the mandate and legal obligations to implement laws and policies that protect Kenya's rivers, wetlands and lakes from pollution. This is a critical step to safeguard the lives, health and livelihoods of many Kenyans. It is this mandate that requires NEMA to take a strong stand on protecting lake Nakuru and Victoria by putting a stop to the ongoing pollution. It needs to come out strongly and regulate waste disposal by ensuring that there is proper waste treatment before disposal. It also needs to hold all sources of pollution accountable for their actions. Proper waste management infrastructure including proper sewage and drainage systems for settlements near Lake Nakuru and Lake Victoria remains key in solving this menace.
For a long time Kenyans have continued to suffer in the hands of industries that have no regard for a safe environment, nor on the livelihoods of Kenyans that depend on the natural resources such as lakes for survival. Industries have continued to act with impunity, degrading ecosystems for their own benefit and at the expense of citizens. It is time that the government came out clear and protect Kenyans from the profit seeking industries that have no regard for the wellbeing of people and the environment.
Recent events at Lake Victoria and Nakuru have shown that we have no time left in addressing the water pollution challenge. Our rivers are already dead. Our lakes will soon be dead if urgent action is not taken. NEMA has no time to waste. It is time for NEMA to act urgently to stop the Lake Victoria and Nakuru pollution, protect livelihoods and save the health of Kenyans who depend on these lakes for survival.
This op-ed was written by Greenpeace Africa Campaigner Amos Wemanya, who is based in Nairobi, Kenya. It was originally published in Business Daily.