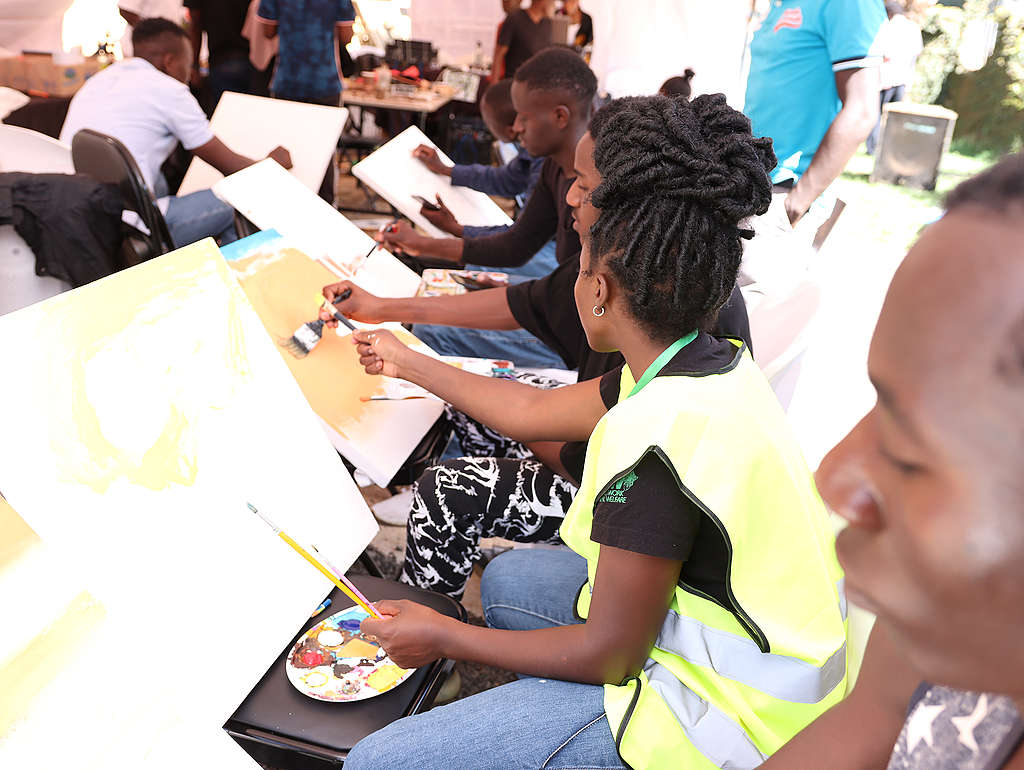 I'll be honest, not until one month ago did I have any knowledge of, or idea about, MAKE SMTHNG week. This is an event that inspires such fervent creativity, joyous fun, incredible ingenuity, inspired pieces of art… I could go on but I may be getting too excited here looking back at the event over the previous weekend. Let's take a step back, and take this one step at a time now, shall we?
We started our MAKE SMTHNG week with a Twitter Space discussion on How to Become a Conscious Consumer with a diverse panel that talked on how fashion, tech devices, food and paper consumerism makes us buy into things and ideas that we don't need, and how companies producing these items of desire encourage more consumerism to make more profit.
If we can upcycle an old trouser to make a new, bespoke unique bag that only we have, and don't need to buy anything to make it, why not make that? I have way too many trousers anyway that don't fit me anymore, but not enough bags to carry my own things. This makes me realize I have a part to play in being a part of the MAKE SMTHNG movement by thinking consciously of what my choices mean.
My intention, when attending the workshop, was to learn as much as I could from the various stations, which included, bead making, crochet, DIY wigs, vertical gardening, upcycling, bamboo works & pin art, and finally, the art painting station where I spent most of the day at. I loved that the activities done on the day were done from scratch.
The paint station had me select wood frames, cut them to measure, nail them together, cut out the canvas to be painted on, nail to the frame, prime the canvas, learn the brushes, mix the paints, then finally, paint to my heart's content – while of course working in collaboration with other interested attendees.
As someone who has never been part of such a hands-on and fulfilling activity, it was so much fun. I was delighted knowing that whatever I had made was done with conscientious consumerism in mind. Meaning, I made my art without harming, destroying, or endangering the environment in any way. Maybe for some sawdust in my face, and paint on my clothes, which for my clothes, the paint acted as an improvement.
After my foray at the painting station was over, I went on to sample what the other stations offered: the beading station, where I attempted to make a multi-coloured necklace from scratch. It was not easy, but you'd be hard pressed to find more activities that need your surgical concentration around a fishing line and some beads more than that. Though a steadier hand and invested mind was able to finish the job for me.
The crochet table was a wonderful experience, reminding me of the days I used to knit with my mother. And yes, I know just how different the two needlecrafts are, but my analogy still remains.
It was interesting to learn different hair terms, including what an Afro Kinky is at the hair styling station. I also got to help one of the wonderful ladies there to weave a strand of dreadlocks from, again, scratch… Wonderful thing that.
The upcycling station displayed creativity with their hanging gardens and bamboo crafts enthusiasts, crafting their absolute best and producing bamboo ships worthy of museum exhibitions. It was brilliant.
The third day of MAKE SMTHNG, also dubbed 'UBUNIFU DAY', was a showcase of creativity, fun, learning, and entertainment that could only be rivaled by going to a concert. The art on exhibition, the bone ornaments, plastic baskets, tyre slippers, or 'akala', the dancing, the singing, the jokes, the skits, most that were brought by outside artisans to the second day of festivities, were just: wow!
That was an event worth every single minute of my time and curiosity, and I am glad to have never known about it because it gave me the chance to fully immerse myself and get to know what making something for myself felt like. It was brilliant, and I can't wait for next year to indulge myself more into being creative, learning from experts, my peers, and being a conscious consumer.
Antony Madilschy,
Planet One Ubunifu Hub,
Community Trainer.