The 2019 March to May long rains have been scanty, unreliable and inconsistent. In Ikombe, Machakos county, Muthama; a seasoned farmer, embarked on early planting of kidney beans in order to obtain good yields in June. This has not been the case, she has re-planted her two-acre piece of land three times in one planting season. Each time, hoping that the rains would come and the seeds would sprout.
Muthama can tell that there is a looming hunger crisis as a result of the erratic weather patterns. This has been the predicament of most smallholder farmers in Kenya who depend on rainfall for crop production.
Food security tops the government's Big Four Agenda, but the government has not established sufficient measures to realise this agenda. Last year the country received a lot of rain, however all the surface water went to waste as no proper water harvesting measures were put in place.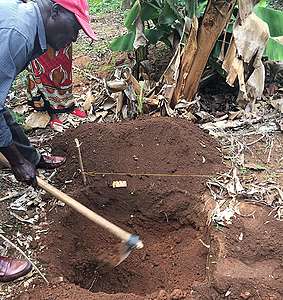 Muthama acknowledges that the government has not been of help to smallholder farmers. There is a noted lack of commitment from the government in ensuring that smallholder farmers are safeguarded from erratic weather patterns.
In 2017, the government imported several bags of maize from Mexico, but failed to pay farmers for maize supplied to the National Cereals and Produce Board last year. Further still, plans are underway to import duty-free maize as from July this year. This clearly shows a lack of concern and interest in smallholder farmers' plight.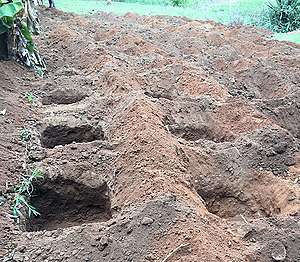 The reality of our times is that 80 percent of the food in Kenya is produced by smallholder farmers. A lot of this food will be wasted due to lack of proper post-harvest handling techniques and the government purchasing cheaper imported food. The government's reliance on food importation at the expense of empowering smallholder farmer is a worrying trend; and a direct threat to the country's food security. Recently, the parliament proposed the food crops regulations that if implemented will bar farmers from using manure to grow food – this kind of regulations further exacerbate the threat to Kenya's small scale farmers.
Smallholder farmers such as Muthama are proactively learning, applying and upscaling new initiatives to curb drought without the government's intervention. One such initiative is the Zai Pits; a water harvesting technique that involves digging planting pockets with specific dimensions to collect surface runoff water.
With the help of Greenpeace Africa team, Muthama has dug 40 Zai pits on her farm. The 2 feet by 2 feet square and 2 metres deep pits are designed to grow crops using little rainwater. The pits can hold any small drops of rainwater that falls on the ground. They are lined with crop residues or mulch at the bottom and the topsoil which is mixed with manure and then returned to the pit. Planting then takes place. Water percolates in this pits keeping the plants green for a long period of time.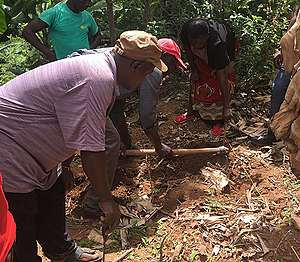 The pits also retain moisture for a long period of time because of the crop residues at the bottom of the pit. One Zai Pit can hold nine seeds of maize but Muthama hopes to plant different crops (maize, kidney beans, pigeon peas and pumpkins) in each for purposes of intercropping.
With the Zai pits, Muthama hopes to harvest something from her farm even when the rains are minimal.