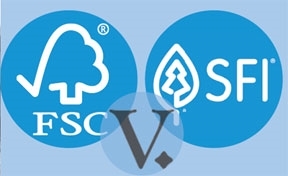 This is a very interesting time to be in the midst of campaigning for safeguarding forests in Canada.
First, last week was National Forest Week, a week to acknowledge the important role healthy forests play in our lives and in the lives of other beings that depend on those forests for their survival. In Canada we have been immeasurably rich in forests – mostly thanks to Indigenous Peoples whose territories make up much of our forest cover and who have managed and stewarded these lands for millenia. 
Secondly, two major independent forest certification systems which claim to guarantee responsible forestry have their international gatherings in this country – the Sustainable Forestry Initiative (SFI) in Ottawa, and the Forest Stewardship Council (FSC) in Vancouver. In Canada, 168 million hectares of forest land is certified – and the majority of this impressive number by either/or both systems. As an interesting aside, Canada has 37% of the world's certified forest area (only 11% of the world's forests are independently certified), so certification in this nation of nations matters.    
And thirdly, a very important paper analyzing these two forest certification systems from an Indigenous rights and engagement perspective was just published: Are All Forest Certification Systems Equal? An Opinion on Indigenous Engagement in the Forest Stewardship Council and the Sustainable Forestry Initiative. I offer a few highlights further below of this paper and why it is so important, especially in the context of Indigenous rights in the era of reconciliation in Canada.   
Much of Canada's working forests are independently certified, so that products can be labeled as 'responsible' in the marketplace. This goes back to 1992 and the United Nations Conference on the Environment and Development where a Statement of Forest Principals  was issued, forming the basis for international discussions on developing principals of 'sustainable forest management' in response to the need for nation states to better manage their forests. A key principal was the recognition of Indigenous Peoples' rights. It soon became clear that conscientious companies who wished to source from well-managed forests needed a way to verify that the wood and/or paper products they were buying were in fact coming from responsibly-managed forests.
And so a need was created in the marketplace for a certification system that would determine whether forests were being well managed. This led to the creation of the Forest Stewardship Council (FSC) in 1993 in Toronto, and which is having its General Assembly in Vancouver next week (it's a big deal as it only happens once every years, bringing 100s of delegates together from around the world).  FSC created independent, non-governmental standards that companies could follow and if they were to be certified they would need to undergo third party audits of whether their practices were in compliance with the new standards for responsibly managed forests. A key principal was recognizing Indigenous Rights in forest management.
What was also important and innovative in the FSC was its structure. It originally consisted of three chambers, equally balanced in terms of decision-making: social, environmental and economic chambers. In Canada, a fourth chamber was developed – the Aboriginal Chamber.
However many companies in the timber products industry considered FSC's standards were too difficult to comply with, operationally and financially, so they set up their own certification system by the late 1990s – the Sustainable Forestry Initiative (SFI). SFI does not have a sophisticated structure where the various interests hash out new policies and guidelines through the multi-lateral chambers process like FSC does, nor are their standards nearly as stringent in determining environmentally and socially responsible practices.
This is why for environmental organizations like my own, Greenpeace Canada, we consider FSC as the 'gold-plate standard' for responsible forest practices as compared to other certification systems like SFI. And to us, 'responsible' is not just about solid environmental management of the forests but also social aspects like the fundamental need for respecting human rights, and in particular respecting and adhering to Indigenous rights.
FSC is certainly not without its challenges, but by far in Canada we consider it significantly better than other certification systems, and we use it as part of our solutions approaches in our forest campaigning. And that is, we signal to the marketplace that if you, company X, wish to source from companies producing products coming out of responsibly managed forests, one necessary element is FSC certification
This brings us to the paper I mentioned at the outset. Dr M.A. Smith and Pamela Perrault prepared this paper for the National Aboriginal Forestry Association and they have done an excellent job of  analysizing how FSC and SFI hold up from an Indigenous rights and engagement perspective. I believe it should be required reading not only for all campaigners, advocates and organizers working on forest protection in this country, but all forestry companies operating in Canada and consumer companies that buy from Canadian forests.
It is clear that as one goes through the report that FSC does stand out as the stronger system. This becomes obvious when it comes to: 1. recognition and involvement of Indigenous Peoples in the development of standards and governance of the certification system; 2. recognition and protection of Indigenous rights; and 3. procedures for engaging Indigenous Peoples to obtain their informed consent when operating in their territories.   
The report's release is especially notable and timely given last month was the 10th Anniversary of the United Nations Declaration on the Rights of Indigenous Peoples (UNDRIP) and its key central principal: Free, Prior and Informed Consent. From the get-go FSC has been strong on Indigenous rights and its key requirement of companies obtaining consent is far-reaching and crucial for any certification system to have environmental and social credibility.  
I remember this point very clearly last year at a gathering in Ottawa with representatives from Indigenous communities and some of their related companies, general industry, and the environmental sector. In one presentation FSC reported the number of suspensions of FSC certificates (because companies failed to achieve consent and thus their certificates were suspended). SFI did not report any suspensions of certificates because it does not require companies who are SFI certified to obtain consent.
To put it simply: FSC requires consent of Indigenous nations and SFI requires communication with Indigneous nations.  In an era where the Federal Government  and provincial governments like British Columbia have committed to implementing UNDRIP, it is clear that in engaging with Indigenous governments and communities, that communication and consultation is not enough. It is not enough. Requiring consent is essential, and thus a key reason why FSC is the stronger certification system.
The paper from Smith and Perrault further gives us confidence in continuing to support FSC broadly, and especially in communicating to the marketplace.  Companies who wish to purchase wood and paper products that come from forests in Canada that are properly managed on the basis of environmentally and socially responsible practices should ensure logging companies are FSC certified at least.
Where I did the vast majority of my work these past 9 years, the Great Bear Rainforest, we encouraged logging companies there to obtain FSC certification- and they did. For awhile. The companies indicated that the reason for eventually dropping FSC was because of the operational need to focus on final implementation Ecosystem-Based Management (which is meant to ensure responsible logging practices) in the Great Bear Rainforest in 2016 onwards. It is my hope after this important report by Smith and Perrault that these companies return to FSC in order for us to support them and for them to support a system that has long recognized Indigenous rights.