On Tuesday 3 July, Greenpeace Canada launched a 12-person mid-air bridge blockade in the path of a tar sands oil tanker. The blockade was made of people from the Coast Salish community, several Canadian provinces, and even Washington State (U.S.A), the U.K. and Mexico.
Their courageous act of resistance is intended to help stop the dangerous Trans Mountain Expansion pipeline and tanker project (TMX) from being built. This pipeline project violates Indigenous rights, threatens to contaminate clean water and puts ocean life at risk. The proposed TMX pipeline would run from Alberta, Canada, to the Pacific Coast, and would help expand the exploitation of the Alberta tar sands, home to some of the most climate-polluting oil on the planet.
Knowing the dangers TMX poses, seven of the climbers rappelled from Vancouver's Ironworkers Memorial Bridge, preventing the tanker from leaving the terminal where it was loading. Each of the seven climbers were flying a vibrant red or teal streamer emblazoned with artwork by celebrated Indigenous artists resisting the pipeline project.
Read on to learn about the stories behind the beautiful streamer art and the Indigenous artists who created them!
BRANDON GABRIEL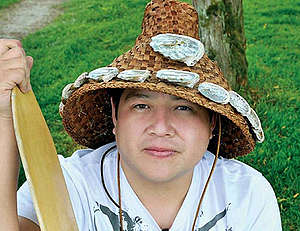 Brandon Gabriel, Kʷələxʷəlstən, was born and raised in the Kwantlen Nation community in unceded and present-day Fort Langley, BC. Brandon graduated from Kwantlen Polytechnic University and Emily Carr University of Art and Design, and is an internationally renowned mixed media visual artist, designer, muralist, activist, and educator. He continues his practice from a studio in his home where he lives with his partner, Lut'sel'ke Dené scholar, artist, and activist Melinda Bige, and their daughter Jamie.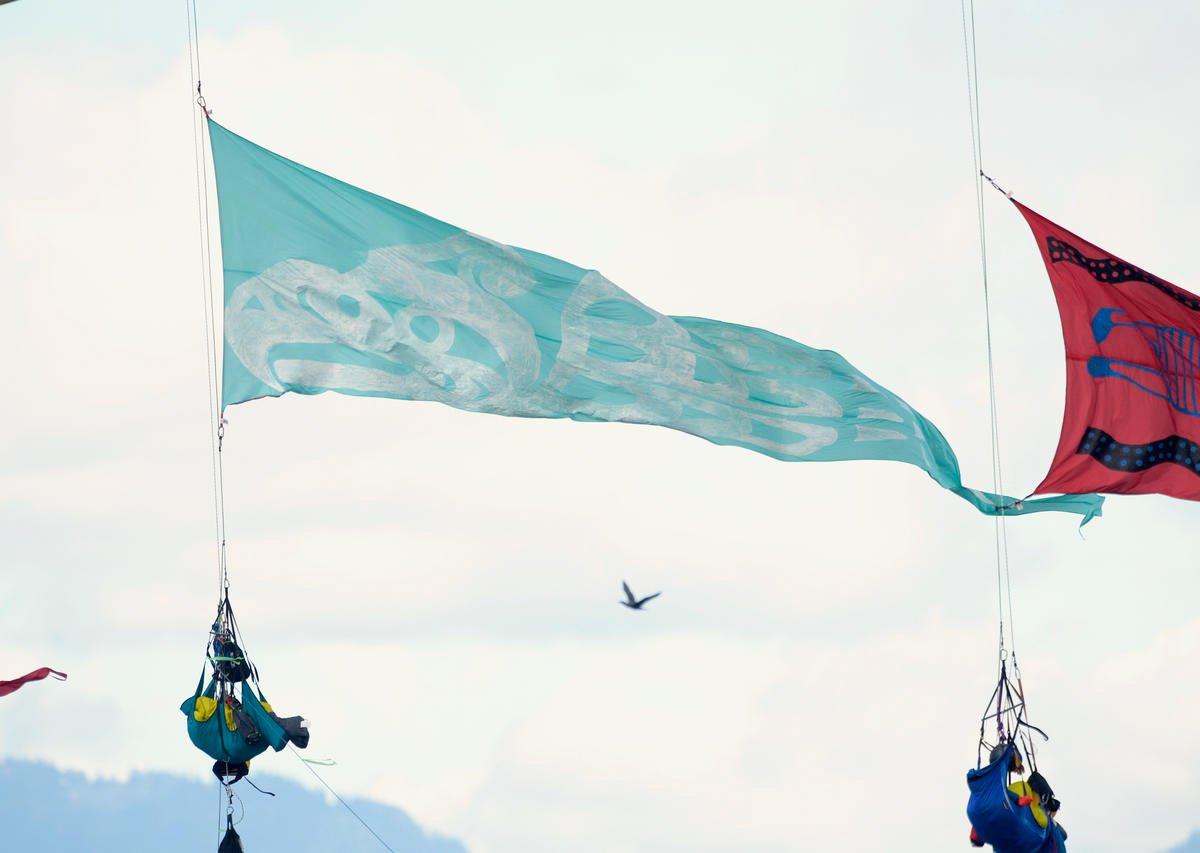 Art as resistance: What this streamer symbolizes
The Thunderbird is a ubiquitous symbol across the North and South American continent for Indigenous Peoples. It has many names in many languages and appears carved onto prehistoric stone, wood, pottery, and textiles and in contemporary mediums across these diverse cultures and historical contexts. Brandon's Thunderbird is a symbol of unity and power in the global fight to protect water resources — and life itself — in the face of oil and gas resource exploitation on unceded Indigenous lands the world over. It is intended to reflect the powerful spirits of the highly motivated individuals who stand up for human, water, and land rights across the globe.
JACKIE FAWN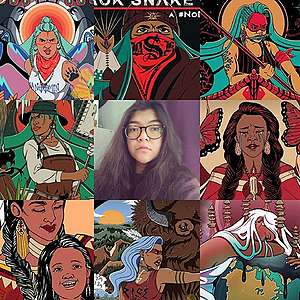 Jackie Fawn is, in her own words, "a Yurok, Washoe, Filipina artist that is honored to be multicultural as my mother, father, and ancestors have done everything for me to be here to be holding a pencil in my hand. Depending on my resources I draw and ink my work on paper then scan it into Photoshop where I add my colors."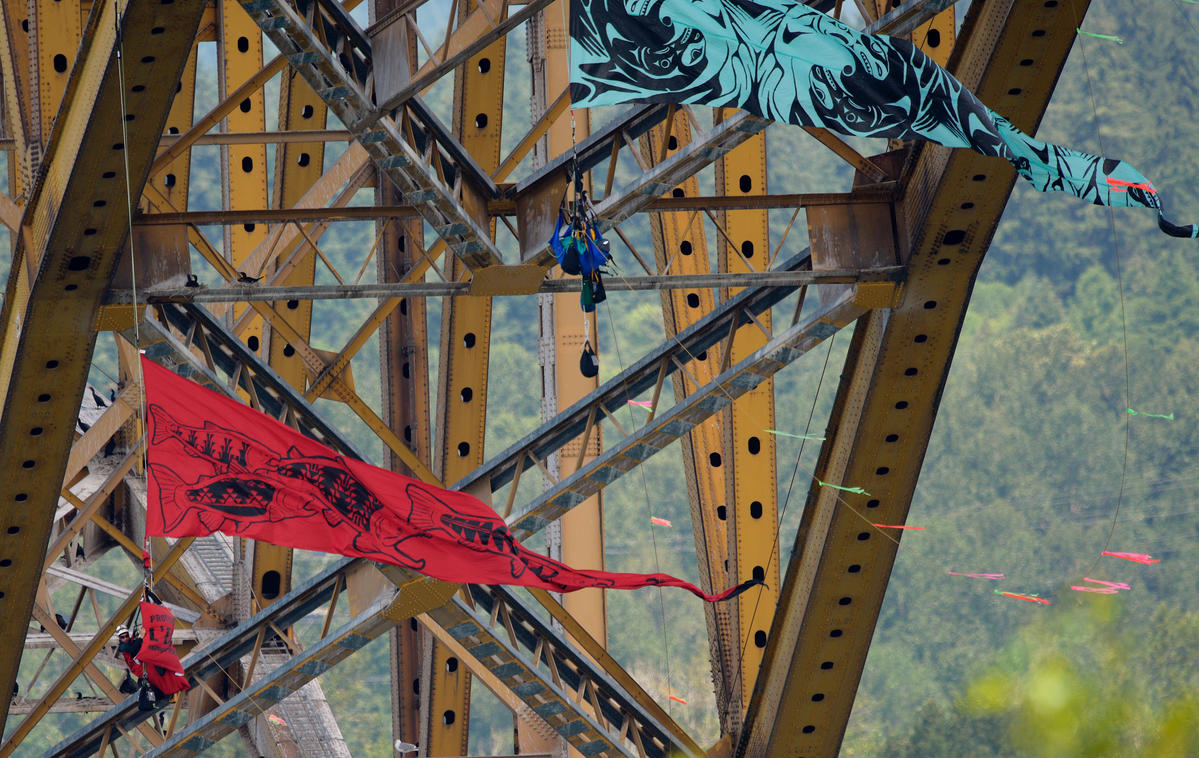 Art as resistance: What this streamer symbolizes
Jackie's design features four salmon, which are central to Coast Salish culture and spirituality. Salmon are a vital part of the ecosystem in the seas and rivers that could be impacted by a spill from the Trans Mountain Expansion pipeline or the roughly 400 oil tankers it could bring to Vancouver or send down the Pacific Coast.
OCEAN HYLAND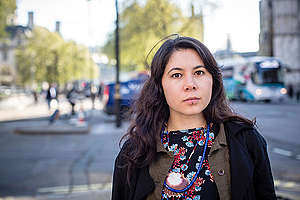 Ocean Hyland is a sleilwaut youth living on unceded Coast Salish lands in British Columbia, Canada. She is an artist and activist, who is currently studying the skwxwu7mesh language. She is active in the movement to protect Indigenous lands and communities, recently publishing an op-ed in Teen Vogue and speaking to Barclays' bank, asking it to commit to stop financing new tar sands pipelines.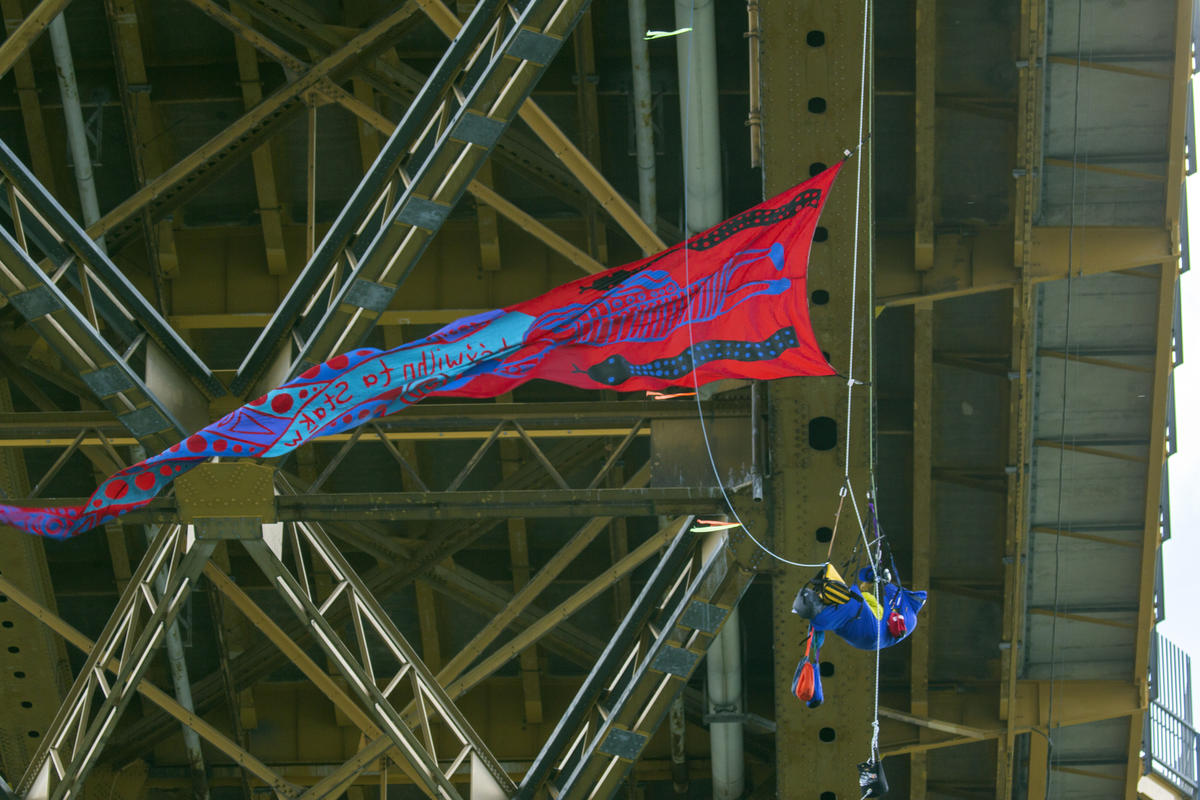 Art as resistance: What this streamer symbolizes
The title of this streamer translates to "It is in our blood to protect this land." At the top of the design, she says "are the rivers of water and the veins of blood flowing together show our connection. The young human at the bottom represents the children and youth that stand up and protect the land and waters for themselves, their families, communities, all of the four-legged creatures and especially for those who aren't able to use their voices. The two snakes at the bottom represent the bad trying to rise up; but the young child is reaching up and out for the teachings of our ancestors to do the right thing and rise above the bad to do good."
RONNIE DEAN HARRIS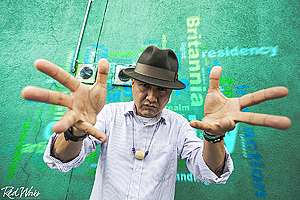 Ronnie Dean Harris, aka Ostwelve, is a Stō:lo/St'át'imc/Nlaka'pamux multimedia artist based in Vancouver, BC. In the past years he's worked on number of projects, most prominently as an actor and composer for APTN/Showcase dramatic series "Moccasin Flats" and was the lead composer for APTN children's Cree language series "Nehiyawetan: Let's Speak Cree". As a musician under the name Ostwelve, Ron has performed in numerous festivals and has opened for acts such as Guru, K'naan, Abstract Rude and Snoop Dogg to name a few. Currently he is working as the Program Director for "Reframing Relations" with the Community Arts Council of Vancouver delivering programming for indigenous and non-indigenous artists to interface with students and youth in schools and communities around the concept of reconciliation.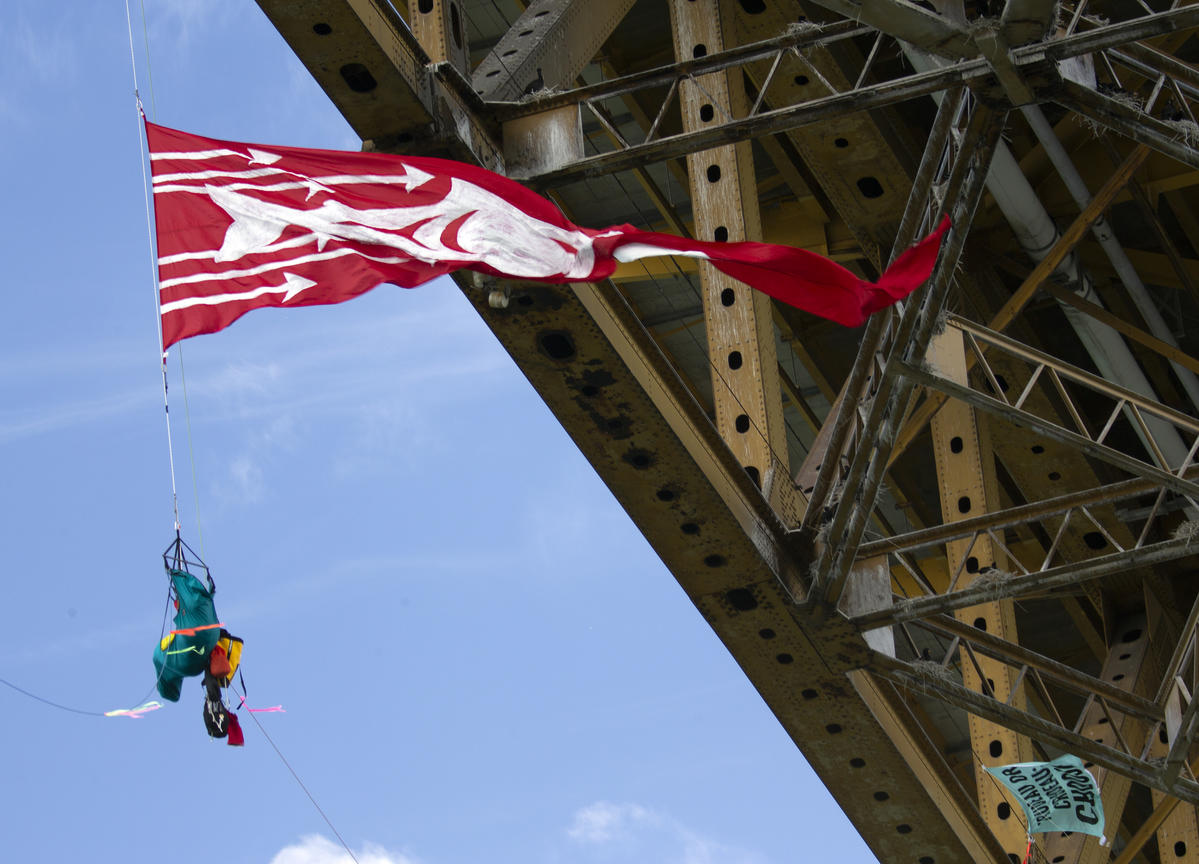 Art as resistance: What this streamer symbolizes
The Salmon Arrow design came to me after I stood at various spawning grounds last year. The arrows represent the spirit of the ancient ritual of the salmon cycle that has sustained the lands and living creatures on it since time immemorial. My choice for this design represents the importance of wild salmon as a ecological + cultural keystone species that without, these systems would begin to collapse. Tar sands + pipeline expansion are only one of the direct threats to wild salmon habitat and the future of salmon stocks that sustain life as we know it. #ProtectWildSalmon
ED ARCHIE NOISECAT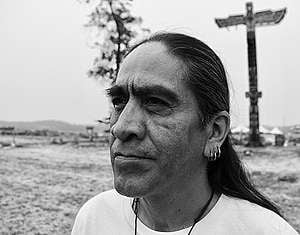 Ed Archie Noisecat is a father, artist and survivor. A graduate of the Emily Carr College of Art & Design, he says, "Love, trouble and creativity have carried me around the world from my home reserve in Canim Lake, British Columbia to New York City and many magnificent places in between." His work is inspired by the people, tricksters, tragedies and triumphs of the Indigenous experience. Mediums he works with include wood, bronze, silver, gold, glass, print and more. Ed was awarded the inaugural Indian Art Northwest in 1998, among several other awards. His work is displayed at the National Museum of the American Indian, in Washington, D.C., and the Zohi Gallery in Santa Fe, New Mexico, U.S.A. Ed has worked as a lithographer for world-renowned Tyler Graphics, producing prints for Frank Stella, Roy Lichtenstein and other legends of contemporary art.
Art as resistance: What this streamer symbolizes
The streamer Ed designed is a nod to the resident pod of orcas here in the Salish Sea of his B.C. home. It incorporates both unique and Salish artistic design features in its depiction of a killer whale (orca) swimming around, creating balance—both yin and yang as the dorsal fin swims outside of the circle and an eddy swirls in the back, creating a powerful flow behind the swimming whale he says. "We have a lot of work to do to stop the oil from coming into our shores, and into the rivers where the salmon run," warns Ed. The balance in this art also represents the much-needed ecological balance in the Salish Sea. The piece was first made back in 1995, and Ed is excited to see it revived.
MARISSA NAHANEE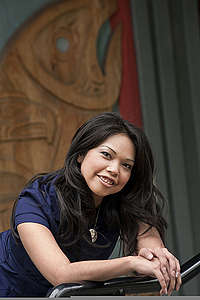 Marissa Nahanee, Maykw Cha7em, is a member of the Squamish and Nisga'a Nations, Eagle Clan. She is an artist and community and leadership development professional who works with First Nations to design and deliver personalized training that is developed with respect for communities. She has previously worked with the Four Host First Nations Secretariat (FHFN) during the Vancouver 2010 Olympic and Paralympic Winter Games on projects such as the Indigenous Youth Gathering, in which 300 youth performed in the Olympic Opening Ceremonies. She has also appeared on television (Creative Native, My TV, Tribal Tracks and First Talk) and in documentaries such as The Road Forward by Marie Clements, National Film Board of Canada.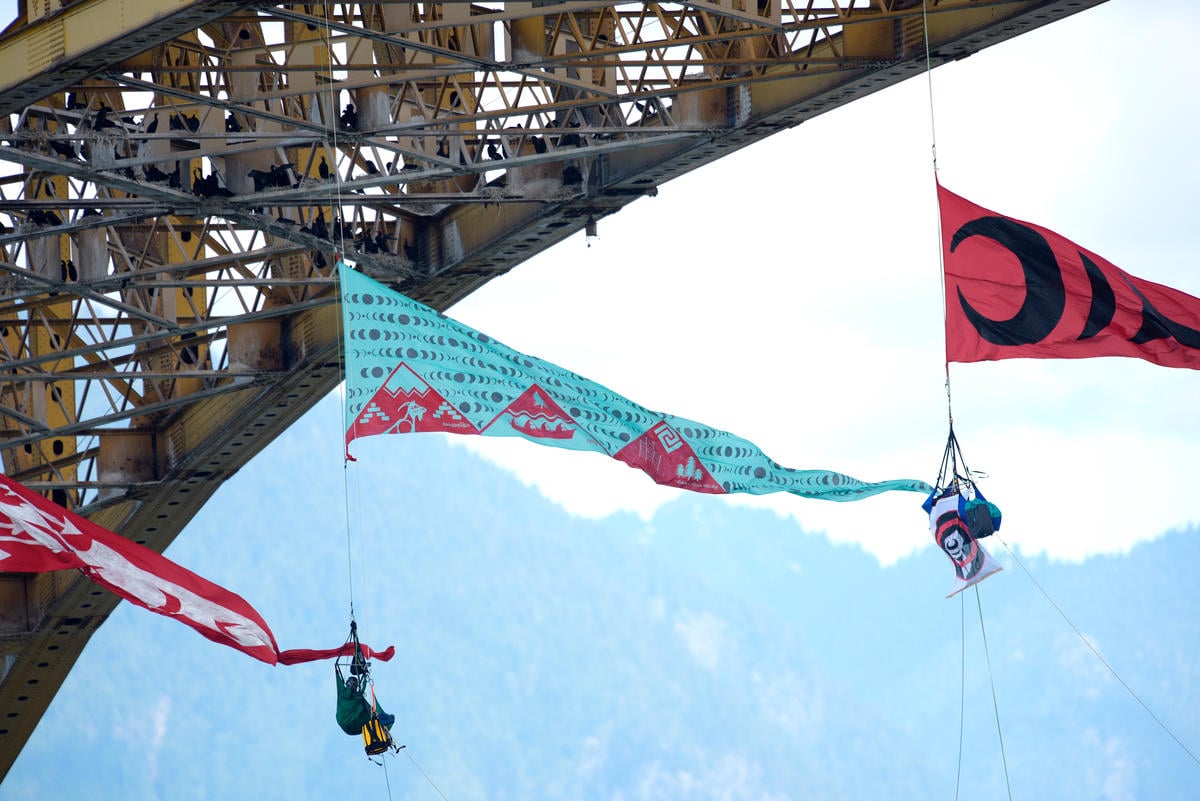 Art as resistance: What this streamer symbolizes
Marissa's design represents "the stages of moons and the many generations we have been caretakers of the land. The three mountains represent past, present, and future—the journeys we have had to overcome. The first mountain showcases the ice age. This was the time the mountain goat saved us with their wool, which used for our blankets. The second mountain represents the great flood and how cedar saved us with the large canoes—and all the generosity of the bark for clothing, eating utensils, ceremonial items. The last mountain represents today: in order to survive we must work with one another. We must lift each other up and protect our land that had so much rich history. Chen Chen Stway—lifting each other up ."
WILL GEORGE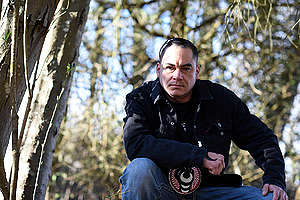 Will George is an Indigenous Coast Salish grassroots leader. He is among the Coast Salish members, spiritual leaders and youth who have erected a traditional "Watch House" as part of their ongoing resistance to the Kinder Morgan Trans Mountain Expansion pipeline. A Watch House, ("Kwekwecnewtxw" or "a place to watch from" in the henqeminem language, used by members of the Coast Salish Peoples) is grounded in the culture and spirituality of the Coast Salish Peoples. It is a traditional structure they have used for tens of thousands of years to watch for enemies on their territories and protect their communities from danger.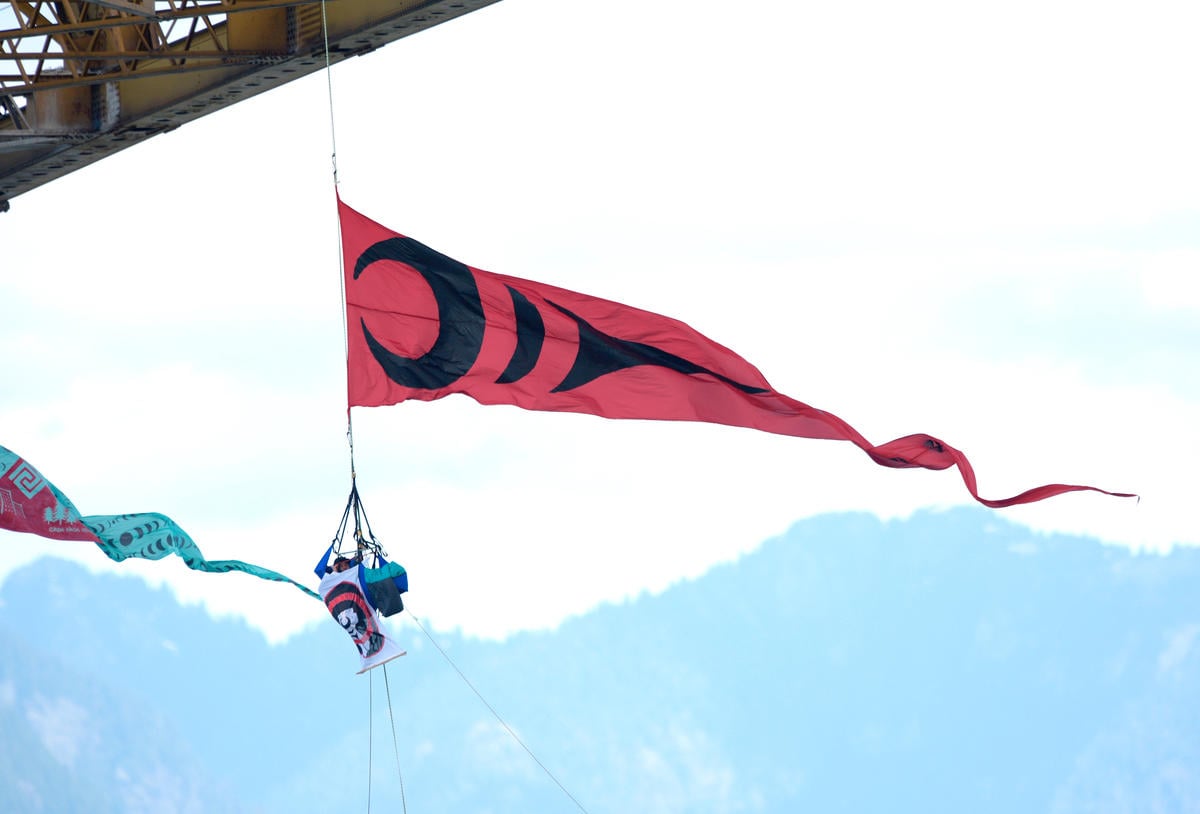 Art as resistance: What this streamer symbolizes
The design on the banner will is flying comes from a personal piece of work that is currently being featured as part of the work to Protect The Inlet – an allied group working to support the Coast Salish Kwekwecnewtxw. Will says, "I will remain the fierce opposition. It is in my blood to protect the water. Our Indigenous right are being completely ignored, the safety of our water is being ignored, and most of all my son's future is at stake. I will do whatever it takes to protect the water and my family and your family."
---
All around the world peoples are standing up to dangerous oil and gas pipelines that violate Indigenous rights, threaten to poison water, jeopardize ocean life and would pollute our climate.
Join the wave of resistance—add your name to the petition calling on the Dirty Dozen banks to stop financing toxic tar sands pipelines today!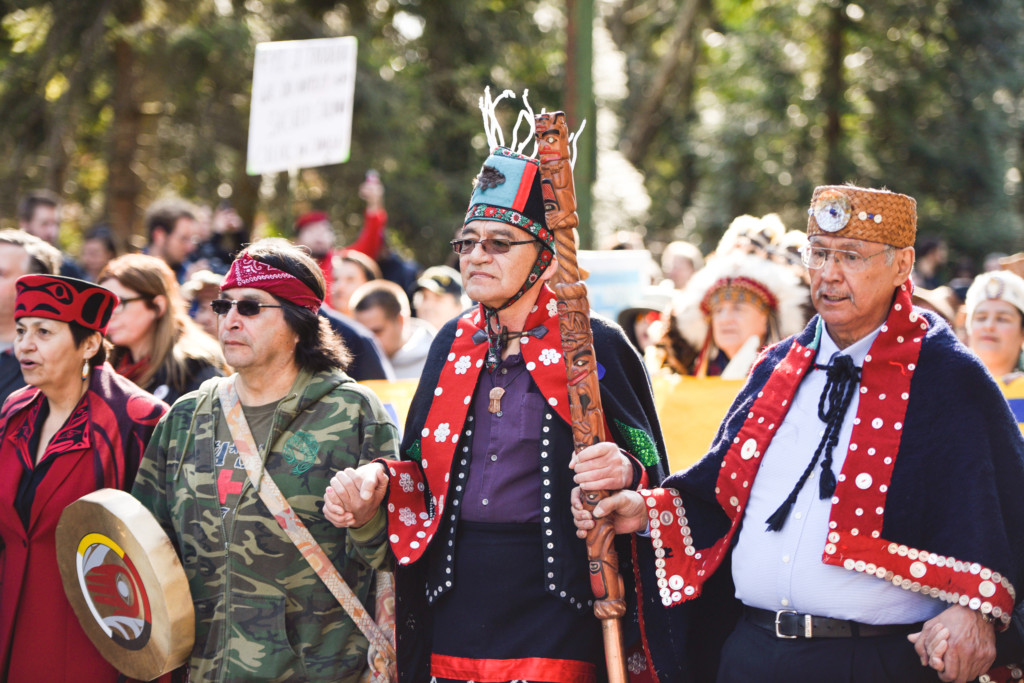 Join the wave of resistance against oil pipelines
Pipelines are expensive to build and require billions of dollars in funding from banks. Some banks are already backing away from tar sands pipelines because they're a risky investment that threaten the climate. However, through our internal investigations we've found 12 banks, nicknamed "The Dirty Dozen" , from all over the world that continue to financially support tar sands pipelines.
Take action