UPDATE: We've launched a petition calling on TD to stop funding tar sands pipelines. Add your name now!
TD bank says that it wants to integrate environmental responsibility into every aspect of its business. We think that's an admirable goal and have written to their CEO in the spirit of helping him achieve that goal.
Our basic message: You can't take a lead role in the finance, or arrange or underwrite the provision of finance, for the Kinder Morgan Trans Mountain pipeline and be true to the values you profess or the policies you have put in place.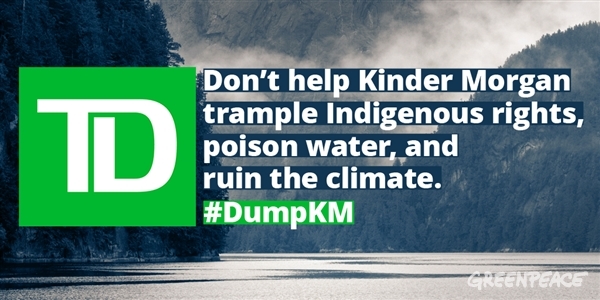 For example, the company says that "TD's environmental responsibilities stretch beyond our own business operation and extend to the activities that we finance through both lending and investing." It also states that its Environmental and Social Credit Risk Management Procedures include "assessment of TD's clients' policies, procedures, and performance on material environmental and related social issues, such as air, land, and water risk, climate risk, biodiversity, stakeholder engagement, and free prior and informed consent (FPIC) of Aboriginal peoples."
Yet, TD is planning to underwrite the share offering for Kinder Morgan Canada, a new company that would help finance construction of the Trans Mountain Expansion pipeline. How does this measure up?
Free, prior and informed consent of Indigenous Peoples: This project clearly does not have consent from Indigenous Peoples. Over 120 First Nations across Canada and the U.S. signed the Treaty Alliance Against Tar Sands Expansion and over 130 First Nations and their allies signed the Save the Fraser Declaration to oppose Kinder Morgan. In addition to these broad statements of opposition, there are currently 11 legal challenges to the project from First Nations alleging infringements of their rights. First Nations leaders have said Kinder Morgan may be 'Canada's Standing Rock' with many First Nations and allies planning to challenge the pipeline directly on the pipeline route.
Risks to water and land: The Kinder Morgan Trans Mountain expansion pipeline would increase tanker traffic in Vancouver's busy inner harbour from 60 to 400 tankers, putting at risk coast-dependent jobs, salmon rivers, wildlife, tourism opportunities, and the health of B.C. residents. The existing Trans Mountain pipeline has a disgraceful record of 82 separate leak incidents, including four major oil spills since Kinder Morgan purchased the pipeline in 2005. A spill would endanger local sources of drinking water, and threaten Burrard Inlet and the Fraser River in various locations. In some communities, the pipeline would threaten the only water source they have available.
Climate risk: Building the Kinder Morgan Trans Mountain Expansion Project is inconsistent with Canada's international climate commitments. Its financial success depends on failure to achieve the goals of the Paris climate agreement. The initial National Energy Board (NEB) review of the pipeline did not consider either the upstream or the downstream greenhouse gas (GHG) impacts of Trans Mountain; however, an Environment and Climate Change Canada (ECCC) assessment found that the upstream emissions associated with the 590,000 barrels per day capacity added by the Trans Mountain Expansion Project could range from 13 to 15 megatonnes (MT) of carbon dioxide equivalent per year. To put this in perspective, the entire province of New Brunswick emits 15 MT per year and there is still a 44 MT gap in the federal government's plan for meeting our Paris climate agreement targets. What's more, these calculations don't even factor in the downstream emissions (estimated at 71.1 MT per year), and fails to consider that global oil demand will be much lower than the NEB forecast if the world is on track to meeting its Paris climate commitments.  
Biodiversity: Even without a spill, the project risks eliminating the endangered southern resident orca whale population from B.C. Just a small rise in tankers will have a big effect as the increase in tanker traffic noise is proven to interfere with their habitat and diet. Conservation groups have launched a court case arguing that the approval of the pipeline places the federal government in contravention of the Species At Risk Act.
By providing crucial financial services which fund and facilitate the construction of the Trans Mountain pipeline expansion, TD is ignoring its public commitments to environmental protection and Indigenous rights.
There are many other low-carbon initiatives which need and deserve TD's financial support, so we are ask the company to terminate its underwriting agreement with Kinder Morgan Canada, cease any work to arrange a Joint Venture for the Trans Mountain Expansion project, and cancel and/or do not renew all credit facilities with Kinder Morgan that may be used, directly or indirectly, to finance the Trans Mountain Expansion Project.
Let them know what you think by calling 1-800-430-6095.
UPDATE: We've launched a petition calling on TD to stop funding tar sands pipelines. Add your name now!