As stocks in China's bull market suddenly slipped last month, another downward trend gives us slightly more cause for optimism.
Greenpeace East Asia revealed the results of its quarterly air quality rankings today. By province, here's how they did:
The results also show that PM2.5 levels fell an average of 16% compared to the first half of 2014 across the 189 cities included in the rankings. The smoggy capital, Beijing, saw PM2.5 slide 15.5%, while sulphur dioxide dropped a whopping 42.6%.
In China, however, these figures are just a drop in the ocean. The rankings also show that China's air pollution is still at dangerously high levels.
So what exactly do this quarter's city rankings tell us? Here are three things you should know.
The Coal Connection
It was coal that caused London to suffocate under clouds of smog during the industrial revolution. And it is coal that is the major culprit for the toxic clouds which hang over much of China.
Greenpeace analysis shows that the drop in PM2.5 and sulphur dioxide levels in northern cities like Beijing is in large part thanks to a 5%  decline in industrial coal consumption in the first half of this year.
Reduction in coal consumption can have an enormous impact. It is for this reason that Greenpeace suggests that a national coal cap could help to ensure that this positive trend continues across the country.
Red Card
New, stricter environmental laws were introduced this year, including harsher penalties for polluting companies and more stringent emissions caps. It is likely that the nationwide drop in PM2.5 concentration is connected to the impact these new laws and regulations are having.
Green means Go
This map shows the improvements in air quality in the first half of this year compared to the same period last year. The positive trend is immediately apparent: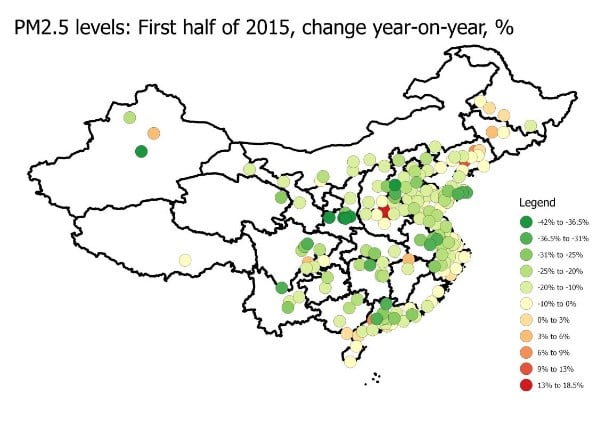 But let's not celebrate the flush of green on this map too early.
Even though PM2.5 levels are falling by double digit figures in many parts of the country, China's average annual PM2.5 concentration level is still appalling: five times the World Health Organisation's recommended safe levels.
What's more, over 80% of cities are failing to meet the Chinese government's own air quality standards.
The green which covers this map is a good sign, but should be seen as the green light marking the start of the path towards clean air.
China is making a good start, but the goal of healthy, breathable air is still distant.
Dong Liansai is a Climate and Energy Campaigner at Greenpeace East Asia