For 50 years, Greenpeace has been steering environmental protection initiatives and actions, and we still keep going, upholding our mission and vision for a greener and fairer future. Issues we work on have been increasingly challenged over the past 12 months. With your company, support and ever-glowing hope, Greenpeace is empowered to continue its green actions. Thank you very much for walking with us hand-in-hand, for accomplishing the otherwise impossible green changes in the world.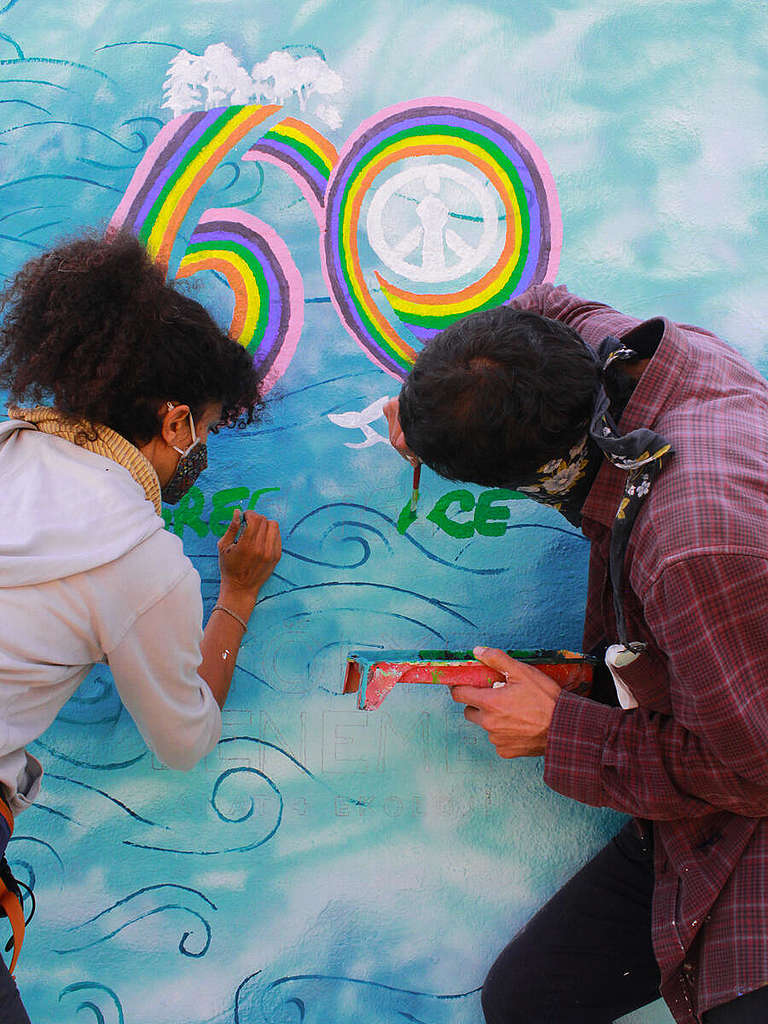 Save the Arctic actions over decades come to harvest
This year, the Arctic Sea Ice Minimum record reveals a sharp downsizing of the ocean ice volume to two-third of the previous year, the lowest value in the past 15 years. Melting ice widens ocean areas, thereby opening a door of convenience to criminal activities that accelerate environmental disruption to the Arctic. Human disruptions and industrial activities including fishing malpractices, mining, etc. have been posing unprecedented threats to the environment.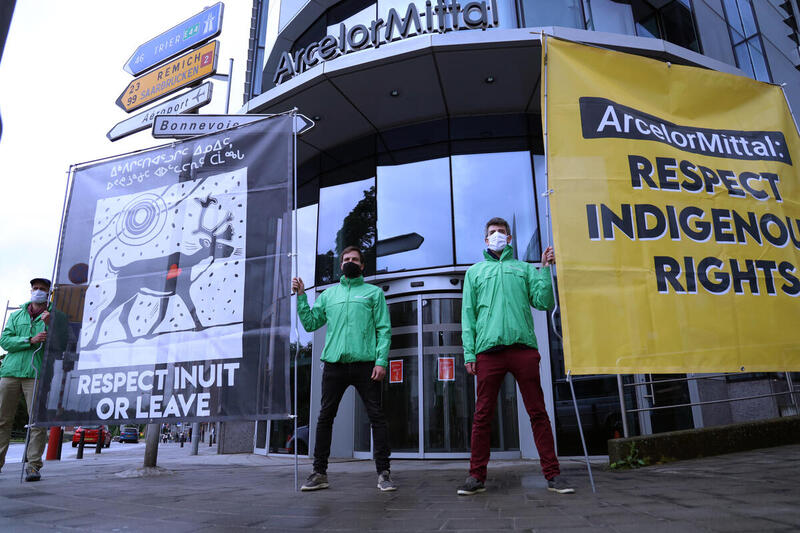 In 2020, "Birdgirl" young Bangladeshi-born British ornithologist, Mya-Rose Craig, steered the "Most Northerly Climate Protest", recognized this year as a Guinness-World-Record journey. As a Global South young scientist, she called for actions to combat climate change issues. In June this year, Greenpeace Luxembourg protested at the headquarters of an international mining enterprise, ArcelorMittal, against the environmental threats its subsidiary has posed to the Inuit community as a result of its industrial operations. The protest aimed to arouse the public's attention to human rights protection for the Inuit's well-being in their living environment.
Environmental actions are a series of continuous fights. In July, the Greenland Government announced its shared responsibility for responding to the global climate crisis. Back in 2011, Greenpeace boarded on the oil platform situated at the west coast of Greenland, to protest its operation in the Arctic. This year, the Greenland Government ceased to grant new oil and gas exploration licences, which assured that Greenpeace's persistent efforts on protecting the North Pole environment could be paid off sooner or later.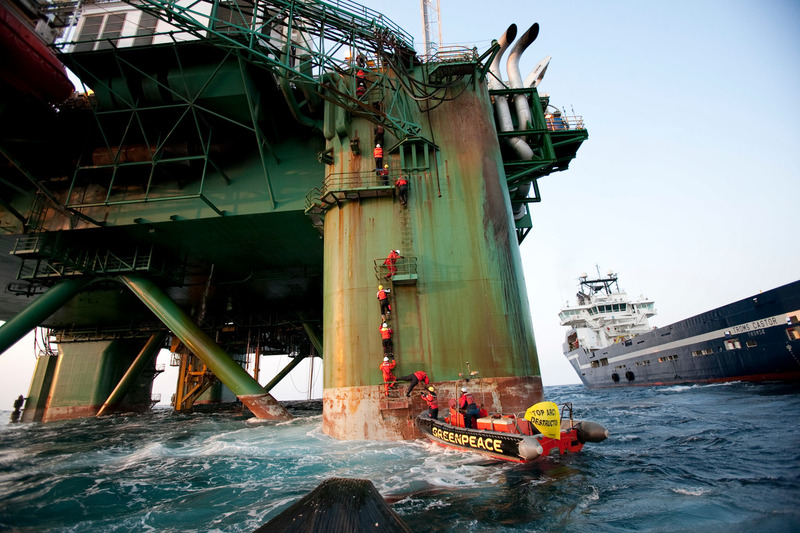 Global Ocean Treaty – Journey for the last chapter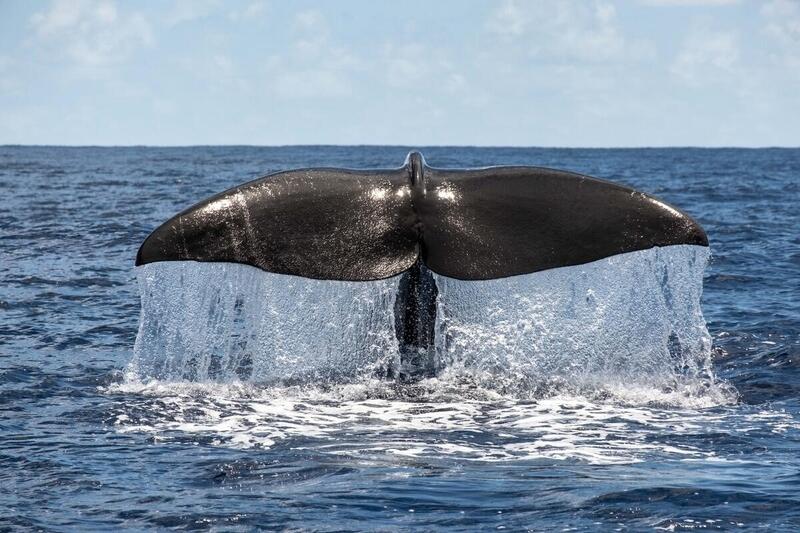 The United Nations Convention on Global Ocean Treaty was rescheduled several times due to the unsteady pandemic situation, yet Greenpeace has never suspended its ocean saving actions.
In the first half of 2021, 40 countries including the United Kingdom and Germany have already aligned their support to the Treaty. In October, participating countries witnessed the 30th anniversary of the Protocol on Environmental Protection to the Antarctic Treaty, with its initiative to avoid over-mining of the Antarctic resources. Taking this opportunity, Greenpeace called for actions from world leaders to actively engage in the objective of "Protect at least 30% of the world's oceans by 2030" ("30×30: A Blueprint for Ocean Protection"), starting from the Antarctic.
On one hand, Greenpeace is working on ocean saving policy advocacy, on the other, our science works keep going. Our crew on the Arctic Sunrise started the journey in the Indian Ocean in March this year, where we conducted the world's first underwater climate appeal. Near the same time on another side of the world, the Rainbow Warrior crew disclosed the new threats of deep-sea mining at the Pacific Ocean. Sailor Dolphin and Digital campaigner Kelly Huang from Greenpeace East Asia brought to our supporters their first-person witness experience. Despite the travel restrictions during the pandemic, these trips enabled Greenpeace and its supporters to beat at the same pulse on our ocean saving initiatives.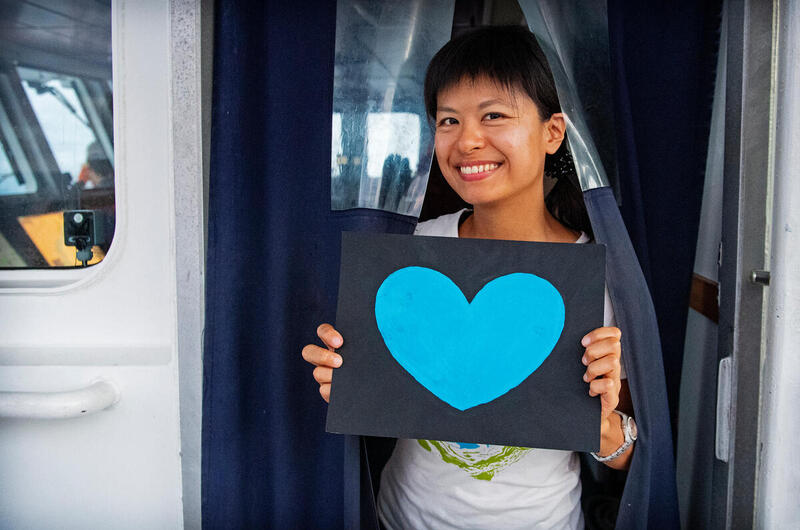 The World Conservation Congress embarked on a global ocean-saving journey in September. Over 80 governments voted to support a moratorium on deep-sea mining. For 50 years, Greenpeace has disclosed scientific evidence of the multi-layered environmental risks of global ocean issues. The support we gathered from the public is the trigger for increasing awareness and thereby positive changes to the issues.
This year, global ocean issues that surfaced include the severe ocean pollution in Sri Lanka, and fishing pressure in the Indian Ocean. In addition to our ongoing follow-ups of the Fukushima disaster, our Greenpeace radiation experts led continuous researches on Fukushima nuclear wastewater discharge. All these proactive moves we have taken are based on our core mission: to reveal solid scientific evidence to the public.
Looking forward, the United Nations will convene the last round on the Global Oceans Treaty in the upcoming IGC4 meeting. The exact schedule of the Conference is yet to be confirmed, however, we would gear up and be ready for any challenges of ocean saving in future.
All in for plastic-free and green future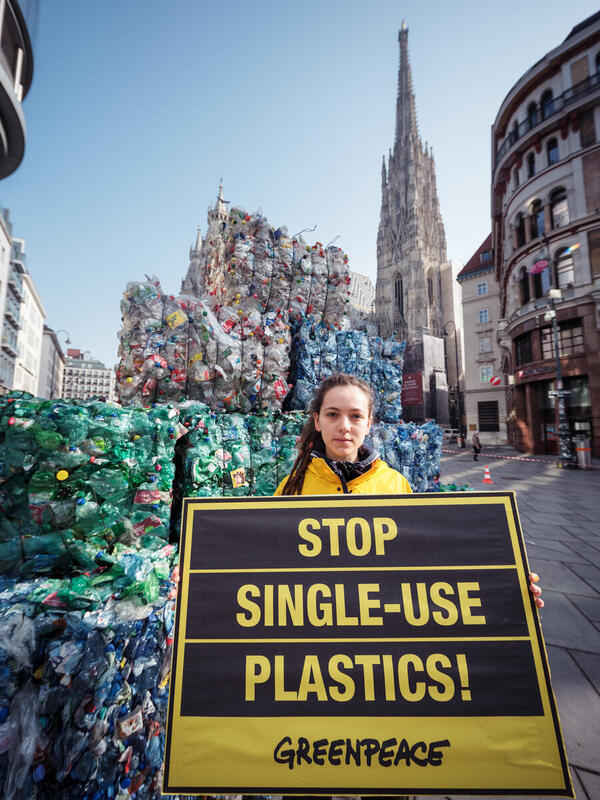 The culture of reuse has become a growing trend around the world and good examples can be found in East Asia. In Hong Kong, a pilot community scheme on tableware rental in Tsuen Wan has gained overwhelming responses. In Japan, Greenpeace Tokyo negotiated with Starbucks consistently and got the brand's assured reply on its plan to stop providing single-use cups to customers by 2025; in November, 10 branch stores at Marunouchi, Tokyo, kicked off its reusable cup campaign, a step closer to the brand's mission to halve its waste disposal by 2030.
After all, large enterprises shall hold responsibility for the zero-plastic initiatives. Greenpeace Seoul conducted a survey study on the top 5 food production corporate and followed up their conditions of single-use plastic production. In September, Greenpeace USA issued the report "The Climate Emergency Unpacked: How Consumer Goods Companies are Fueling Big Oil's Plastic Expansion". It revealed international consumer goods companies such as Coca-cola, Pepsi and Nestle have immense demand for plastics, their tight connection with oil companies, and the joint venture of the two's destruction: snowballing global plastic expansion. It concluded these international brands shall shoulder their environmental, social and governance (ESG) responsibility in view of their undeniable attributions to the global climate crisis.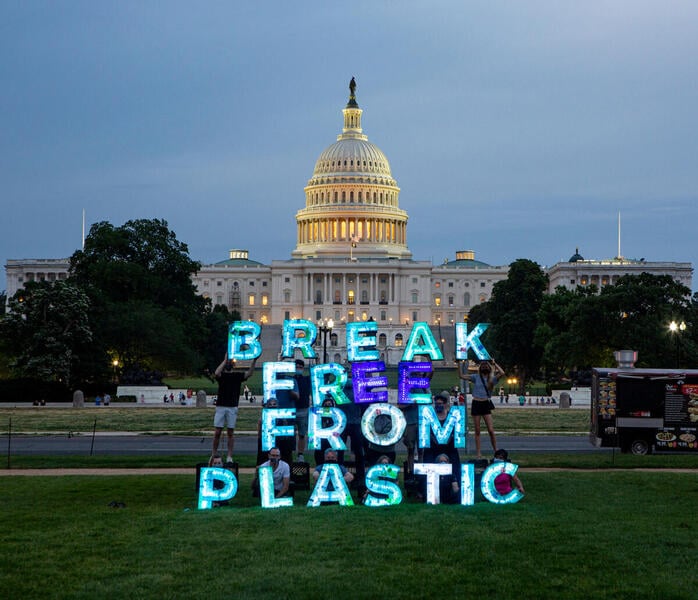 Greenpeace voyage 50 years on, good health and sustainable living to all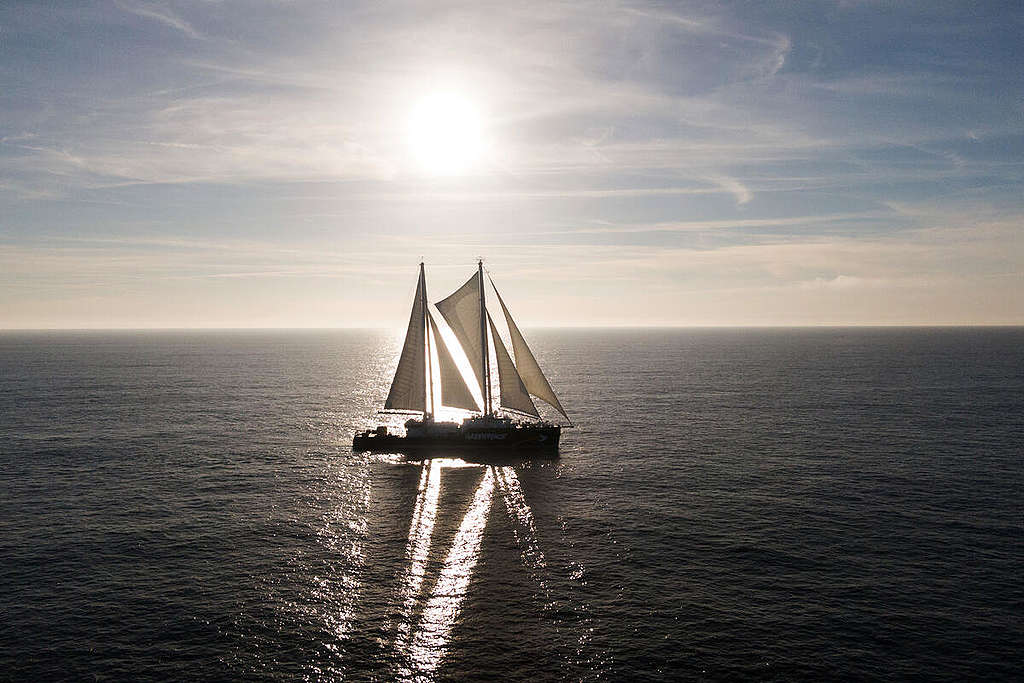 In 1971, 12 Greenpeace founding members set off on an anti-nuclear-test journey to Amchitka, Canada, in an old ship carrying the same name of the organization, "Greenpeace". The action was yet to be fully accomplished, but it seeded our spirit blending peace with green actions. The year 2021 marks the 50th anniversary of Greenpeace's inception, and the half-a-century journey it has sailed through.
Since 2011, we have been promoting toxin-free fashion and has launched a Detox Outdoor campaign. For years, Greenpeace has been working towards the end to avoid toxins from polluting nature, and arouse the public's awareness of the issue. In September, Gore Fabrics announced the complete elimination of perfluorinated compounds (PFCs), a toxin to the natural environment. This year is when the impacts of our green efforts have been visualized.
The United Nations Human Rights Council pointed out at its meeting on October 8 that everyone shall have the right to enjoy a safe, clean, healthy and sustainable environment. It echoes perfectly with Greenpeace's global advocacy for environmental justice and climate justice.
Prior to June 1 when the G7 Summit was conducted, Greenpeace launched 300 drones for video production, calling for the participating world leaders to take immediate actions to stop ecological extinction.
Everything is connected in nature, and Greenpeace connects the dots of green initiatives around the world. Greenpeace Hong Kong published its first-ever original illustration book, intertwined with board games and eco-tour for promoting its environmental education initiatives. In November, 95,000 joint signatures in Russia were obtained to defend the nature reserve of Stavropol Krai. Together, we optimized our joint efforts for the environmental conservation of the world as a whole.
Protecting Forests with persistence ignites hope
Brazilian President Bolsonaro claimed the condition of the Amazon rainforest was positive this year, yet Greenpeace unveiled real facts and scientific evidence through its persistent investigations. Along with international media including New York Times, Greenpeace reported the life-threatening conditions of the natives and residents of the forest, where most of the lands were burnt into ashes.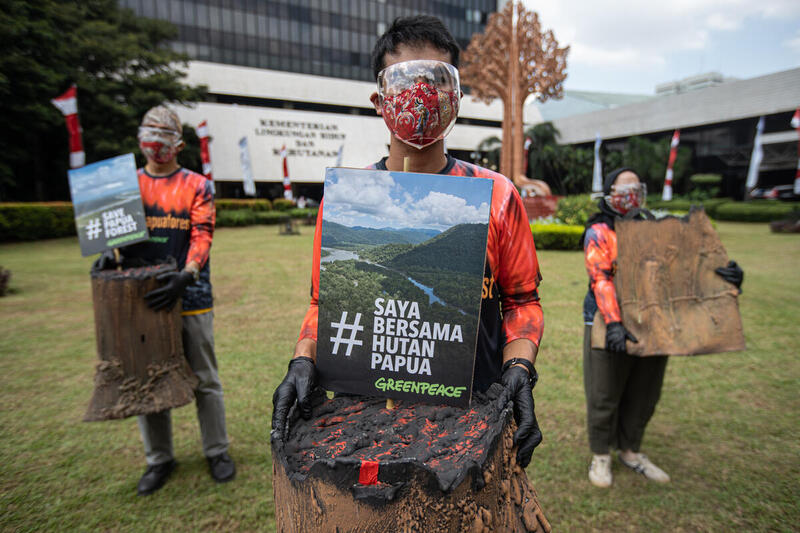 This year, we issued a report which discloses the illegal operation of palm oil enterprises in the Indonesia rainforests, including Gunung Leider National Park where UNESCO identified as a significant natural heritage site. South of Sorong province where indigenous tribes of West Papua live, we have successfully won the revocation of a total of 14 oil palm plantation permits, saving the national forest in size larger than Luxembourg from over reclamation. Greenpeace also pushed the Forest Stewardship Council (FSC) to take actions on forest protection, and consequently its announcement to disconnect with South Korea palm oil giant, Korindo, in July.
Congo Basin Rainforest plays an instrumental role in regulating the global climate. While it has yet to deserve sufficient concern, African rainforests have been diminishing drastically. The situation is alarming. Greenpeace allied with international rainforest foundations to pledge for the Democratic Republic of Congo to hold on to its logging ban, and warned its lifting of the logging ban "would be a crisis for both human rights and our climate". In October, Greenpeace Africa won from its government the support for the protection of special rights of the indigenous people, to secure their legal rights on forestry concessions.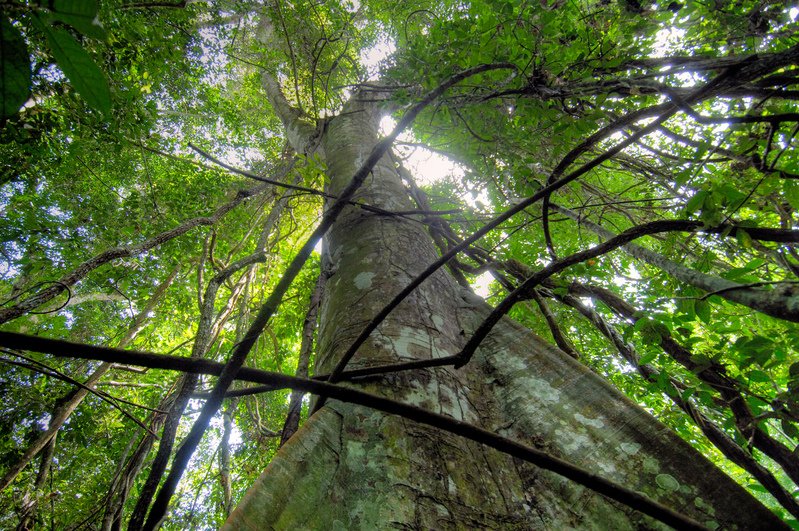 #ClimateAction – Prelude to Fossil Fuel Farewell
The 26th United Nations Climate Change Conference (COP26) is a hot headline of the year. "Glasgow Climate Pact" was an agreement entered to reduce unabated coal usage. The pledge to "phase out" fossil fuel was yet to be accomplished, yet at its very first time, "phasing down" of coal usage has been officially documented in the international sphere.
It could be disappointing but it is not the end of our fossil fuel revolution. Over millions of supporters, including you, have been advocating both the governments and corporations to keep their promise on confronting climate change over the world. China has strengthened its policies to address climate crises and announced its support to low-carbon and green energy initiatives of developing countries, as well as the cessation of new overseas coal power projects. Korea endorsed its amendments on natural gas legislation, so that general users could purchase electricity from renewable energy suppliers directly. NZ Oil & Gas Company gave up the deep-sea exploration license off the south coast of the South Island, with the good deed to leap forward for a greener future. Greenpeace has kept monitoring stakeholders involved, such as technology giants, Samsung, Xiaomi, and Alibaba, for their carbon reduction commitment and progress.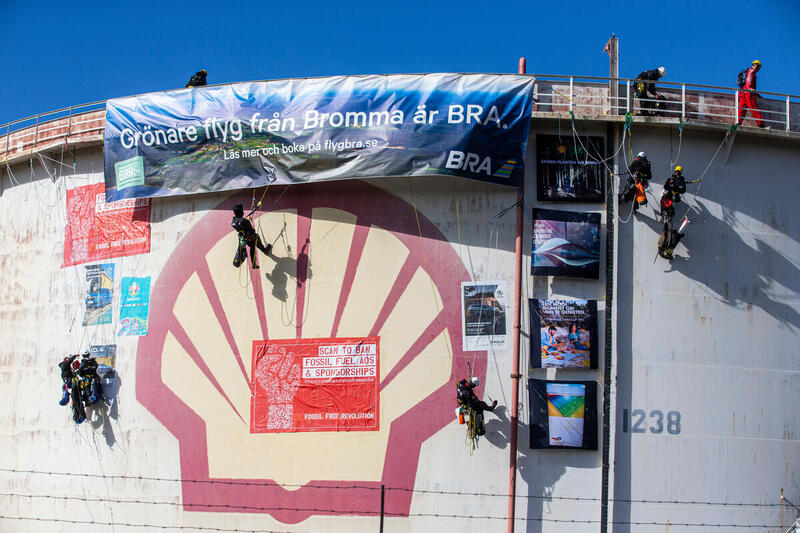 This year, Greenpeace gained promising fruits from its continuous efforts pursuing political and corporate climate responsibilities. The Dutch Court ordered Shell to be obliged to a 45% reduction of carbon emissions by 2030 and to bear its responsibility for the climate crisis. Backed by the joint signature of 2.3 million people, the fight for "Affaire du Siècle / Case of the Century" in France was a victory. All these cases of justice for climate acts have been accomplished in 2021.
2022 is around the corner, though the future remains a mystery, Greenpeace promises to keep our earth protection initiatives hand-in-hand with you. We will not forget our core mission to protect the environment and the climate as we have been upholding it for 50 years now. We will also keep gathering more like-minds for our green initiatives. With you, we have hope, and it brings greener actions and changes.