Greenpeace initiated the #PlasticFreeNow campaign in 2018. Since then, we have been mapping out plastic-free initiatives and encouraging possible solutions to the plastic waste issue. In 2021, the "citywide plastic-free investigation team" of our Plastic-free Community has been reactivated. We believe: "With you, It is Possible". Here we are going to share the plastic-free strategies visualized by 5 business owners. Much thanks for their shared vision on mobilizing every individual to go plastic-free and their persistence on it despite various challenges they came across. Looking forward to the day over 1,100 plastic-free shops could be found in the city, enlarging the circle of the Plastic-free Community. Cheers to every participant in the campaign!
Green Online Shop Forerunner: Recycle and Reuse Packages
Kwong established his green online shop "GuruGuruhk" in October 2019, upholding environmental protection as its primary business operation principle. From the third month since its inception, the shop has been recycling the packaging materials, reusing cartons and bubble wraps for its order delivery. This operation is a breakthrough to the common over-packaging triggered by e-shopping. Over time, it manages to win support for green e-shopping from various stakeholders such as drivers, staff, and customers.
For a certain amount of purchase, customers would enjoy a complimentary to-door recycling service, through which they could pass recyclable materials and return the used package to the shop. The shop consequently requires much larger space for storing the used packages, and Kwong had to move its warehouse location a total of three times in about a year, at size from 600 to 2,000 sq. feet. What inspires Kwong to his plastic-free journey? The story began with the Kwong couple's love for diving, and they found fish-eating garbage. Kwong reflected, "what a person does can be too minimal, I want to do something more influential and educational." As social media savvy, the couple educates customers on good recycling practices. They also invite the public to vote for "recycling role models" online every two months. The two top "like" receivers have rewarded a gift from the shop. "They remind me of the parts I fail to do well, and together, we can work it out better".
During the pandemic, the first concern to many is public health. Kwong recalled how he turned down a customer's request for new bubble wraps and cartons for delivery, "the pandemic is a challenge to human beings, while the earth is facing a challenge on our waste produced. We shall not let the earth pay for our own convenience." Assisted by his staff, he insisted on sterilizing all used materials thoroughly.
Kwong highlights the importance of going green as part of our life. He hopes to fill any cracks on our way to leading a green life, and develop green habits with everyone in Hong Kong.
Naked Shopping Women Power, On the Way to the Alliance
Situated in Sai Kung, "Seed" is a shop that practises the plastic-free initiative through driving naked shopping experience, that is, no offering of packages and plastic bags. It sells unpackaged groceries, from food, environmentally friendly products, to healthcare and skincare products. By doing so, the shop intends to reduce waste from the source, including plastic. Customers can enjoy the autonomy to bring a container of their own, buy their desired amount of unpackaged items from food to detergent, instead of choosing from packaged products in any fixed amount and capacity determined by the suppliers.
The naked-shopping idea came from Nichole, "I used to live alone, and found I consumed only a little from each pack of spaghetti I bought, the remains of which could become moulded and thus a waste when I missed the expiry date. Now when I want to prepare a meal of spaghetti, I can buy only 200g at HK$6."
Refusing to confine her life to work alone, Nicole decided to quit her job and embarked on her new journey of self-exploration. She initiated the naked-selling shop in collaboration with the three ladies sharing the same vision. Formerly, they were office ladies: Nichole and Yan once worked for the media, another two partners marketing.
Two years since it was founded, Yan witnessed the change of customers' green efforts. "From 'What? No plastic bags?' to 'I'm sorry, I've forgotten to bring my own bag', the naked-shopping idea has become more recognized." This is the meaning of our shop, "we keep speaking our idea aloud: whether we can do something to make a difference."
Nichole had been exchanging ideas with friends who were thinking about opening nake-selling shops. Lately, shops of the kind can be found in Kowloon Bay and Discovery Bay. In the shop "Seeds", a motto is written, "That's one small step for (a) man, one giant leap for mankind." To Nichole and her partners, the small step on the establishment of the shop has been accomplished, the next step is to form a "naked-selling alliance", connecting "naked-shopping district-to-district".
Coffee Shop Owner Sparks the Community with Plastic-free Initiatives
Little by little, the "Sp.Ace Cafe & Kitchen" owner Yvonne helps grow the plastic-free culture in the Ngau Tau Kok community, based on her great love and green power contributed there for three years.
Before the plastic-free trend becomes popular, the Cafe began to provide no plastic drinking straws to its customers. If needed, they would be offered stainless steel drinking straws. Unexpectedly, the public hygiene concerns of stainless steel posed a challenge to the Cafe. It addressed worries aroused from customers and proactively explained the cleaning and using procedures. Today, stainless steel straw is no longer a query to customers.
The Cafe also provides a "dining utensil rental" service, at a deposit cost of HK$50 for container rental of takeaway orders. For those who bring their own box, they can enjoy a $3 discount on each meal. "One day, about 10 plus customers brought their own box", most of them loyal customers of the Cafe, "it shows they trust us for our quality food and hygiene."
Yvonne spares no efforts in green initiatives. In addition to the plastic-free campaign, the Cafe also strives to reduce waste from the source. The secret-recipe sauce it produced is contained in reused glass bottles it had called for collection online. The Cafe has collected over 300 used glass bottles from various families by now. "People keep giving us glass bottles and we haven't used any new ones for our sauce-selling since its launch."
The edge of a small shop is its flexibility, where Yvonne can explore freely for advancing the green initiatives. Though it may first begin with a person's own efforts, she holds on to her green practice, and with this spark, people around here would be lit up. The green efforts would be radiated from one person to another, in turn, the concerted green effort could be formed in the community.
Little Chef Mum Goes Plastic-Free for Saving the Earth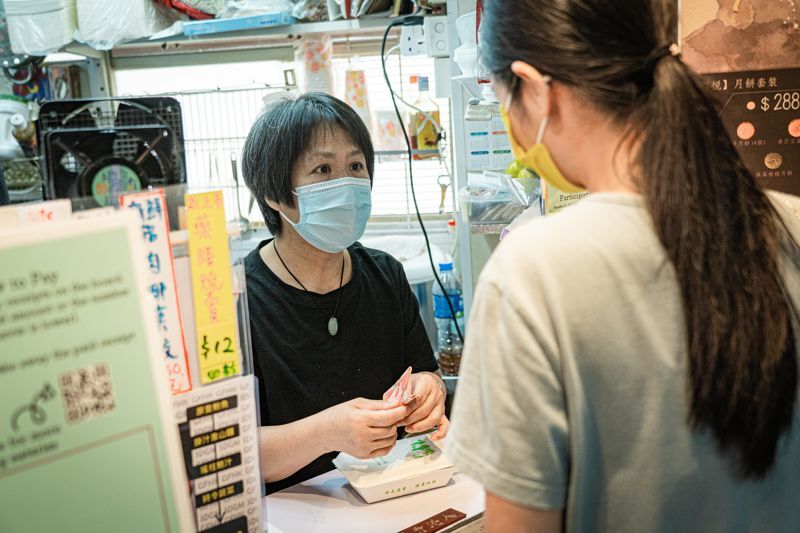 A mother herself, "little kitchen" owner, Mandy Poon (also known as "Little Chef Mum") sells Hong Kong stalk food in a shop within 100 sq. feet in Tsuen Wan. Contrary to the shop size, her will for environmental protection is enormous: despite the high cost, she insists on using environmental-friendly take-away bowls. She believes the well being of the Earth shall be more essential than her own profit. 
Paper plates and bowls the shop adopted multiplies the cost of plastic tableware used by most restaurants. Another cost is the warehouse rental for the storage of these paper tableware. Isn't there a high risk of deficit? The Little Chef mum replied profit is not the mere objectives of the shop and she could not care too much about it.
Mountains of plastic piling at the landfill is an overwhelming scene to the Little Chef Mum. She sees going green allows no space for holding back, and once she goes for it, she can't stop thinking about it. She cares much for reducing the disposal of single-use plastic bags in landfills. She even asks her customers to return the extra plastic bags they take, especially for those who fail to tell her they dine in at the shop instead of taking the order away.
Inherited the saving habit from her mother, Mandy has passed on the earth-saving virtue to her daughter, now in her 20s. Speaking of her daughter, Mandy remarked, "she is more stringent than I am. She pitches green initiatives at her office, and doesn't let her colleagues use disposable tableware."
"Together we can make a difference if everyone takes part in it. I'm more concerned about how much I can do, but not the achievements," Mandy concluded.
A Catering Giant's Green Efforts: From Little Fights to Big Battle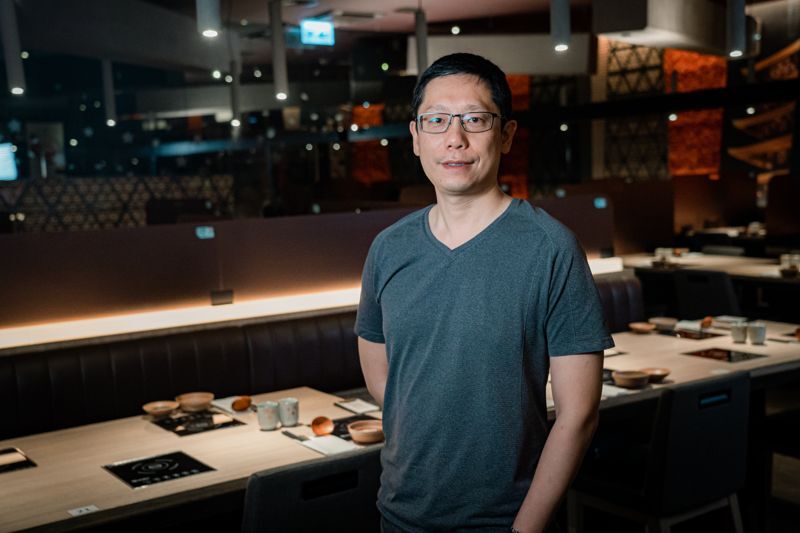 Chairman of LH Group, Simon Wong, is an owner of 38 restaurants. The Group has been promoting shark-fin-free wedding banquets and energy-saving LED lighting systems for long. "Perhaps I'm more concerned about environmental issues compared with others in the catering industry, people called me 'the Green Fighter'", Simon revealed with a sense of pride on his face. A businessman with 13-year in the field, he was a civil engineering graduate. During his study, he took a course on environmental protection, perhaps it was time his green mind was seeded.
His daughter also joins his comrade as a little green fighter. "My daughter doesn't let me use any plastic bottles". The green comrade's journey began from a beach cleaning activity. The little girl found most of the garbage there were plastic bottles and straws. On the web, she saw a sea bird's stomach filled with plastic garbage. Simon realized, "from that moment on, I really want to do something about this."
Since last year, a new rule was imposed in the restaurants of the Group: HK$2 additional charge for a plastic drinking straw. Many customers complained, "it's your business to go green, why shall I pay for it?" Simon tried to find substitutes for plastic straws and discovered that it could be costly. Thinking it through, drinking straws are not necessities, and he was certain his green initiative was not a mistake, thereby holding on to the plastic straw reduction campaign. To enable his staff members to understand the reasons behind the Group's green initiatives, he showed to them video clips about how sea turtles could be suffocated by plastic drinking straws. Last May, the Group advanced its green policy by promoting "HK$10 off for zero straws". This time, the Group received positive responses from the customers, and the industry applauded his green fight, calling him the "Green Fighter". Until now, the Group has saved over 400,000 drinking straws in total.
During the pandemic, he promotes a "self-pickup takeaway experience". Customers can enjoy a discount if they bring their own boxes for self-pickup service. "We are serving the public, and we may yet to go green radically, but we shall keep pushing the green initiatives. The impact would then grow in the community, and this is our corporate social responsibility."
"Sustainability is a must. Running a business and sustaining the earth can be a win-win!" Simon is happy to see that more large-sized corporations share his social responsibility vision and ally with the "green army".
Plastic-free City – With you, It's Possible!
"You Make it!" plastic-free means:
– Browse the #PlasticFreeNow website (in Chinese only)
– Support Greenpeace's Plastic-free Community. To enrol our "citywide plastic investigation team", check the details from the website above.
– Join Greenpeace in its efforts to keep monitoring the plastic-free initiatives, ensuring businesses keep their plastic-reduction promises. Together, we build a sustainable future!