A major transformation is underway within the auto sector as fossil fuel cars are phased out in favor of zero-emission vehicles (ZEVs). This transition not only has big implications for our climate, but also for those who work in the auto industry.

Greenpeace's Seoul office met with auto industry workers in Korea to hear their perspectives on the ZEV transition.
Eun-Joo Kim: 'A just transition is needed'
Over the past 25 years, Eun-Joo Kim has built her career in the male-dominated auto industry and currently holds a leadership role in the Hyundai Motor Company labor union. Ms. Kim shared with us her thoughts on the climate crisis and ZEV transition.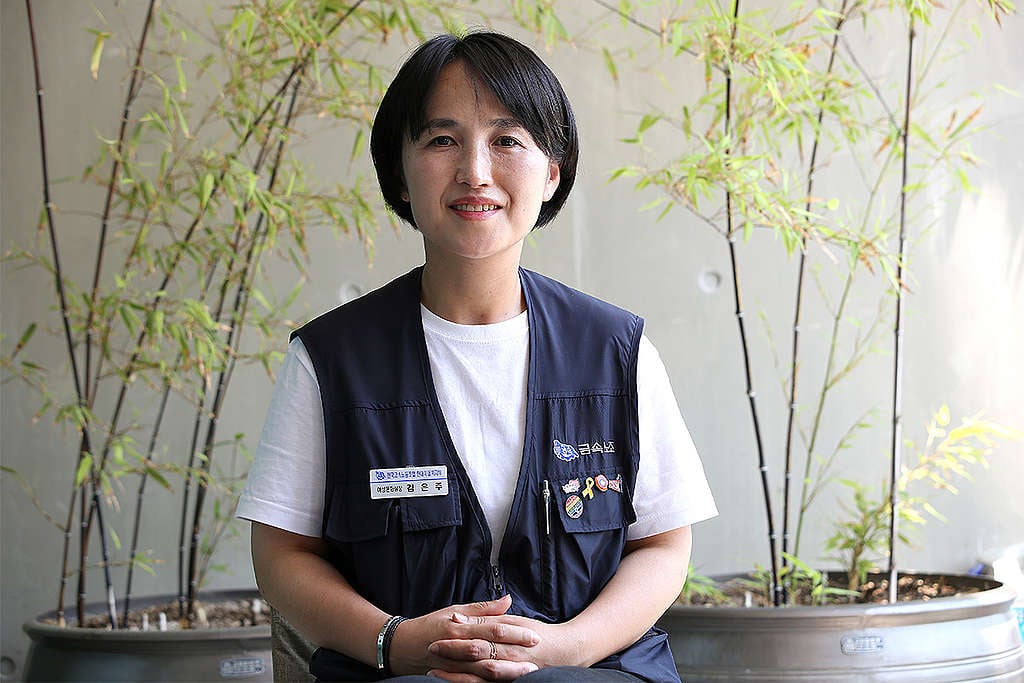 What type of work do you do?

I started work at Hyundai Motor Company in 1997 as an office worker. Then in 2013 I became a technician and worked on the fifth factory assembly line. Currently, I am a full-time executive staff member at the labor union. [After my term with the labor union finishes] I will return to the assembly line.
If diesel and gasoline cars are no longer sold within the next decade, what kind of impact will it have on your work?
My job is to inspect defects with fully-assembled vehicles, which is the final process [in the assembly line]. Thus, as long as there is a pre-assembly process, there will be no major changes to my job. However, my colleagues whose work is related to engines, transmission, and exhaust systems will be highly affected by the transition and could experience employment instability.
Do you think a phase-out of fossil fuel vehicles is necessary?
Yes, I do think a phase-out of fossil fuel vehicles is necessary.

The media are constantly talking about the climate crisis, causing people to realize the severity of the issue. Society is aware that global warming has a negative impact on our lives and that carbon neutrality is necessary. Previously I was unsure what I could do to stop global warming. But now I understand that the increase in fossil fuel vehicle production leads to an increase in carbon emissions. In response to the climate crisis, we need to accelerate the EV [electric vehicle] transition.
What do auto workers think about the EV transition?

In the field, we share the understanding that fossil fuel vehicles should not be produced on a national or global level. Alternative energy sources such as clean electricity should be used to accelerate the industry's transition. At the same time, I hope the issue of employment instability is addressed alongside the EV transition. [Auto companies] should not focus solely on generating revenue; rather, a just transition is needed with a concrete plan to maintain employment stability.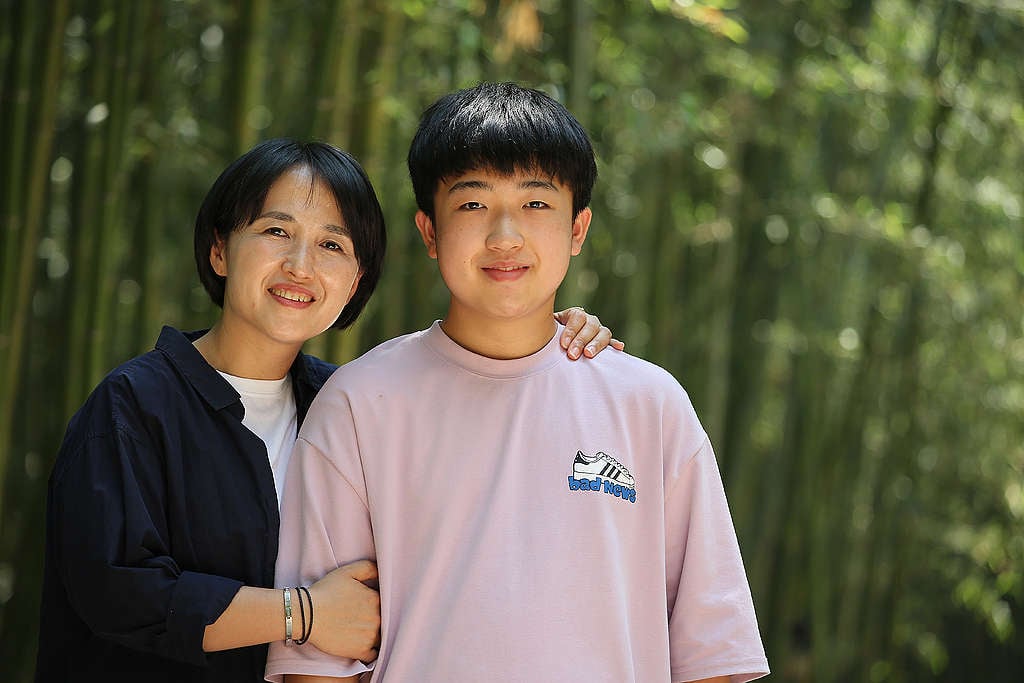 Amid the climate crisis, who are you concerned about?

As a mother, I am concerned about my son. He is the one who has to live through the climate crisis, and, unfortunately, it's clear that the crisis will become more serious in the future. Therefore, in response to the climate crisis, if an industrial transition [will occur], it should take place without delay. As an individual, I will also do my part to pass on a clean and healthy earth to my son.
Amid the climate crisis, do you have any words for your son?
I believe that working for the labor union can help create a better society. Likewise, awareness of climate issues and learning what I can do to stop the climate crisis will make the Earth a better place for my son to live. My son is worried about the future of the Earth, and I want to tell him that I will always strive to keep our Earth healthy. My loving son! I will keep the promise that I made!
Sung-Ki Kim: 'I would like to protect my children'
Sung-Ki Kim works on the PR team for the Hyundai Motor Company labor union. Previously, he was part of the engine endurance test line. He loves his family and wants to protect them from the climate crisis.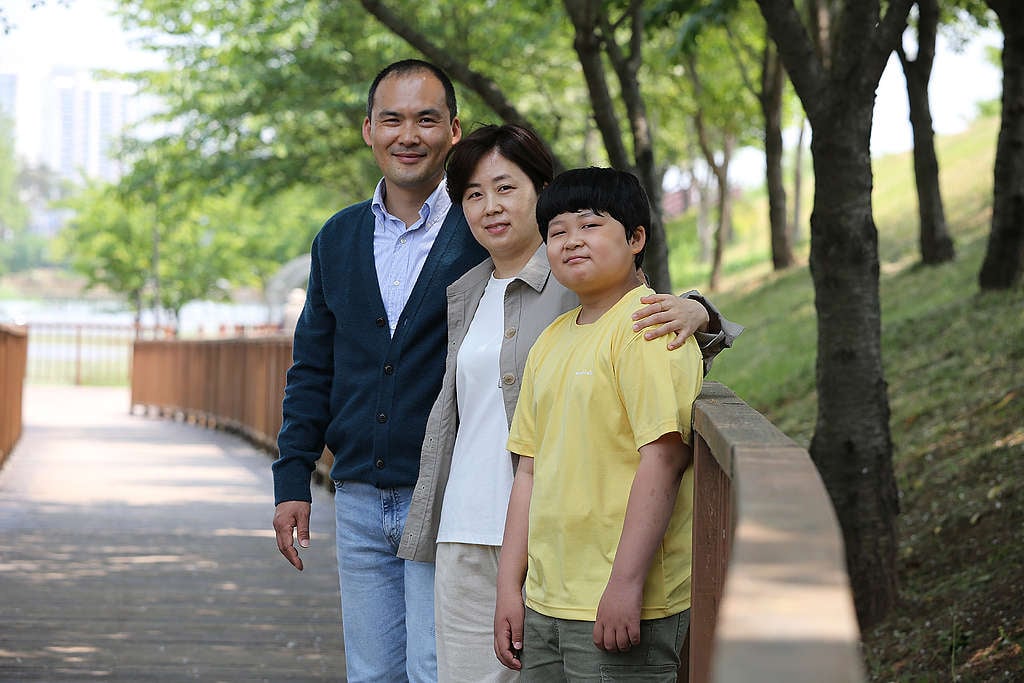 Could you please introduce yourself?

My name is Sung-Ki. I am a 45 year-old Korean man. [I am] the father of two children and a lucky man who married the love of my life.
What kind of work do you do?

I work on the PR team for the Hyundai Motor Company labor union. My main job is to promote the union's activities and projects and let union members know what we are doing. I will work within the labor union until 2023, at which point I will return to the field. … During the time that I have been working with the labor union, the department has launched environmentally friendly projects. So when I go back to the field, my job will be to test the endurance of zero-emission car motors and batteries.
What do auto industry workers think about the potential to phase out fossil fuel vehicles [nationwide] by 2035?

We agree that the EV transition is necessary. With growing awareness of the climate crisis, people have started to pay more attention to [the need to] reduce carbon emissions. Car companies are taking action to transition to EVs, and Hyundai Motor Company has announced a plan to increase EV production. Customers love EVs, so we are aware of the trend. However, there are a considerable number of workers in the fossil fuel vehicle sector, thus measures must be taken for employment stability.
What is the role of the government and corporations in a just transition?

I truly hope that a just transition occurs based on understanding and cooperation between the government and corporations. Yet, I know that the goal of companies is to earn a profit, which might make it difficult to realize a just transition. Still, the bigger picture is that corporations, governments and citizens alike will have to bear the consequences of environmental destruction.
To reduce negative impacts, the government should quickly respond to the auto industry transition. It's no use to implement policies after marginalized people have already suffered damage and people have developed negative views about the [EV transition]. Plans [for a just transition] should be developed beforehand as a preemptive measure to minimize employment uncertainty.
Corporations should not lay off workers in the name of restructuring; rather, they should provide opportunities to workers by creating new jobs and offering re-education. The company [management] should not forget that these are the people who have made a huge contribution to growing the company globally. Even though [re-education and creation of new jobs] seems like it costs a lot, it is a bold investment for our future and our children.
Do you feel the impacts of global warming?
I do feel them. I no longer think there is a clear distinction between the four seasons in Korea. Summer is getting hotter and hotter. Last summer was particularly hot – the scorching weather continued for days. Whenever the news talks about how people are dying from heat waves, I really do feel that climate change is getting worse.
Who do you want to protect amid the climate crisis?
I would like to protect my children. As a father, nothing in this world is more precious than my children. I also want to protect my wife. We want to enjoy our old age in a green environment. One day when my children have their own families, I hope we can live on a clean earth with our grandchildren.
Cheol-Yeon Cho: 'We borrowed the Earth from future generations'
Cheol-Yeon Cho started his career in the EV charging infrastructure sector, which is critical to the EV transition. He hopes that others too can find ways to combat climate change and believes the government should provide more support for EV charging infrastructure.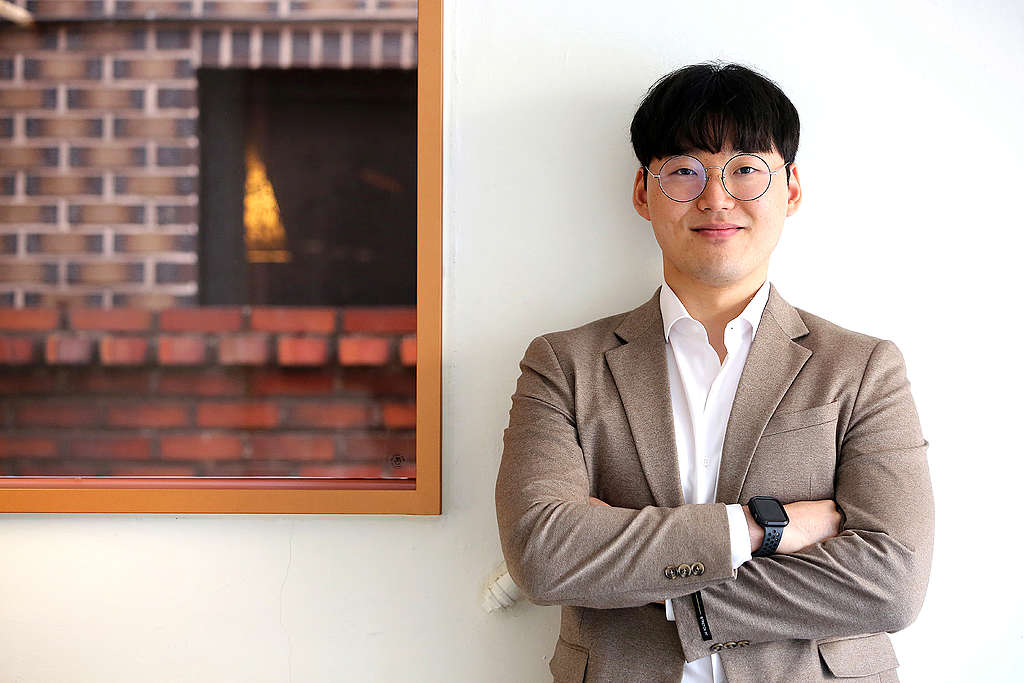 Could you please introduce yourself?
Hello, my name is Cheol-Yeon Cho. I work for an electric mobility charging company. Electric mobility refers to vehicles that use electricity as an energy source. Currently, the most widespread form of electric mobility is electric vehicles, but in the near future the charging sector will expand to include electric ships and airplanes.
How did you start working in an electric mobility charging company?
I majored in environmental engineering. When I started to look for a job, most of my friends were preparing to take the civil service examination, and some friends wanted to work in companies working on air and water quality. But I was interested in the environment, and my father suggested the electric mobility charging sector. He was already working at an electric bus company, so I applied to the EV charging company without hesitation.
What is your opinion of job prospects within the EV charging sector?
As the impact of climate change worsens, electrification of mobility is accelerating. Thus, the electric mobility charging sector will grow and lead to the creation of more jobs. The sooner that fossil fuel vehicles are banned, the more EV charging infrastructure will be constructed due to an increasing number of EVs. I think the government should support EV charging infrastructure sector more.
Do you feel the impacts of global-warming?
Yes, especially when there is a change of seasons, the daily temperature difference is huge. In the daytime, the weather is hot like summer, but at night it's really cold. I think we are experiencing abnormal, extreme weather.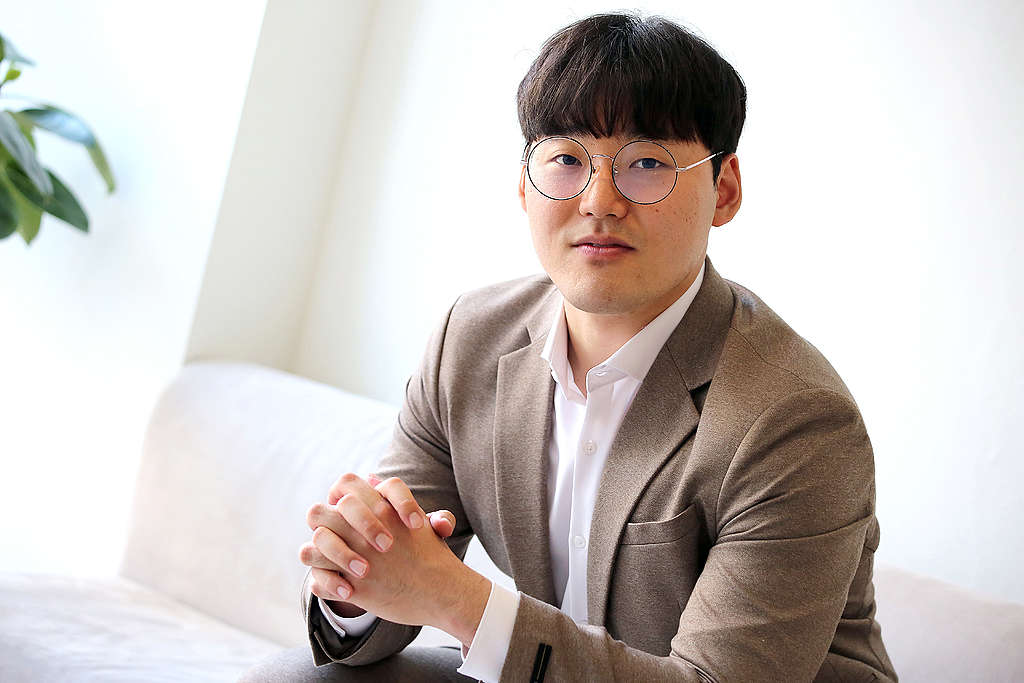 As a young person living during the climate crisis, do you have any words for us?
When I was little, my mom always told me that we borrowed the Earth from future generations, so we have to cherish it and we should not ruin our planet. Likewise, we all know that when we have borrowed something from other people, we should be more careful when using it. The Earth is borrowed from our children and grandchildren. We should hand the undamaged Earth back to future generations.
As a young person living during the climate crisis, I will utilize my role in the EV charging sector to respond to the climate crisis. I hope everyone who is reading the interview can do their best to tackle the climate crisis where they are.
No one is more familiar with changes to the auto industry than auto workers themselves. Greenpeace urges that workers have the right to actively participate in discussions and the decision-making processes during the transition to zero-emission vehicles. This will enable the government, corporations and workers to achieve a just transition and better future for our climate.