Beijing, August 18 2015- Based on media reports and Tianjin port authority records, Greenpeace East Asia has discovered that other than the Ruihai Logistics Company, two other hazardous chemical facilities, containing up to seven types of chemicals, were present in the blast zone. Both are affiliated to the state-owned Sinochem Corporation.
Greenpeace East Asia used remote sensing and spatial analysis to investigate the location of these sites. It found that both are in violation of Article 19 of the 'Regulations on the Safe Management of Hazardous Chemicals in China', which stipulate that hazardous chemical facilities must be located at least 1000m from public places, transportation networks and residential areas. (see below)
Sinochem Tianjin Binhai Logistics Company Ltd.
Established in 1965, it is a major distribution and transit center for hazardous chemicals. It is granted permission to handle hazardous chemicals by the Tianjin Maritime Bureau.
In total the company's storage facilities cover an area of 130,000m2.
Within 1000m of the storage facility there is a large residential area, a kindergarten, elementary school, high school and other public areas.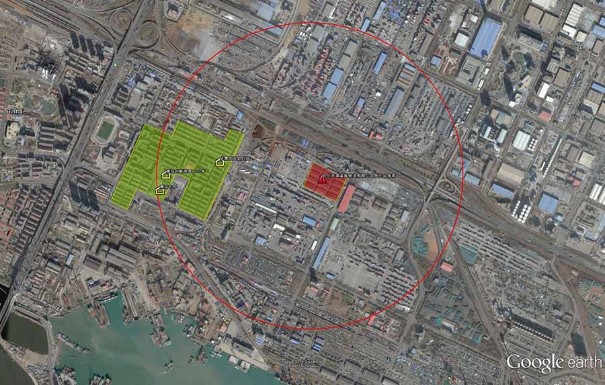 The above picture shows the location of the Sinochem Tianjin Binhai Logistics Company Ltd. The red block shows the location of the hazardous chemicals warehouse. The yellow block indicated the location of a major residential area. The red line shows a radius of 1000m from the warehouse.
Tianjin Port Sinochem Hazardous Goods Logistics Company Ltd.
Established in the Tianjin port area in November 2011. It is a shareholder in Sinochem Tianjin Binhai Logistics Company Ltd. It is a large distributor of hazardous materials, with large amounts of international freight.
No information on size of the facility.
It is located less than 200m away from a major highway.