False messages have been circulated on social media with the malicious intent to portray Greenpeace Malaysia as paying out individuals to provide their support for the Stop Lynas campaign.

These false messages call for individuals to provide photos of themselves with the sign 'Tolak Sisa Radioaktif Lynas', stating that Greenpeace Malaysia will give RM100 to those who participate.
Greenpeace Malaysia was alerted to these deceptive activities by one of our supporters who received the message via Direct Message (DM) on Instagram.

We would like to firmly clarify that Greenpeace Malaysia is not behind, and does not practice, any such activity or any similar messages in which we pay individuals for their support on any of our campaigns.

Such messaging is an obvious ploy to discredit the integrity of our organisation with implications of bribery.

As an independent non-governmental organisation, we do not accept compensation or funding from any government, organisation or company. 
We highly encourage any of our followers to report such incidents to us and greatly appreciate our supporters for calling such unacceptable messaging out.
---
Versi Bahasa Malaysia
PERHATIAN: Kegiatan promosi palsu yang diedarkan mengenai Lynas Campaign
Telah dibawa ke perhatian kami bahawa terdapat mesej palsu yang menggambarkan Greenpeace Malaysia sebagai membayar individu untuk memberikan sokongan mereka terhadap kempen Stop Lynas.

Mesej palsu ini meminta individu memberikan gambar diri mereka dengan slogan tanda 'Tolak Sisa Radioaktif Lynas' atau slogan yang berkaitan, dan menyatakan bahawa Greenpeace Malaysia akan memberikan RM100 kepada mereka yang mengambil bahagian.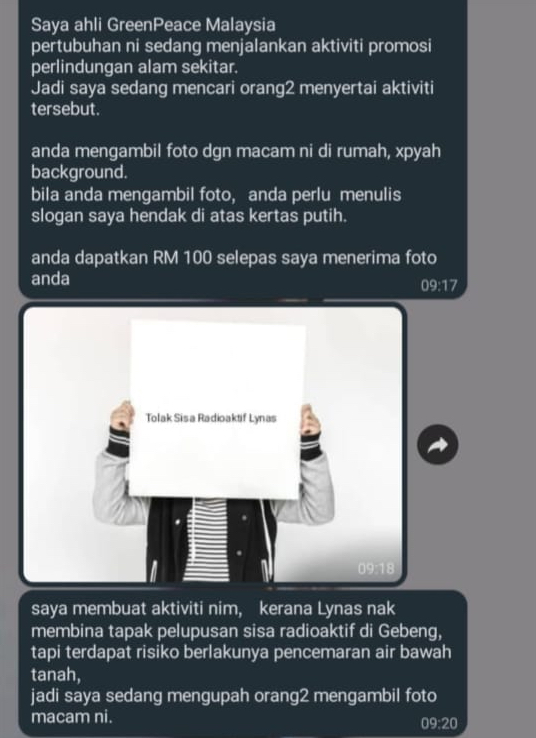 Greenpeace Malaysia dimaklumkan mengenai aktiviti palsu ini oleh salah seorang penyokong kami di Instagram.

Kami ingin menjelaskan dengan tegas bahawa Greenpeace Malaysia tidak sama sekali mengadakan sebarang aktiviti ataupun mengeluarkan mesej yang memanggil individu memberikan sokongan mereka terhadap mana-mana kempen kami untuk sebarang wang pampasan.

Ini adalah tipu daya yang jelas untuk memburukkan integriti organisasi kita dengan implikasi rasuah.

Sebagai sebuah organisasi bukan kerajaan yang bebas, kami tidak menerima pampasan atau dana dari mana-mana kerajaan, organisasi atau syarikat.
Kami sangat menggalakkan semua pengikut kami untuk melaporkan sebarang kejadian kepada kami jika anda menerima mesej yang serupa. Kami sangat menghargai penyokong kami kerana memanggil perhatian kami terhadap pesanan palsu ini.