Human Rights Abuses in the Global Tuna Industry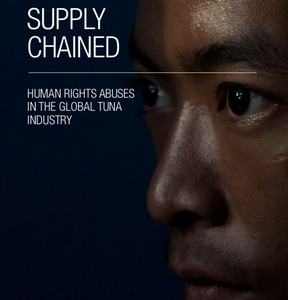 Thai Union Group PLC (TU) is the largest producer of canned tuna in the world, supplying to brands and retailers around the globe. But TU has been linked to the darkest sides of the seafood industry: human rights abuses, the wholesale waste of marine life, and the killing of endangered species with destructive fishing methods. Today's tuna industry is ridden with environmental destruction, human tragedy and greed. The problems go beyond one company, but TU has the global reach and influence to transform the tuna industry by rejecting the unacceptable practices that dominate the sector.
Over the last year, a series of media exposés have shed light on the brutal treatment of vulnerable men aboard vessels in Thailand's fishing fleets – several of which have named TU in their investigations. These reports highlight that trafficking, forced and bonded labour is part of the business model of companies that have supplied whole fish and raw material to global heavyweights such as TU. A recent Greenpeace investigation, which included interviews with victims of trafficking, forced and bonded labour, highlights how the abusive practices in Thailand's distant water fishing fleets present a severe supply chain risk to TU's tuna operations that goes beyond the piecemeal actions taken by the company in response to media scrutiny.
Download Supply Chained
Learn more at www.greenpeace.org/SupplyChained