After the slowdown of the destructive Herakles Farms palm oil project in Cameroon, following extensive environmental and social opposition, we had hope for the future. However, it now looks like the infamous operation is being resurrected under a new identity, with ambitions to to destroy vast areas of forest and local community land.
Since 2013, Greenpeace and other local and international organizations have been sounding the alarm over the Herakles Farms palm oil project in Cameroon's Southwest Region. This project threatened to steal land from local communities, undermine their livelihoods and destroy huge tracts of valuable dense natural rainforest home to critical wildlife including dozens of mammals, like the endangered chimpanzee.
However, opposition by local communities and the flurry of international media attention quickly branded Herakles Farms project for what it was – the wrong project in the wrong place.  For most of 2014, the company struggled in the light of this opposition and made very little progress on the project.  The New York City headquarters of the company shut down and local operations slowed to a crawl.  As late as summer 2015, the news that the company was pulling out of Mundemba and Toko areas and laying off workers appeared to continue to signal the end.
However, Greenpeace continued  monitoring the situation, and found that while outwardly the project was in tatters, the SGSOC project  (the local name of the plantation, more famously known as Herakles Farms) quietly regrouped and is now destroying more forest and local community land than we has been lost since the project began.
New leadership
While nobody was looking, Herakles Farms appears to have sold its palm oil project to new investors.  Reports from local workers and villagers pinpoint this transition to the summer of 2015, however according to company filings, it was not until November that a British man, Jonathan Johnson Watts, was named the new Chairman and General Manager of the SGSOC plantation.
Jonathan Johnson Watts is no stranger to taking over struggling palm oil projects.  Watts was also involved in the purchase of a struggling palm oil project in Ghana, which as it turns out, was also sold to him by its previous owner, Herakles Farms a few years ago. The Volta Red plantation, as it is now know, is growing and palm oil production has begun.
Greenpeace wrote to Watts and his business associates in early 2016  but have not received a response.
Forest and Land Lost Forever
While all materialization of the Herakles Farms name has disappeared in Cameroon, the new owners are making up for lost time by rapidly clearing forest, planting new palms and orchestrating a public relations campaign to get the SGSOC plantation land lease extended later this year. But our research reveals that they have failed to engage in any meaningful way with the local communities that oppose the project or implement environmental safeguards.
Satellite monitoring of the rainforest and traditional community land inside the SGSOC concessions shows this dramatic turnaround. Incredibly, more forest has been cleared under Watt's new management from May 2015 to January 2016 than had been cleared by Herakles Farms since the start of the project.  That means that from December 2011, around the time when Herakles Farms first took over the land, and May 2015, just over 354 hectares of forest were lost. But then in just 8 short months, over 500 hectares were bulldozed.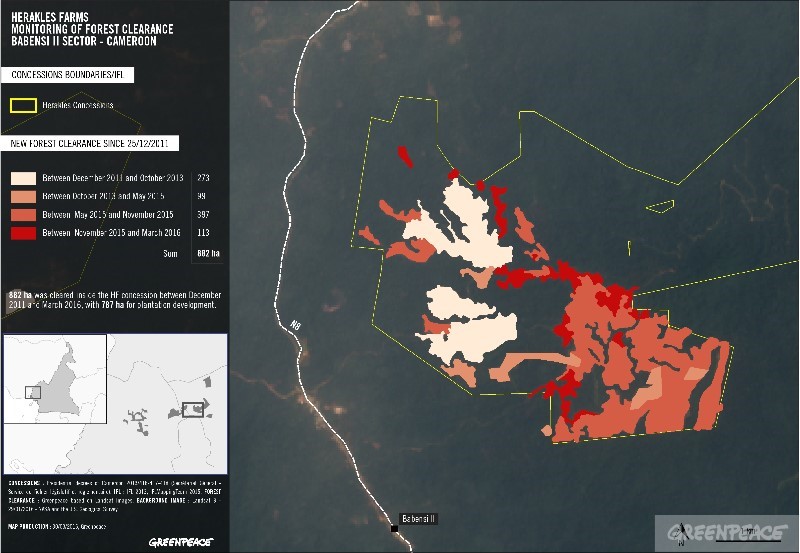 Broken Promises
During a recent visit to the SGSOC area, Greenpeace gathered firsthand account of what was happening, and confirmed this acceleration in operations. During this time, we joined local organizations and met with over 50 workers, ex-workers and village chiefs throughout the plantation.
This visit confirmed earlier reports that all operations of the SGSOC plantation had stopped in Mundemba and Toko areas, but that activity accelerated in the Nguti area. This consolidation of corporate activity, and strong reports coming out of Mundemba, seems to be one reason whymany still believe this palm plantation to have ceased operations.  However, while visiting the traditional land of the Babensi II village in particular, the scale of the active forest clearance and palm planting was clear. The traditional lands of Babensi II  and Ebanga communities have been the most impacted to date by clearance for this project.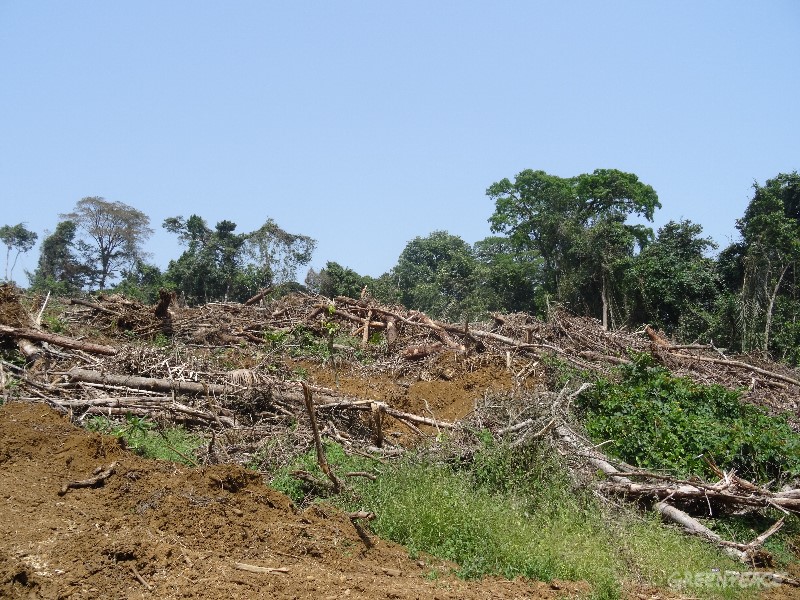 Forest clearance near Babensi II village inside SGSOC plantation from December 2015
In addition to capturing eyewitness accounts of this forest destruction, talking to local community members and ex-workers revealed the ongoing broken promises stemming from this project. When the company consolidated activity, many workers were impacted, including widespread reports of lost jobs without compensation.  Roughly 200 complaints were filed with the labor law delegate in Mundemba while others wrote and filed complaints with the Senior Divisional Officer.  We spoke with some community members who walked more than three hours to Mundemba from their local villages just to have their complaint heard. Very few have seen any of the past wages owed to them.
One local villager explained that  "…before SGSOC, I had my farm and at the end of the year, I had enough money to live and even enable me to send my child to school. What SGSOC brought was promises of security and monthly paychecks. But now I lost my job, and lost my farms, what am I to do now?''
Similarly, many of the chiefs of the local villages also speak of broken promises. SGSOC has always, including recently, spoken of their plantation with the promise of development. But when we visited the Fabe community, we were overwhelmed with emotion to hear that none of the villagers even had electricity, despite their village being the location of one of the company's palm nurseries.
We left with the renewed resolve for justice. The reality for the communities surrounding the SGSOC plantation is that they have been fighting for their livelihoods for several years and now they have a renewed enemy just with a new name. And the fate of the vast area of dense natural forest is also grim. An African proverb says that 'words are like bullets; if they escape, you can't catch them again." This is true of the promises SGSOC continues to break and also true for the forests that have been lost — they too are gone forever.
By November 2016,  the Cameroonian government must make the decision to cancel SGSOC's land lease or grant it to them permanently. As we get closer to this decision, Greenpeace will fight to save the local communities' lands and the intact forest by showing how the SGSOC project is bad for Cameroon. Stay tuned for more.
In the meantime please share this story to ensure that the name of Jonathan Johnson Watts, the man behind the SGSOC plantation – formerly known as Herakles Farms- is known around the world.
Letter from Greenpeace Africa to Jonathan Johnson Watts.