A shoal of surreal, plastic-pollution monsters seized Nelson Mandela University (NMU) campus on 28 August. The anti-plastic-pollution performance was born out of a desire to raise awareness about the plastic pollution crisis in a new, novel way. I have always been drawn to the unusual, and novelty can often provide a fresh, impactful perspective of a tired or cliché topic. This understanding paired with my deep concern for the state of our environment (and the alarming number of people seemingly unaware of this) inspired me to develop a body of performance artwork tackling just this issue.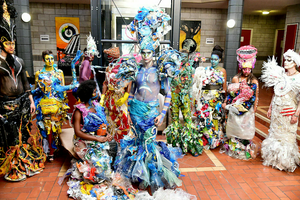 I am Luke Rudman (@pseudellusion), a performance artist from Port Elizabeth. I decided to work with Greenpeace Africa in an effort to raise awareness about plastic pollution. My particular flavour of performance art comprises of me creating sculptural and elaborate headpieces and pieces of 'worn-art' that I pair with surreal make-up and body paints to form a fully realised, conceptual piece of living artwork. My work has two conceptual streams, the one being work focused on identity within our contemporary society and the other stream being the environment, and environmental issues that we are facing. Very often these two streams overlap as how we treat our environment has much to do with identity.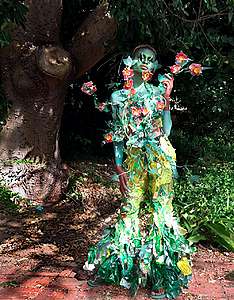 Art has always played a role in my life. My father passed away when I was very young but was a well-known sculptor and I grew up within a home surrounded by both his and my mother's artworks. I was taught to appreciate artistic output from a young age but I took no real interest in art until my grade 9 year at Grey High School where I began painting and drawing. I had always been experimental within my art and so my efforts soon developed into my specific stream of performance art. I created my first body art piece in October of 2017 and have created almost 200 since.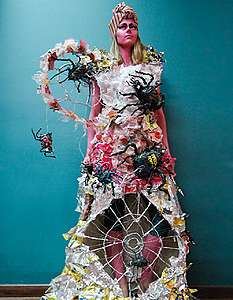 I think it is important for anti-plastic-pollution campaigns to represent all of the complexities of the issue, to represent that plastic pollution is as much of a socio-economic issue as it is an environmental issue. By having models wear and walk within plastic pollution the viewer is able to identify with the model and therefore identify themselves within the problem too. I created a body of 12 plastic pollution artworks on 12 models that performed the artwork at NMU last week challenging the youth of our city to think more critically about their role within climate change. Climate change affects everyone and so the waste we produce is the waste we carry. This performance was a very literal interpretation of that statement.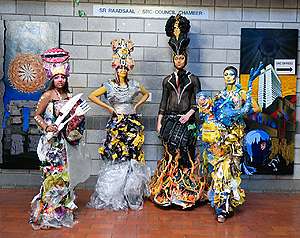 The project was born out of a transdisciplinary, arts-meets-science-meets-philosophy group called The Tributaries Project in Nelson Mandela University hosted by Professor Andrea Hurst. Professor Hurst is the SARChi CHAIR of identities and social cohesion in Africa and was also one of the 12 models at the performance. 
The performance was timed so as to raise awareness about #PlasticFreeSeptember and the arrival of Greenpeace's world-famous ships headlining their Pole-to-Pole campaign later next month. This performance was received incredibly well by the audience and I have been publishing the images on both my own @pseudellusion page and the @greenpeaceafrica page in an effort to spark more discussion and critical thinking about this topic. The 12 piece performance is planned to travel to both Johannesburg and Cape Town later this year as the drive to reduce plastic pollution explodes into public awareness.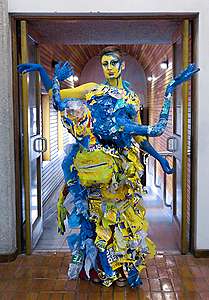 So keep your eyes peeled and you might just spot a shoal of surreal, plastic-pollution monsters in your area. And if you do, I hope you are able to play your part to help protect our Earth. #BreakFreeFromPlastic