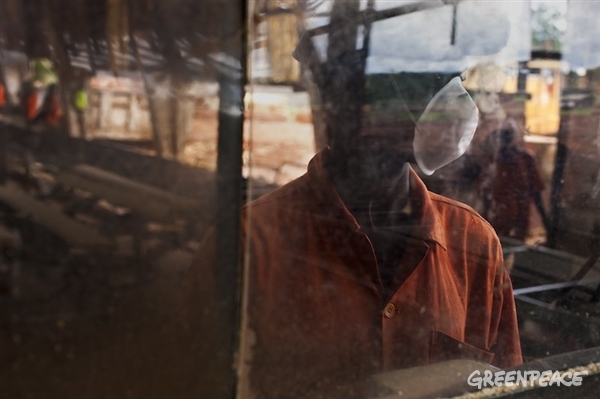 Chinese firms are importing large quantities of wood which may be illegally cut from African rainforests – according to an ongoing Greenpeace investigation into one of the leading Cameroonian suppliers of logs.
The investigation comes after various studies linking China to illegal african log imports, and as Chinese and EU negotiators meet to discuss regulating timber imports as part of the Bilateral Coordination Mechanism (BCM).
The investigation also found similar concerns about European imports from the same trader leading to action last week by Dutch regulators.
The presence of wood from the same supplier (CCT) in China may open up the possibility of illegally cut wood re-entering the EU market once it has been processed.
Further reading & sources:
Investigation into CCT and illegal logging
Research on China's role in congo basin forests
Interview: Cameroon's role in the illegal timber trade
Timber stockpiles
The timber comes from Cameroon's rainforest, part of the second largest tropical forests on the planet and home to millions of people that depend on those forests for their livelihood as well as endangered wildlife including gorillas and chimps.
The investigation – operating across three continents – is currently focused on Cameroonian timber trader Compagnie de Commerce et de Transport (CCT).
The firm is the largest exporter of logs from Cameroon – and China is the biggest log importer from the country.
However, on the ground research in Cameroon revealed concerns that CCT is buying substantial amounts of logs from firms which our investigators found were involved in illegal logging.
The concern over the due diligence system of the Dutch operator trading CCT timber to ensure wood is not cut illegally is ultimately what led to the action by Dutch regulator.
Greenpeace has uncovered huge stockpiles of CCT wood in the Chinese port of Zhangjiagang – where no law prevents the import of illegally-felled wood.
Though we cannot know if these logs were felled illegally our photos reveal many carry the logos of companies and cutting titles of operators that Greenpeace field investigations have found to be engaged in illegal logging.
The research suggests that a lack of paperwork and supervision allows illegal and legal logs to mix within the supply chain.
Illegal logging
Unsustainable and illegal logging is one of the biggest drivers of forest destruction in the Congo Basin.
A recent report on Cameroonian logging by the British think tank Chatham House found:
"Enforcement [of the law on logging] is weak and information management systems are deemed inadequate. Most important, corruption remains widespread and there is an apparent lack of political will to institute change".
Since 2000 trade has shifted away from sensitive markets.  Although last year Belgium and Italy alone appear to have imported more Cameroonian timber than China, the EU market's significance as a destination for Cameroonian wood has decreased, while China's significance has increased.
A 2014 report of the Independent Auditor of the Cameroon forestry sector found that not a single logging title in Cameroon can currently be considered legal when the currently agreed – but as yet not established – legality criteria are applied.
The Cameroonian government has rejected the investigation's claims as inaccurate and suggested that the timber suppliers providing logs to CCT are operating legally.
Deforestation
The Congo Basin's forests contain an extraordinary range of biodiversity, including approximately 10,000 species of tropical plants (30% of which are unique to the region),
Between 2000 and 2013, Congo Basin countries lost approximately nine million hectares worth of intact forest land.
The EU-China talks could pave the way for a decrease in the amount of illegal logging if it leads to China taking similar steps to the EU to control imports.
Greenpeace research suggests a small group of Chinese traders control large amounts of the country's growing wood imports.