Approaching the forest in the Congo, I am met with an overwhelming wall of green. Flying over it, I see the meandering rivers merging together. I see animals drinking from the rivers, frolicking with joy in the water. Walking into the forest, I hear a chorus of teeming life – birds, lowland and mountain gorillas, forest elephants, bonobos – many of which are now endangered.
Aerial view of peatland forest, Democratic Republic of Congo
I am lucky enough to have spent time with local and Indigenous communities who live here. This forest is their source of water, food, medicine, and shelter. It is their physical and spiritual home. Millions of people depend on it. If the forest disappears, it will bring devastation to their lives.
Peatlands – areas with partially decayed plant material in the soil – have existed in this forest for a long time, but earlier this year, scientists discovered that the Congo Basin contains the most extensive peatland complex in the world. This means it locks away vast amounts of carbon and is an important part of our fight against climate change.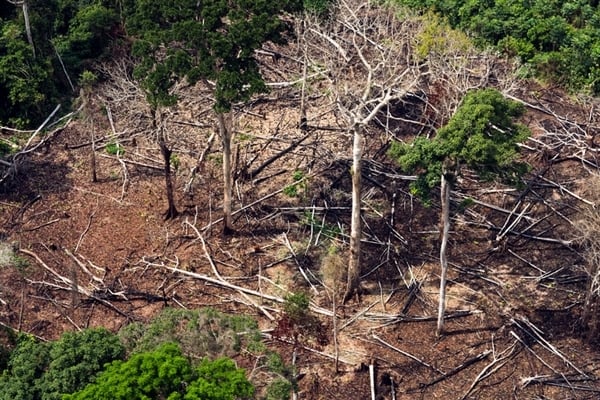 Peatland forest loss, Democratic Republic of Congo
But logging and exploitative agribusiness are threatening the Congo Basin. Intact parts of the forests are being fragmented. Large areas are being clear cut for palm oil and rubber plantations.
This has already had devastating effects: reducing the amount of carbon the forest can store, losing biodiversity, increasing forest fires, and damaging the forest's resilience to climate change.
To protect it, we need everyone.
Greenpeace Africa and partner organisations have been defending this sacred forest because of what it means to Africa, and to the entire planet. But we are not there yet. The Congo Basin has not been given the due attention and protection it deserves.
Black crested mangabey monkey
To change that, we're bringing the Greenpeace ship Esperanza to the Congo Basin. It will be travel through Cameroon, the Democratic Republic of Congo and the Republic of Congo during October and November 2017.
Scientists and journalists are coming on board to join us on an expedition into the peatland, to find out how far it stretches. We can't wait to keep you posted on our findings from the ground.
We're inviting you all to unite with us, and share your creativity as we put the Congo Basin forest in the minds and hearts of the people of the world. Here's what you can do to help.
1: The Congo Basin Dance
Music transcends cultures, ethnicity and nationalities. We've produced a song called "Dance for the Congo Basin" and we're inviting everyone who wants to defend this forest to come and dance with us to celebrate the importance of the Congo Basin. Post your dance for the Congo to social media with the hashtag #DanceForCongo.
2: The Wish Tree
We are building a tree of wishes that will travel through Central Africa and arrive at the COP23, where it will be delivered to world leaders to remind them that this forest needs protecting. As we travel, local communities will pin their wish for the forest onto the tree. You can join in by adding your wish here.
We can't win this on our own.
The forest needs you.
---
Victorine Che Thoener is the project leader of the Congo forest campaign