Authors, journalists, poets and playwrights know that every time the right words are put to paper, or typed to a screen, our planet gets a little better. Because, without the right to express ourselves freely, we cannot make positive change.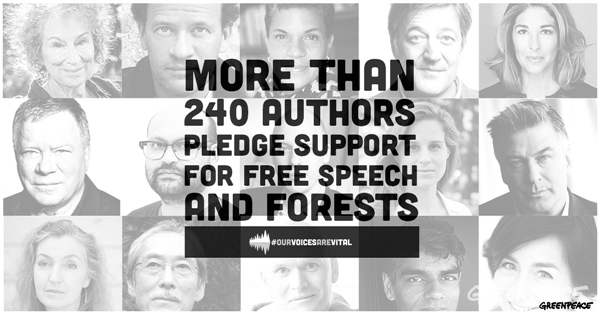 More than 240 authors from around the world including Man Booker Prize winners Margaret Atwood (The Handmaid's Tale) and Yann Martel (Life of Pi), writer and comedian Stephen Fry (More Fool Me) thought leaders like Naomi Klein (The Shock Doctrine) signed a pledge with Greenpeace to support free speech and stand up for forests.
Just like your favourite author's voice, yours is vital.
Sign this petition calling on the publishing industry — which buys millions of pounds of book paper from Resolute — to stand up for forests and free speech.
Publishers and authors are natural allies in the fight to protect free speech.
The power of words, and the incredible work that authors and publishers do every day, provide inspiration and energy to everyone. We are grateful for their voices and commitment to free speech and forest protection.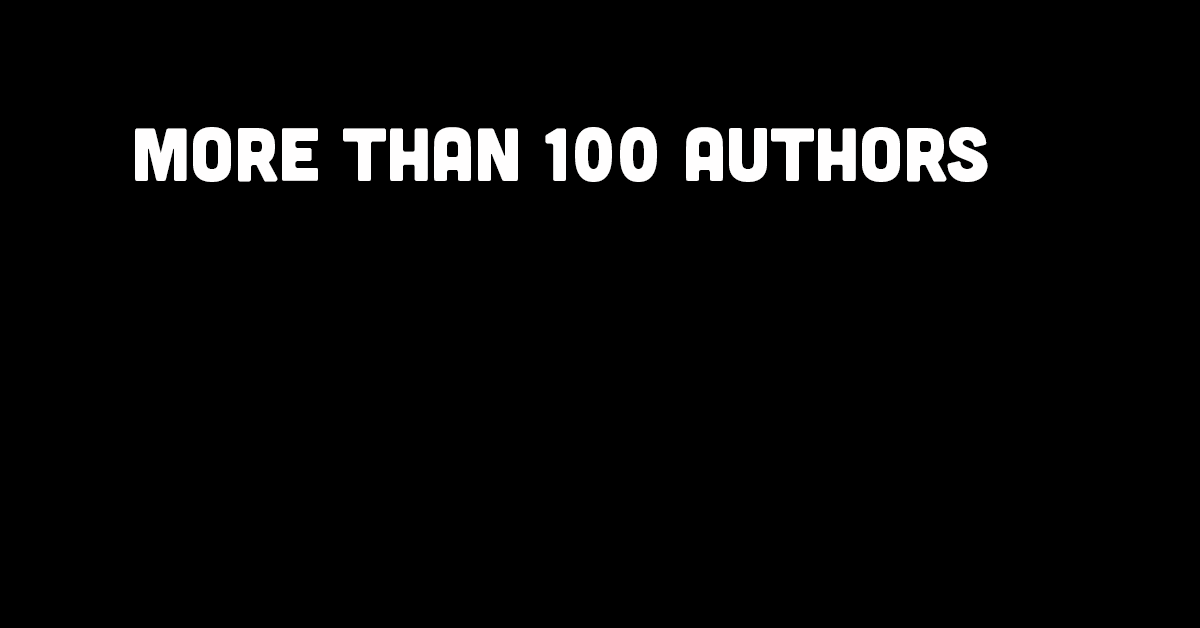 Stay tuned on social media ! Greenpeace will be at the Book Expo this week in New York, connecting with publishers and readers, and displaying an art installation called Treewhispers by artist Pamela Paulsrud, an ongoing international collaboration awakening our heartfelt connection to trees.
Please join more than 240 authors from around the world, who have signed a pledge to support free speech and stand up for forests.
Full list of authors :
Serge Mongeau, Anne-Marie Voisard, Hubert Forcier, Normand Landry, Alain Deneault, Lev Grossman, Travis Flores, Jonah Sachs, Anna Lappé, Robert Reich, Debby Holt, William Shatner, Alec Baldwin, Anthony Doerr, Rachel Thompson, Dr. Chris Donaghue, Robin Romm, Deborah Eisenberg, Lauren Groff, Kevin Bailey, Matt Rigney, Kieran Mulvaney, Caroline Leavitt, Wen Stephenson, Bill McKibben, Stephen Fry, Rebecca Solnit, Raj Patel, Jerry Mander, DeeVon Quirolo, Erica Lyle, Jane Fonda, Terry Tempest Williams, Zephyr Teachout, Travis Nichols, Peter Willcox, Zillah Eisenstein, Ronni Solbert, Elena Poniatowska, Juan Villoro, Sabina Berman, 星川淳 / Jun Hoshikawa, 山田玲司 / Reiji Yamada, 安冨 歩 / Ayumu Yasutomi, 本間 龍 / Ryu Honma, Arnaud Viviant, Mélanie Sadler, Nathalie Peyrebonne, Patrick Manoukian, Frédéric Couderc, Gilles Martin-Chauffier, Sébastien Gendron, Caryl Férey, Gérard Mordillat, Cyril Dion, Laurent Gounelle, Patrick Poivre d'Arvor, Laurent Binet, Annie Ernaux, Marc Dugain, Edwy Plenel, Aymeric Caron, Florence Aubenas, Christian Salmon, Philippe Claudel, Nancy Huston, Wilfrid Lupano, Erri de Luca, Yasmina Khadra, Laurent Gaudé, Jean-Luc Barré, Razmig Keucheyan, Susan George, Gabriel Vânău, Yann Martel, Naomi Klein, Margaret Atwood, Ian Rankin, Yvonne Aburrow, Moira Munro, Peter Wohlleben, Andrea Wulf, Jürgen Banscherus, Bülent Ceylan, Paul Maar, Diego Creimer, Dionne Brand, Arjun Basu, Dr. Ross King, Dr. Elizabeth Abbott, Ian McEwan, Julian Barnes, Franke James, Hap Wilson, Louise Penny, Tim McCaskell, Christian Jungersen, Anders Morgenthaler, Nina Bolt, Signe Wenneberg, Kim Fupz Aakeson, Ib Michael, Mich Vraa, Morten Ramsland, Dorthe Nors, Alice Kuipers, Sarah Selecky, Kate Pullinger, Beatrice Colin, Susanna Tamaro, Gianni Minà, Manuele Fior, Massimo Cacciari, Luca Mercalli, Paolo Rumiz, Andrea Maia, Danilo Zagaria, Sandro Veronesi, Roberto Saviano, Zerocalcare (Michele Rech), Marco Travaglio, Wu Ming 4 (Federico Guglielmi), Maurizio Pallante, Domenico Quirico, Luigi Riva, Corrado Augias, Gianrico Carofiglio, Alessandro Pertosa, Marco Damilano, Dacia Maraini, Maicol & Mirco, Tuono Pettinato, Alessandro Tota, Giacomo Bevilacqua, Federico Rossi Edrighi, Lorena Canottiere, Ratigher, Gigi Cavenago, Ilaria Urbinati, Charlotte Weitze, Andrew Westoll, Miriam Toews, Esi Edugyan, Dmitry Glukhovsky, Dominic Champagne, Federico Rossi Edrighi, Eve Ensler, J.M. Coetzee, Laure Waridel, Nino Ricci, Ratigher (Francesco D'Erminio), Tuono Pettinato (Andrea Paggiaro), Van Jones, Guy Dauncey, Mathis Wackernagel, Chellis Glendinning, Chip Haynes, Anthony Weston, Jason Del Gandio, Chris Shaw, Suketu Mehta, Paul Hawken, Gus Speth, Nino Ricci, Gary Shtyngart, Richard Heinberg, William Rees, Dan Chiras, Dr. Graeme Taylor, Susan Reed, Steve Solomon, Tim Grant, Rob Roy, Liz Walker, Mark A. Burch, Lyle Estill, Mary-Wynne Ashford, Mike Nickerson, Kaitlin Ann Trepanier, Louise Bernice Halfe, Paul Kivel, Charles Montpetit