Today, we're halting our normal communication with you to talk about something urgent.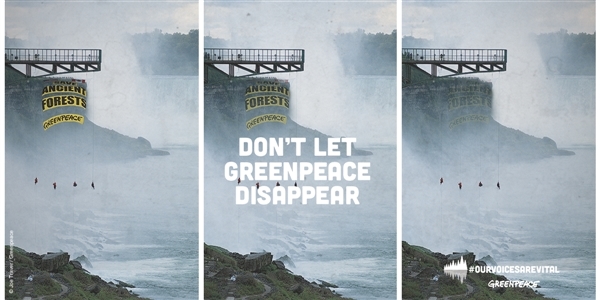 We're taking the day to look back on some of the big accomplishments of the organization from the past half century — and also to imagine what the world might look like if Greenpeace disappeared. For 24 hours, we'll be social media images and videos of Greenpeace evaporating from the world.
We're doing this to show you, what could happen if a massive Canadian logging company, Resolute Forest Products, succeeds in its campaign to shut Greenpeace down through multi-million dollar lawsuits.
Greenpeace isn't just the staff that works in more than 40 countries. We're the millions of donors around the world. We're the supporters who take action online and share their stories and ideas on social media. We're the activists that risk their freedom, and sometimes even their safety to stand up against big business and oppressive regimes that seek to destroy the environment for profit.  We're the volunteers that gather in big and small groups around the world to plan campaigns or march to stand up for the cause.

At the core of everything, Greenpeace is an idea: the idea that together, we can build a green and peaceful future in a way that is more equitable, sustainable and fair.
As we look back over our history of our movement, pay attention to a couple of things. First, we witnessed and shared what was happening in the remote places of the world, from the Arctic, threatened by offshore drilling, to the Southern Ocean, where we stood up against whaling fleets. We went there when other people couldn't or wouldn't in order to inspire millions to stand up for a better world. Second, we didn't back down, even when we were bullied.
Resolute's lawsuits are an intimidation  tactic.
Resolute doesn't want you to see what it's doing in the Boreal forest, and it knows that it can tie us up in massive lawsuits that question the very nature of the work that we do. We're counting on all of you who hold the ideal of Greenpeace in your hearts to stand up with us and fight.
Take today to share your favorite Greenpeace moments here, to speculate about the impact we've had on the world, and to recommit to the fight: