We are getting much closer to the end of the long and winding road that has been the Great Bear Rainforest campaign. As I mentioned in a recent blog, along the way to completing the Great Bear Rainforest Agreements we have encountered pot holes, forks, stop signs, and late last year, a couple of big speed-bumps.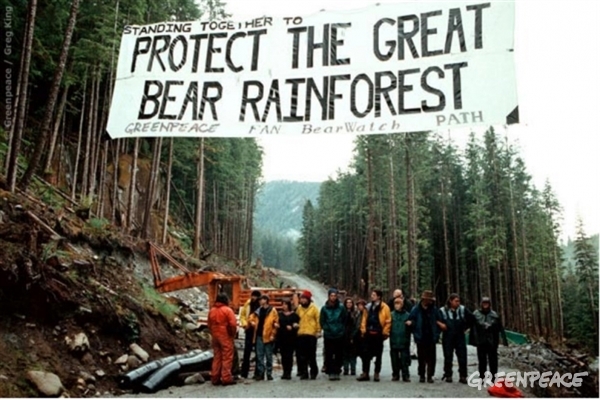 The thing about long journeys is that there are times when you need to step back and reflect.
Recently in one of these moments,  while witnessing the courage and determination of my colleagues and activists to protect the Boreal Forest I  have realized that there are striking similarities between what we went through over two decades in the Great Bear Rainforest campaign and what is happening today in parts of the Boreal Forest  in Québec and Ontario.
Since I wasn't around for all of the 20 years of the campaign, I consulted with Tamara Stark who was there at the beginning. I'm grateful for the wisdom and insights she imparted which helped inform this blog post.
The campaign will take forever. Ok, not forever but it might take 20 years to really win, to reach a strong consensus in favour of protecting forests while developing alternative economic models. The Great Bear Rainforest campaign formally launched in 1997 (although we were already involved for 2 years in prep work), and we're just now reaching the full implementation of final agreements on conservation and land-use plans for the region. At the time though there was no model, no clear way forward, so perhaps learning from past mistakes made on this side of the Rockies, I figure maybe 10 years can be shaved off the Boreal campaign. And at this time of accelerating climate change impacts every year counts.
You will be vilified. Not by everyone – although some days it will feel like it! But yeah, expect that some logging companies will aggressively attack you and your organisation, rural mayors will initially lash out at you, a few government officials will portray you as a traitor. You might even get sued. Colleagues of mine can still vividly remember being called 'Enemies of BC' and having rocks thrown through their windows.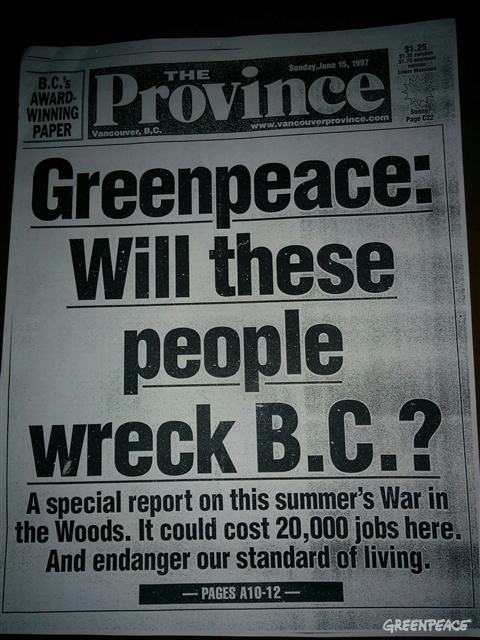 But those kinds of accusations are just meant to isolate and distract, and make you feel vulnerable. In reality, the overwhelming majority of Canadians want to see our extraordinary natural heritage protected. There's support in Canada and around the world for protected forests and secure jobs and economically stable companies.
First Nations are central to any successful solution.  Both in the Boreal Forest and Great Bear Rainforest, First Nations are the rightful title-holders. These forests make up their traditional territories and have supported and shaped their cultures and livelihoods for thousands of generations. And while there may not always be agreement on how much or what to safeguard, at the end of the day many First Nations want to see their lands safeguarded and stewarded, and so they need to be involved and respected as decision-makers over their territories. Collaborating with their governments and leaders is essential.
Change is scary – be patient. The current industrial model seemed to work pretty well for many decades, but as technology developed, more loggers lost jobs, far less high-quality timber was readily available, and in times of economic downturn, it takes courage to embrace a new way of working. It wasn't always easy for ANY of us working on the Great Bear to reach agreements, but it's been worth it. Although not a perfect process (there was no blueprint for what we have tried to achieve in the Great Bear), today we have logging company execs, forest workers, First Nation leaders, government officials and yes, environmental groups, all standing side-by-side, ready to celebrate.
Leaders will emerge. Out of the companies that we had been in conflict with in the early days of the Great Bear campaign, some stood out early on, taking leadership roles to help work out solutions and they drove others to sit at the solutions table with them. We have been seeing the same thing in the Boreal where some companies – for instance Tembec – are already taking some pretty progressive steps to collaborate and strengthen the sustainability of their operations. They have reached the same sort of conclusions  as the companies we have collaborated with in the Great Bear – what's good for the health of the forest is also pretty good for the bottom line, their reputation, and it's just the right thing to do. There are of course laggards and we continue to deal with one in the Great Bear Rainforest. But whether here in the Great Bear or there in the Boreal, they'll get there… one way or another.
The customer is right and logging companies pay attention to them – Customers want a controversy-free supply of pulp, paper and timber and when they couldn't get it in the Great Bear Rainforest, they demanded change or went elsewhere to buy it.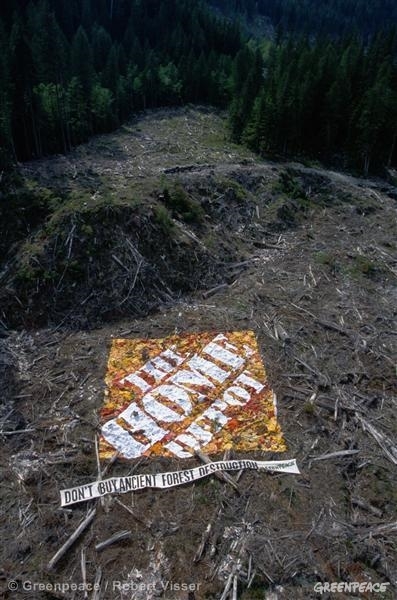 They wanted to do business in BC – big business – but not with an activist hanging off their 2X4s or bales of paper.  They certainly did not want their brands linked to the loss of spirit bears or blockades by First Nation communities. When a solution in the Great Bear came forward, the customers supported it wholeheartedly. In the Boreal Forest, many customers are paying attention and they are starting to exercise their influence. They are key.
Independent Science is critical to any solution for conservation. One critical measure that ultimately led to solutions for the Great Bear Rainforest was for all parties to agree to an independent, neutral scientific body which made recommendations on how much conservation was needed for the area that maintained high ecological integrity.  There is a lot of respected independent science that's been done in the Boreal forest by Environment Canada and by experts at Quebec universities for example. Go to the science for guidance!
People power eventually prevails. We often refer to politicians as "our leaders", but this isn't the norm. Normally, politicians follow where the people lead – and although the government of BC has played a really positive role in resolving conflict in the Great Bear over the past decade, at first that wasn't the case. However with controversy in the marketplace and sustained public pressure and First Nations rights needing to be addressed, the BC Government eventually did act. We are beginning to see thousands of people mobilizing to take a Stand for the Boreal Forest and governments such as in Ontario and Quebec are listening. First Nations are asserting their rights. The will of the people will prevail.
So, with these reflections that old adage comes to mind: everything old is new again. And while we hope to soon celebrate the end of a long and windy road to success in the Great Bear Rainforest, may the road in the Boreal Forest be much shorter and direct! From the Great Bear to the Boreal, may the forest be with you.