7-Eleven Taiwan has announced that it will phase out single-use plastics, the first major convenience store chain in Asia to do so.

This is a big deal for Greenpeace's plastic-free advocates in Taiwan. 

7-Eleven is central to life in Taiwan. It's difficult to walk through Taipei for 10 minutes without spotting the convenience store's iconic orange, green and red-striped signage and shelves stocked with delicious teas and snacks.

But a high density of convenience stores also means a lot of single-use plastic – at least for now.
How does 7-Eleven stack up against its competitors?

Greenpeace East Asia's Taipei office has been campaigning 7-Eleven and other retailers in Taiwan to phase out single-use plastic for almost two years.

In 2019 and 2020 Greenpeace researchers ranked the plastic reduction performance of nine major retailers in Taiwan. In the second ranking 7-11 lagged behind grocery store PxMart and convenience store Family Mart.

A 2020 investigation by Greenpeace East Asia and Taiwan National Cheng Kung University Department of Environmental Engineering found that 7-Eleven stores in Taipei City and Kaohsiung produced 15,000 tons of plastic waste a year, with at least 30% of the waste sent to incinerators.

Greenpeace supporters in Taiwan called for action. Over just two years, 210,000 people signed a petition urging major retailers in Taiwan, including 7-Eleven, to implement a single-use plastics reduction plan and increase reuse. 
Activists performed an action outside one 7-Eleven store, highlighting the massive quantity of plastic waste that the convenience store produces every year and presented consumer demands to the store.
A first in Asia

After campaigning for two years, exciting news finally arrived! 7-Eleven Taiwan has announced that it plans to phase out the use of all single-use plastic by 2050 and aims to reduce use by 10% each year. This was the first time that a major convenience store chain in Asia had made a commitment to eliminate all single-use plastic – a huge milestone!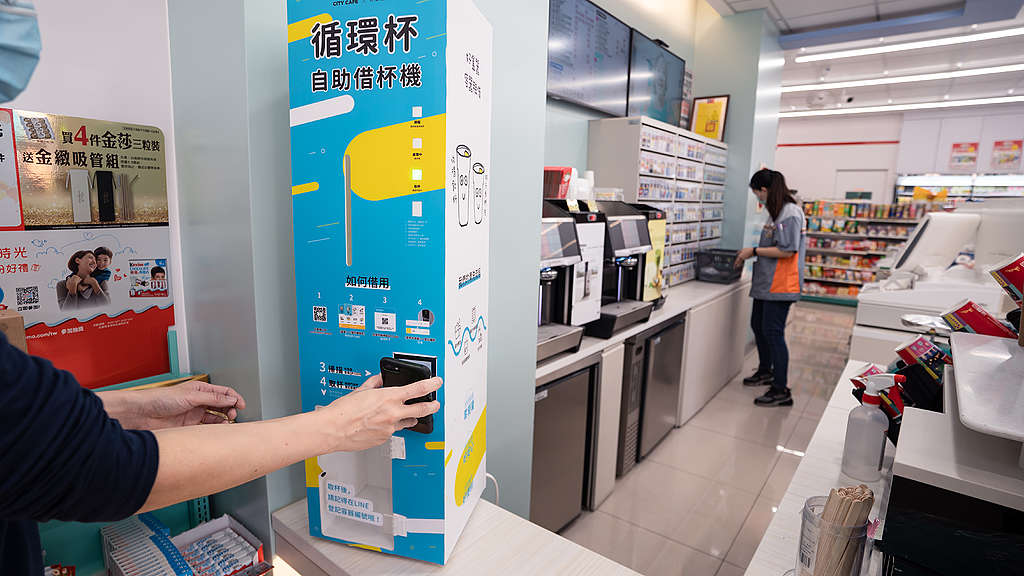 Over the past year, 7-Eleven Taiwan has initiated pilot programs to reduce plastic waste, including a beverage cup rental system at four stores and reusable delivery package return stations at 18 stores.

Greenpeace East Asia will continue to track 7-Eleven's progress on reducing plastic waste.

Plastic campaigner Suzanne Lo said,"7-Eleven's announcement shows that retailers can take bold action to cut down on plastic waste, including beverage containers, food packaging, and delivery waste. However, 2050 is a long way off, and the timeline must be sped up. Moreover, while we are proud that the plastic-free initiative started in Taiwan, it needs to be scaled up to all 7-Eleven stores globally. We look to see solutions that are based in reuse and reduction, rather than substitution of plastics with other single-use materials."
Family Mart and others are catching up
7-Eleven is not the only convenience store chain in Taiwan that is taking action. In October 2020, Greenpeace East Asia's Taipei Office organized a forum to explore solutions to the plastics crisis. Out of 177 industry insiders who attended this event, 20 were from Family Mart.
In January 2021, Family Mart started selling cooked meals in reusable containers at its Taipei 101 store. Consumers can return the container after use, then they are collected and sanitized for the next use.

Family Mart Taiwan has announced a pilot program at one Taoyuan store that provides reusable cups for rent and sells food items in reusable lunch boxes. Consumers can rent cups using their cell phones and return them after use. Family Mart stated that they are planning to implement reusable cup and container services in five of their stores within three months, with the potential of expanding further.
In addition, food delivery services like Foodpanda are working with cup and container rental company "Good To Go" in Tainan, to offer a plastic-free option for consumers.

Only by reducing production from the beginning of the chain can we stop plastic from polluting our planet and future. Phasing out plastic is long-term work. Greenpeace East Asia will continue to track retailers and follow up on the execution of their pledges.