The world's top selling automakers are failing spectacularly to help save the climate. One of the biggest disappointments was Toyota. In a just-released report, Greenpeace East Asia looked at the commitments and actions of the top 10 automakers which represent 80% of the market and found that every single one of them is not doing enough or fast enough.
How did we grade them?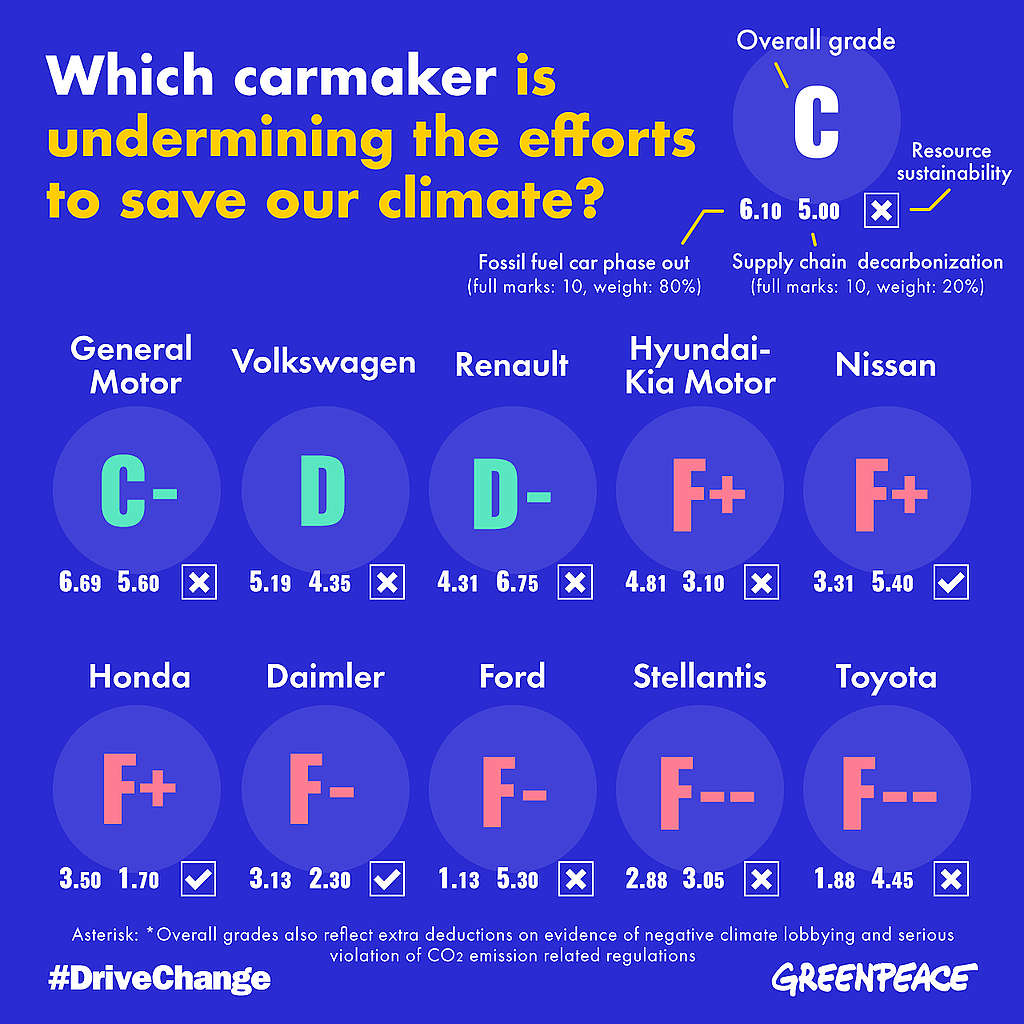 We used three main pillars to assess their climate score.
Progress towards phasing out ICE vehicles (ICE stands for Internal Combustion Engine — in other words the old fashioned variety of car that uses fossil fuels like petrol or diesel). Since 80% of a car's lifecycle greenhouse gas emissions are produced when it is being driven, the single most important action automakers can take for the climate is to slow down and stop making ICE vehicles. 


Overall, none of the companies plan to phase out ICEs earlier than 2035. Five out of ten automobile groups, Nissan, Renault, Stellantis, Toyota, and Volkswagen, do not have a complete ICE phase-out date in any market for their main brands.
Progress towards decarbonising supply chains. The other 20% of a car's life cycle emissions are released when it is being manufactured, for example the production of steel parts (which makes up the bulk of emissions) and plastics and the many other thousands of materials, such as cobalt, which is used to make batteries.
Only two companies have detailed carbon reduction targets that are specific and will help to keep global temperature rise below the 1.5°C threshold.
Progress on sustainable use of resources. Electric vehicles (or EVs) need batteries and electronics that are resource intensive and potentially highly polluting. It is crucial that carmakers focus on reusing batteries, recovering metals used in batteries, and developing more efficient battery technology so that less resources are used in the first place.
Not a single automaker is investing enough in reusing and recycling; and only one company has clear targets in this regard.
Toyota under the spotlight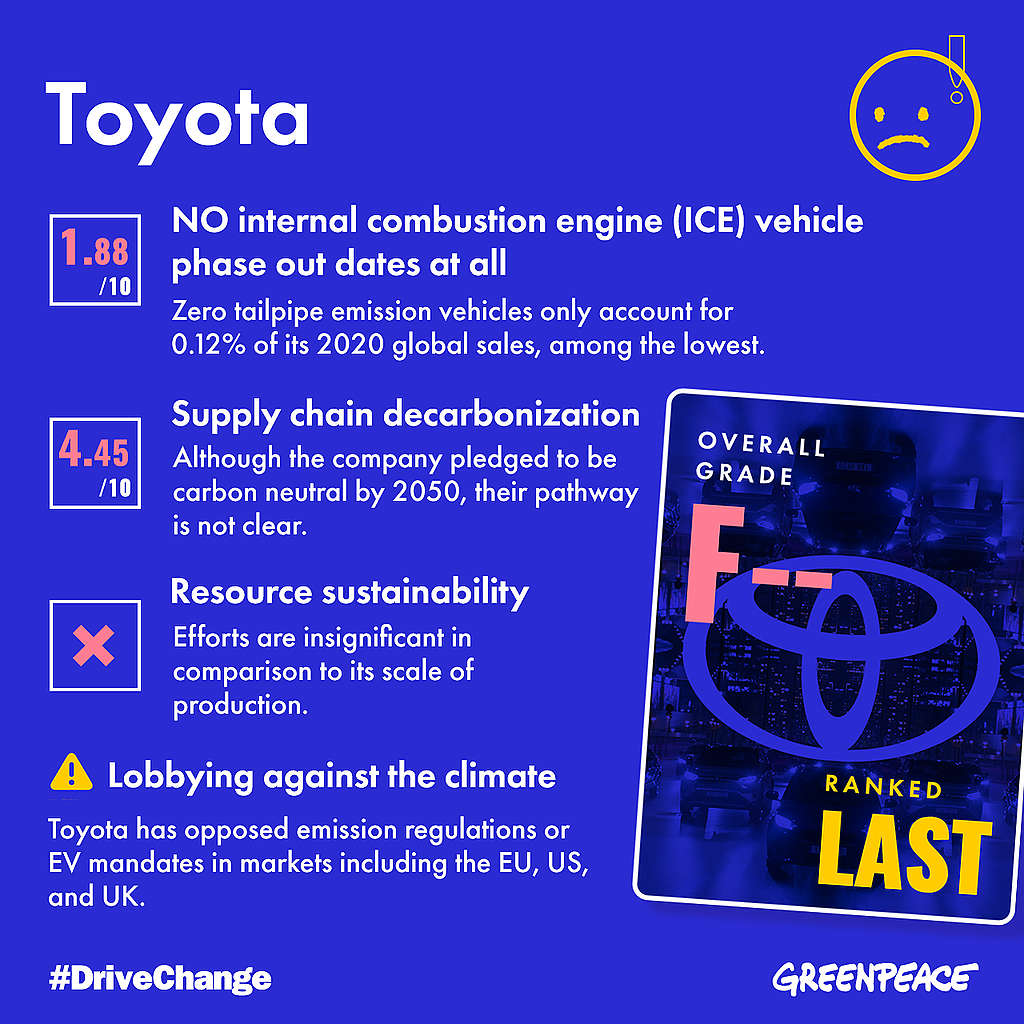 Japanese carmaker Toyota is one of the world's biggest and best-known auto firms; in 2020 it sold almost nine million units around the world. About one in ten cars sold worldwide is a Toyota. Its global CO2 emissions in 2020 were 5.68 million metric tons – it would take almost 40,000 acres of forest to absorb this amount of carbon!
Toyota should be a global leader in saving the climate — it has the resources and it certainly has the responsibility. But we gave it the worst score in this study – an F double minus! Here's why:
ICE phase out. Toyota has not committed to phasing out its fossil fuel cars in any market in the world. It also sold among the least BEV/FCEVs (that's battery electric vehicles/fuel cell electric vehicles) in terms of proportion of overall sales in 2020.
Decarbonising supply chains. Toyota is not part of the Science Based Targets initiative, a global programme that sets requirements for companies to cut emissions in line with climate science. Although the company did pledge to commit to going carbon neutral by 2050, their pathway is not clear. They do not have a validated 1.5°C compatible carbon reduction plan.
Resource sustainability. Toyota has made some efforts to recycle and reuse batteries but EVs make up such an insignificant part of annual sales that these have almost no effect.
Lobbying against the climate. Toyota has been caught lobbying national governments to weaken emissions regulations and legislation to speed up the phase out of ICE vehicles.
What carmakers need to do now
There are three simple steps to making vehicle manufacturing a modern, responsible, and climate-saving industry.
Step 1: Focus on phasing out all ICE models completely (including hybrids!)
The transport industry needs to go entirely carbon neutral by 2050 to save our climate. The only way to do that is to stop making and selling fossil fuel cars.
It is crucial these big names in vehicle manufacturing lead the way because not only are they responsible for tens of millions of new cars produced and sold every year, but their commitments and their actions are powerful market signals to help the entire industry decarbonize. Research shows that the only viable alternative to ICE cars at this point are BEVs — other technologies, like hybrid cars, still require the burning of fossil fuels.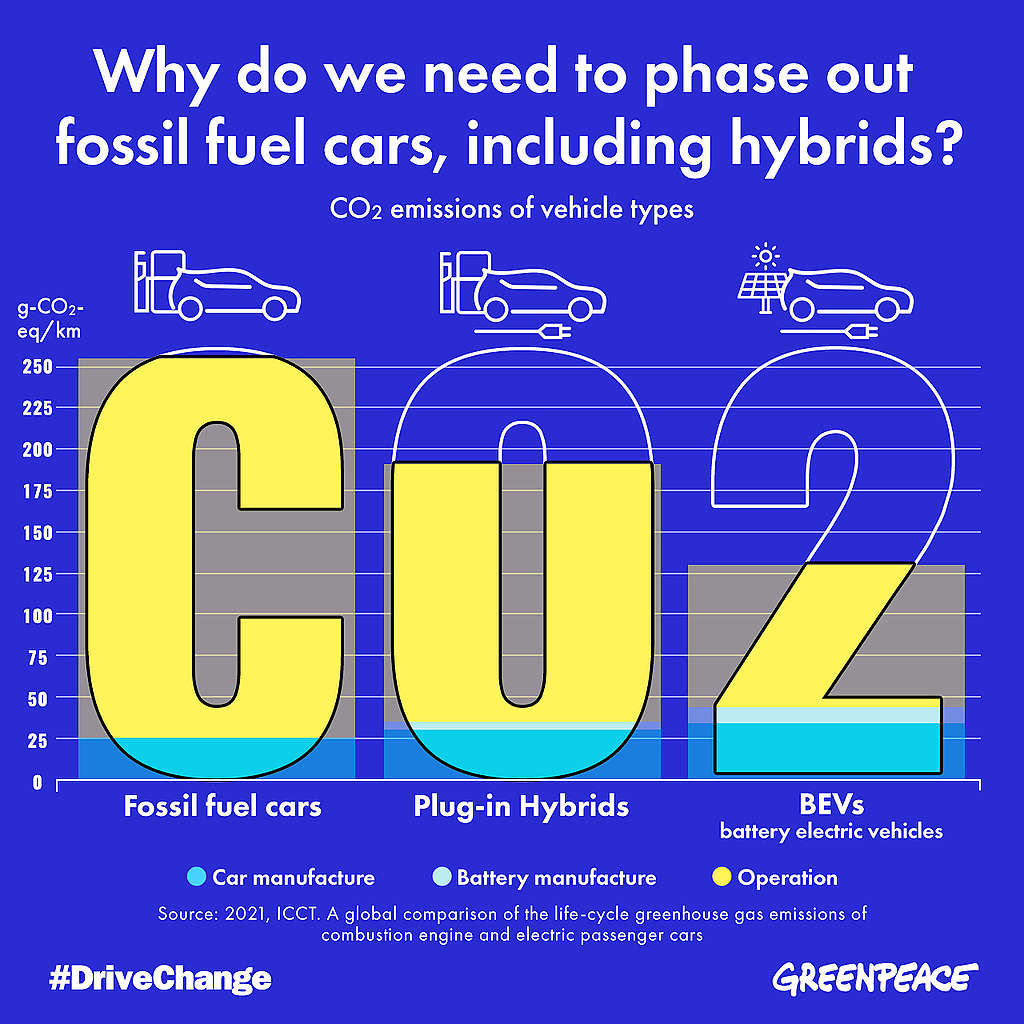 Step 2. Promote renewable energy, reduce, reuse, and recycle batteries
As the sector transitions from ICE vehicles to BEVs, how batteries are designed, manufactured, and used will be key to not only meeting crucial climate goals but also preventing global pollution and resource crises.

Companies must take responsibility to repurpose old batteries for other uses (for example earlier Greenpeace East Asia research concluded that repurposed lithium-ion batteries from EVs can meet all global energy storage needs by 2030). These reused batteries can then later be recycled to recover critical minerals. Research and development should be invested into new greener battery technologies to improve their lifespan and bring about cleaner production, while battery producers should work towards using 100% recycled materials.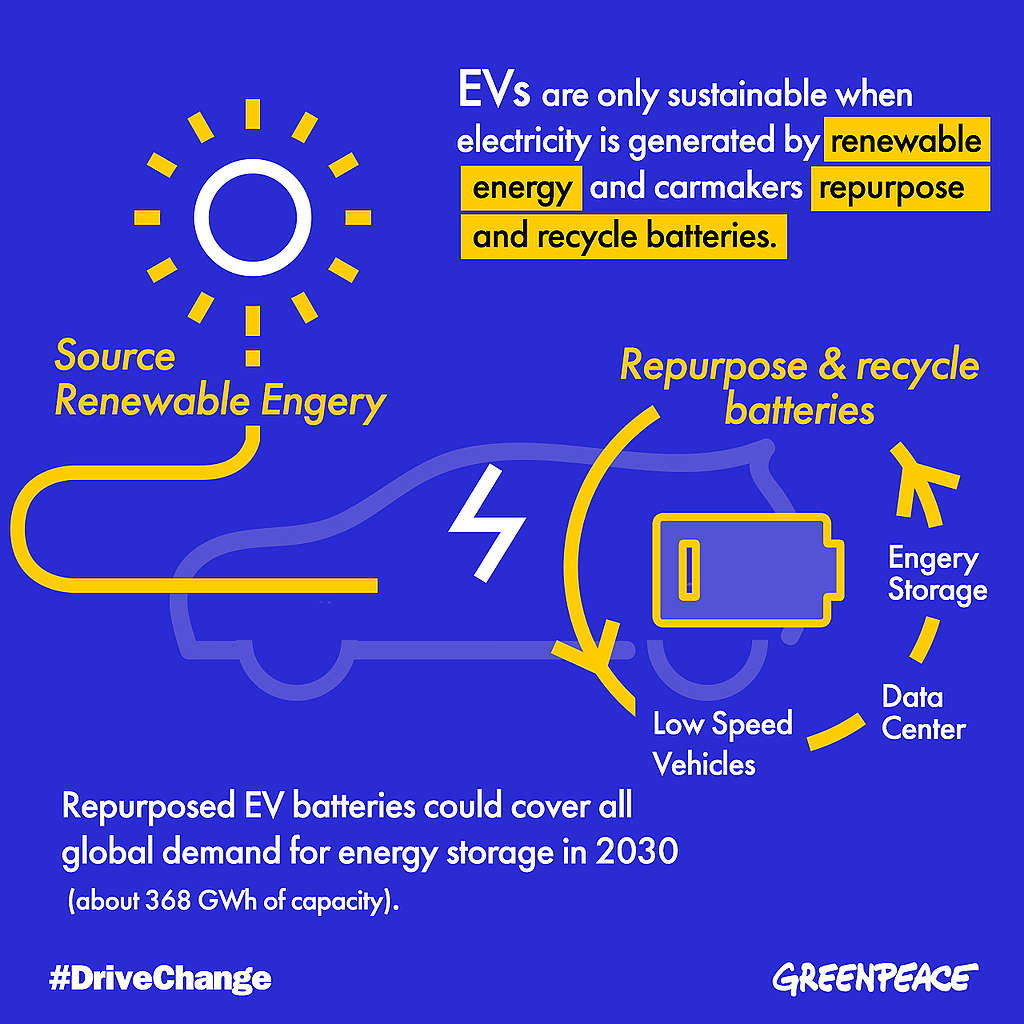 Step 3: Change business model towards more ride-sharing, fewer car sales
Even with all ICE cars off the roads, the model of private vehicle ownership is just not sustainable in the long term. Ultimately, over uptake of BEVs could end up creating a new source of carbon emissions when it is more urgent than ever that we reach net zero. We need to reduce the number of private cars by making public transport systems excellent, increasing options for car sharing, and redesigning cities to make them pedestrian and cyclist-friendly.
Be part of the change
We are campaigning to #DriveChange across the whole car sector. Previous successful campaigns have shown us that once a leading brand makes commitments and takes action, others follow suit.
With the lowest score in our ranking table, and as one of the biggest carmakers in the world, Toyota needs to accept its responsibility.
And this is where YOU come in.
We've got a three-step challenge for you too!
Step 1: Tweet Toyota to drive change
Share this tweet:
NEW: In @GreenpeaceEAsia new report, @ToyotaMotorCorp ranked last out of 10 automakers when phasing out fossil fuel vehicles, decarbonizing supply chains, resource sustainability, and lobbying against the climate. Toyota, #drivechange and ditch fossil fuels now.
Step 2: Read & share the report
Learn more about the issues in this blog, read the full report here.
Step 3: Sign our petition
Join our #DriveChange campaign to get major car companies on track to achieve zero carbon emissions for ourselves, our future, and our planet!