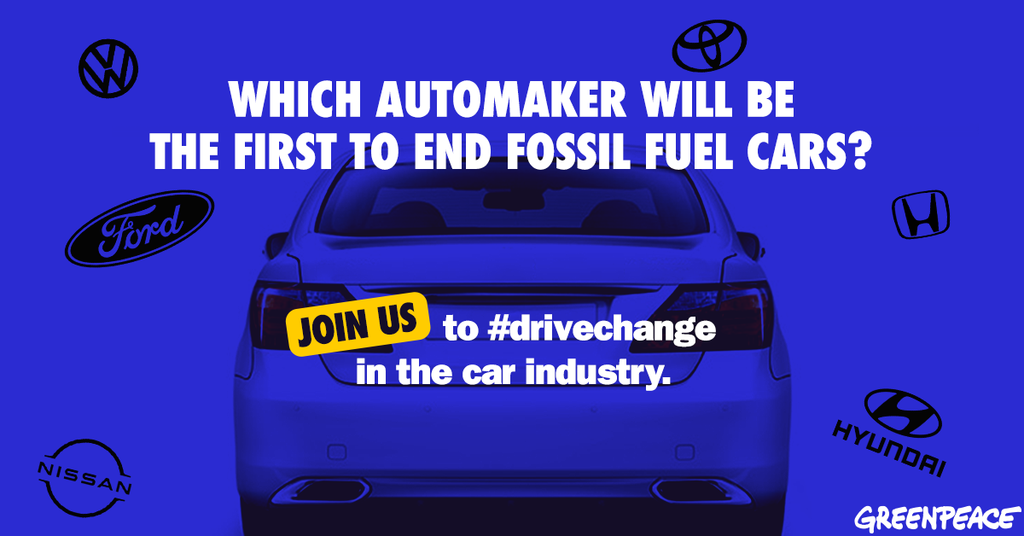 Demand Toyota and global automakers to #DriveChange now
Add your name! Let's make our voices heard and urge car giants to move forward from the ICE (internal combustion engine) age!
Tell Toyota and global automakers to end fossil fuel cars
We live in an era where millions already suffer from the tragedy of climate chaos. There's no time to waste. 99% of cars worldwide are still burning fossil fuels, according to the International Energy Agency (IEA).1 Although carmakers have been announcing the transition to electric vehicles (EVs), none of them are moving fast enough.

According to IEA, transportation contributes to 21% of direct CO2 emissions from fuel combustion, with passenger vehicles responsible for the largest chunk at 45%.2 To help keep the 1.5℃ goal within reach, it is imperative for carmakers to phase out all fossil fuel vehicles before 2030 in major markets, and by 2028 in Europe.

Multinational carmaker Toyota came in last place in Greenpeace East Asia's recent evaluation of the top 10 automobile companies on their decarbonization efforts. Relying heavily on hybrid sales, which is only a 30% carbon reduction from traditional petrol cars, Toyota is risking losing in the race to net-zero carbon emissions. What's worse, it's also trying to drag down others by opposing stricter emission regulations and all-out transitions to EVs.3

You can help drive change in the car industry. Join us to demand car companies to help create more affordable and equitable zero-carbon mobility options for all!

Greenpeace East Asia ranked the world's top 10 carmakers on their climate action.
Are they doing enough to save us from the worst climate disasters?
*Combustion engine vehicles, including hybrids, rely on burning fossil fuels to operate.
Greenpeace East Asia's findings are based on their report Auto Environmental Guide 2022, published in Sept 2022. Changes in ranking compared to 2021 are shown below (↑ # or ↓ #). The percentage of zero-emission vehicle sales has been added as a new criteria for evaluation.
Find out how Greenpeace East Asia evaluated the carmakers
Phase out fossil fuel vehicles including hybrids.
On average, 80% of lifecycle greenhouse gas emissions are produced while a car is being driven.4
Under this criteria, Greenpeace East Asia evaluate: 1) zero-emission vehicles sales target, 2) combustion engine vehicle phase-out plan, 3) renewable energy charging infrastructure.
Reduce carbon emissions in supply chains
The other 20% of a car's lifecycle emissions are released during the manufacturing process, especially from steel production.4
Reduce, Reuse & recycle batteries & resources
Carmakers must reduce resource consumption, reuse batteries, and recover metals to minimise environmental impact.
*Overall scores also reflect deductions on negative climate lobbying & violations of CO2 emission regulations.
The automakers should:
Phase out all fossil fuel vehicles (including hybrids) before 2030 in major markets, and by 2028 in Europe.5
Promote renewable energy charging and battery resource reduction
Fast-track supply chain decarbonisation, in particular steel production
Ensure a just transition for workers
Move beyond private car ownership to mobility solution-centric business models, such as car sharing
---
1 IEA: Global EV outlook.
2 IEA: IEA: Transport Tracking report.
3 Toyota opposed stricter car emissions standards or fought electric vehicle mandates in markets including the Australia, EU, US, and UK.
4 IEA: Comparative life-cycle greenhouse gas emissions of a mid-size BEV and ICE vehicle.
5 According to WRI's State of Climate Action 2021 report, in order to be aligned with the Paris Agreement's 1.5°C temperature goal, the share of BEVs and FCEVs in global car sales would need to reach 75% by 2025, and in leading markets would need to hit 100% by 2030.
6 Greenpeace East Asia: Auto Environmental Guide 2022, A comparative analysis of global automakers' decarbonisation: recent actions and future plans.